In Northern New Jersey, it's not even close to peach season. But in the areas surrounding San Antonio and Austin, it's been peach season for a few weeks already. Fredericksburg peach season, to be precise.
Fredericksburg was founded in the 1840s, and named for a Prince of Prussia. When people think of Texas, they probably don't often think of German, but South Texas is an incredible mash-up of German, Mexican, and Anglo cultures.
Many street signs in Fredericksburg still boast German spelling, and is the home of "Texan German" – a dialect spoken by some of the original settlers in the area that refused to learn English. It's a tiny town, with only about 10,000 residents. If you want to find it on a map, look about an hour and 15 minutes Northwest of San Antonio, and there she'll be.
When I was a kid, we often traveled to the Peach Capital of Texas for fresh peaches from the roadside stands. When James visited Texas for the first time, he arrived smack dab in the middle of peach season. We drove down winding back roads from Canyon Lake to Fredericksburg, stopping at roadside stands along the way.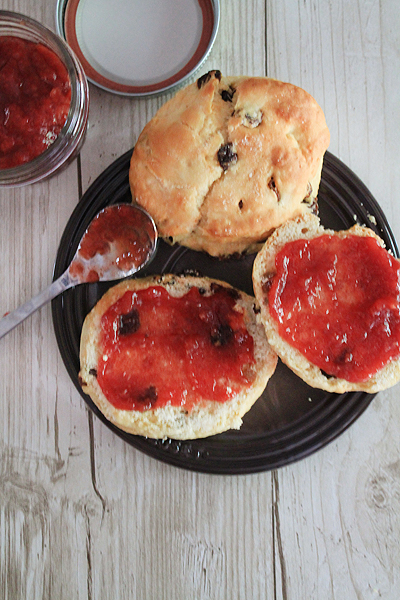 I'm proud to say that James had his first taste of freshly made peach ice cream on my dime. He's never quite got over the devastation of something so wonderful.
One of my favorite little known facts about Fredericksburg is that Frank Bielec, probably my favorite Trading Spaces designer, lives there with his wife. I used to love when he'd find some fabulous Texan artwork and design an entire room around it.
A few weeks ago, I was desperate for some Fredericksburg peaches. I haven't had them in YEARS. I just never seem to get home at the right time to nab them. So in possibly the least green thing I've ever asked anyone to do, I texted my pal Steff, and begged her to mail me some.
Steff is wonderful and responsible and reliable, and sent me a box of the first Fredericksburg peaches she spotted.
Immediately I opened the box and took a huge sniff. Ahhhh, Texas. You never disappoint.
That night, I made an impromptu peach crumble with two peaches, some crushed Stacy's Cinnamon Sugar Pita Chips, some maple sugar, and a little granola. It was fab!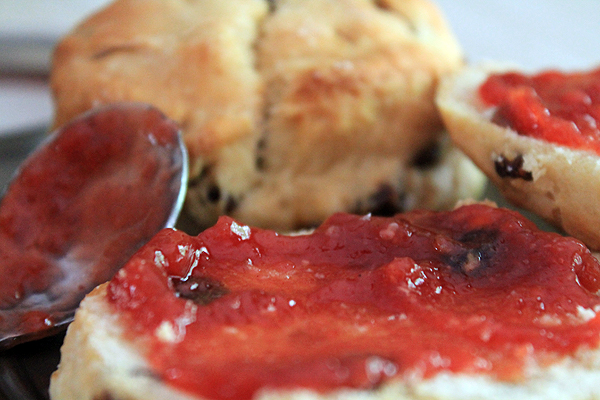 However, I want to stretch out these gorgeous Texas peaches for as long as I can (or until Megan gets here with more), so sent out the call for jam recipes.
I tell ya. The food blogging community is amazing. In a matter of minutes I had a ton of recommendations. But hardly any of the recipes I scoped out were small batch, so I started with Tracy's Peach Rum Butter and talked through making a smaller recipe with her. I'm incredibly lucky to have such brilliant friends.
I've been slathering this stuff on bread, crumpets, toast, and pancakes. I'm pretty sure it would make shoe leather taste good. Megan better get here quick with more peaches, or we're in trouble.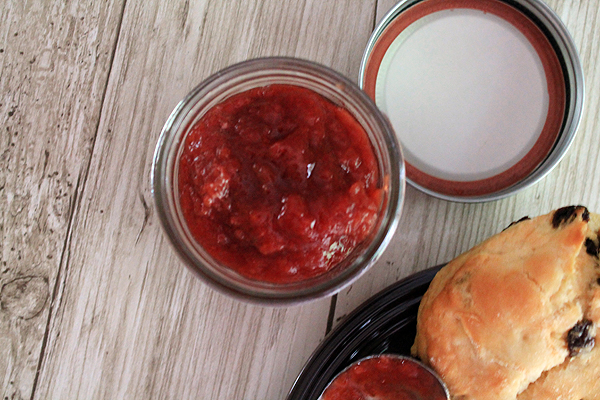 Small Batch Fredericksburg Peach and

Southern Comfort Jam
adapted from Sugarcrafter's Rum Peach Butter
Makes 3 8 oz jam jars
Ingredients
1 1/2 lbs fresh Fredericksburg peaches (or local peaches)
1/2 teaspoon ground cinnamon
2 tablespoons lemon juice
1/2 cup water
1/4 cup Southern Comfort Bourbon
1/2 packet of No Sugar Needed Pectin
1 cup granulated sugar
Directions
Wash, pit, and slice peaches. No need to peel. Combine peaches, cinnamon, lemon juice and water in a large saucepan and allow to come to a boil, about 20 minutes.
Put the peach mixture in the food processor and pulse several times until you have a puree.
Place the puree back in the large saucepan and put the heat on medium-high. Add the Southern Comfort and stir to evenly distribute.
Whisk in the pectin, stirring until fully dissolved. Bring to a boil.
Add the sugar all at once, and whisk continuously. Return the mixture to a rolling boil that can't be stirred down, and boil for 1 minute. Remove the jam from the heat and skim off any foam.
You can place the jam in jars and into the refrigerator for a few weeks, or process it for canning. To process it for canning, boil a large pot of water. (Should be large enough to cover the lids of the jars with a full inch.)
Place the jam in 3 8 oz sterilized jam jars with 1/4″ of headroom. Wipe the mouths of the jars to make sure they are clean, and place the lids on. Screw the bands on, just tight enough to be sealed. Do not over-tighten.
Boil the jars in the large stockpot for 10 minutes. Remove the jars using jar tongs. Do not tip them to remove water from the lids.
Place in a cool, dry place and leave alone until you hear the jars "ping". Make sure that the seal took correctly after 24 hours by pressing lightly on the lid of the jar. If the lid pops up and down, the seal did not take. You can attempt to process again, or simply store the jam in the refrigerator. The jars may be stored for up to a year in a cool dry place.

[wpurp-searchable-recipe]Fredericksburg Peach and Southern Comfort Jam – – – [/wpurp-searchable-recipe]