If you're reading this, you most likely like to dabble in the art (or science) of baking. And if you're into baking, I hope you know all about King Arthur Flour and why they're the best flour for consistant results, in my opinion. The big news in baking right now? King Arthur Flour has created an Unbleached Self Rising Flour!
Being from the South, self rising flour is something I'm pretty at home with. Biscuits, cobblers, and cakes, if we're Southern, we make these things with self rising flour.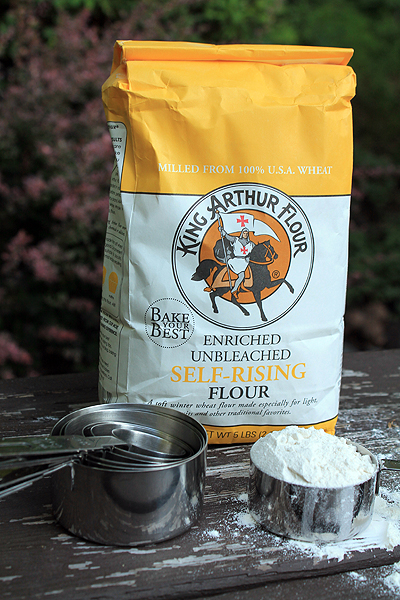 P.J. over at King Arthur Flour does a fabulous job of showing you the differences that you get when baking with self rising flour versus all purpose, or even with partial whole wheat, so if you're curious, check out her blog post all about it.
I've had the chance to play with KAF's self rising flour for a while now. They sent me some test samples, and I was really pleased with the results. I've made scones, and most recently, something I'd like to call "Scuffins".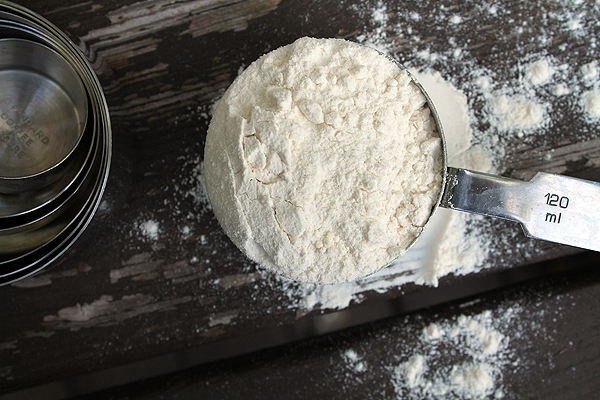 You see, I forgot that self rising flour has a lower protein content than all purpose flour (which is why baked goods made with it are more tender), so when I decided to make banana walnut scones, I didn't adjust my flour accordingly to compensate for the moisture in the bananas.
Once I'd mixed the dough the way I would for a scone (including frozen, grated butter), I realized the mixture was way too wet to become a proper scone.
Rather than try to wing it and come up with an inconsistent measurement that would result from adding more flour after the fact, I baked the dough in a muffin pan.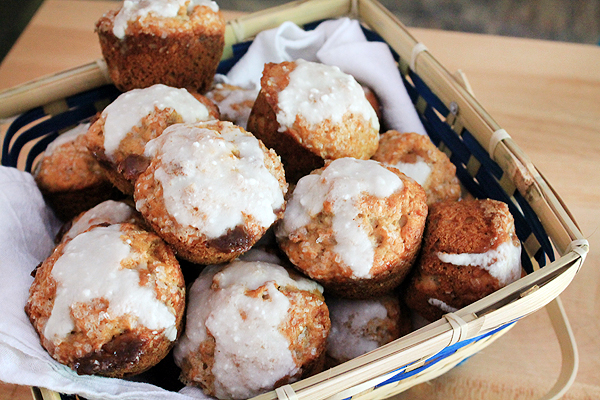 These babies really are somewhere between a muffin and a scone – moist and tender, but slightly more stout than my traditional pancake mix muffin recipes.
While I was pulling out baking ingredients, I found my caramel bits and coconut milk powder in amongst the chocolate chips. (Yup, my pantry needs a revamp like whoa!) I decided to toss the caramel bits in along with some crunchy chopped walnuts, and used the coconut milk powder for a delicious tropical glaze. Both of these things are optional, but really amp up the flavor if you have them on hand.
I hope you'll try the new King Arthur Self Rising Flour for yourself and see what I'm talking about when it comes to your favorite biscuit, scone, or for that matter – scuffin, recipe!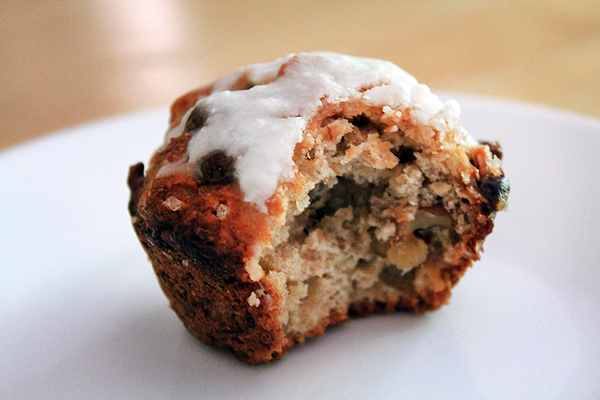 Caramel Coconut Banana Walnut Scuffins
adapted from HowTo: Simplify's Pumpkin Cream Cheese Scones
makes approximate 24 Scuffins
Ingredients
2 cups King Arthur Self Rising Flour
1 teaspoon ground cinnamon
1/2 teaspoon ground nutmeg
1/3 cup granulated sugar
2 large eggs
8 ounces cream cheese, softened
3 bananas, mashed
1/2 cup frozen butter, grated
1 cup chopped walnuts (optional)
1/2 cup caramel bits (optional)
For the Glaze
1/4 cup Coconut Milk Powder
1 cup powdered sugar
2 tablespoons half and half or heavy cream
Directions
Preheat the oven to 375°F.
In a large bowl, combine flour, cinnamon, nutmeg, and granulated sugar. Whisk them together well, and set aside.
In a medium bowl, crack two large eggs. Mix them on low speed with a hand mixer for a few seconds, until well broken. Add in chunks of the softened cream cheese and mix again. Mash the bananas in a separate small bowl with a fork, then add them to the egg and cream cheese mixture and mix again until well combined. Set aside.
Use a box grater to grate frozen butter directly into the flour mixture and then mix it through the flour with a fork.
Add the banana mixture to the flour mixture and stir until just combined. Add the walnuts and caramel bits and mix them through.
Line a muffin tin with paper liners and spray the pan and the liners lightly with cooking spray. This prevents them from sticking too much to the baked goods once cooled.
Using a large cookie scoop or spoon, scoop dough into each muffin well until about 3/4 of the way full.
Bake for 22-25 minutes, or until a toothpick comes out clean.
Allow to cool in the pan for 5-10 minutes, then remove and allow the scuffins to continue cooling to room temperature.
To Make the Glaze:
Combine powdered sugar and coconut milk powder in a small bowl and whisk to evenly mix. Add half and half or heavy cream, one tablespoon at a time, and stir, until you reach your desired consistency.
When the scuffins are cool, spoon or brush glaze onto each one. Allow to sit overnight, or place in the refrigerator to allow the glaze to harden.

Disclaimer: I was asked to product test King Arthur self rising flour before it was available to purchase and provided a bag of the purchasable product for photographing purposes by the company. All opinions are my own, based on my use of the product. [wpurp-searchable-recipe]Tender Scuffins & King Arthur Flour Self Rising Flour – – – [/wpurp-searchable-recipe]