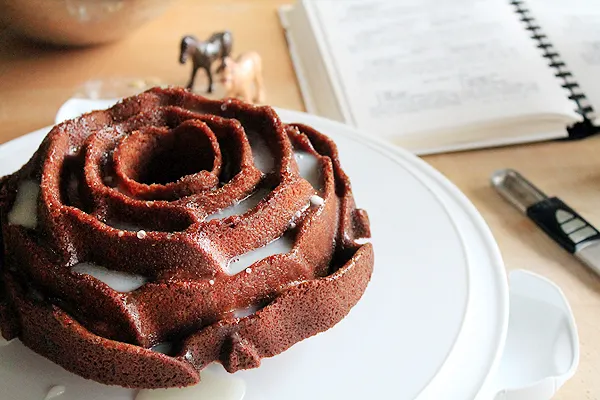 Things have been a little crazy over here in Casa de B&B. Sufficed to say, I'm finding there are not enough hours in most days. But, some things are important enough that you make time for them. Like cake. And friends.
I'd like to tell you about our dear friends, Chris and Karen. They have a lovely little blog, The Peche, and it is because of our blogs that we met. But somewhere along the way, our friendship became less about bloggy things and more about, well, just really enjoying each others' company.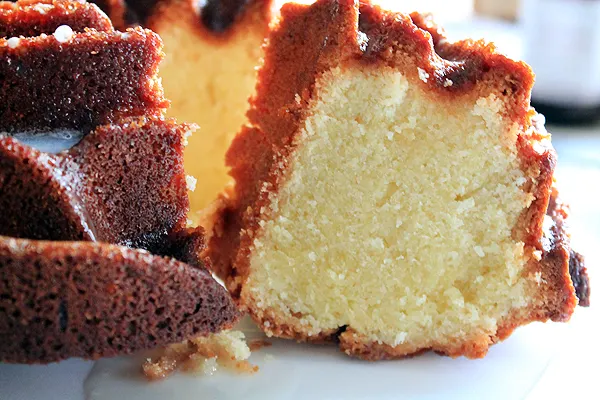 The year before last, Chris and Karen and their three littles moved away from New Jersey. I was sad. Really sad. And then we got to see them on our drive back from Texas in March, and we had this fantastic dinner at a restaurant in Atlanta called Cake & Ale.
I ate a superb entree that night, but if I'm honest, the only things I remember about that meal are realizing how much I missed Chris and Karen being local, and the salt and pepper cookie I had for dessert.
It pleases me to tell you that Chris, Karen, and three of the sweetest, craziest, smartest, adorable kids we know are now living within 10 minutes of our front door. Last Sunday, we stopped by to return their cake carrier and the two little Fisher Price horse visitors left at our house by mistake.
You should know, I'm from the South. We don't return plates, casserole dishes, or indeed, cake carriers, empty. So I made Chris and Karen and the littles a cake. A Southern cake, found in a New Orleans compilation cookbook, circa 1959.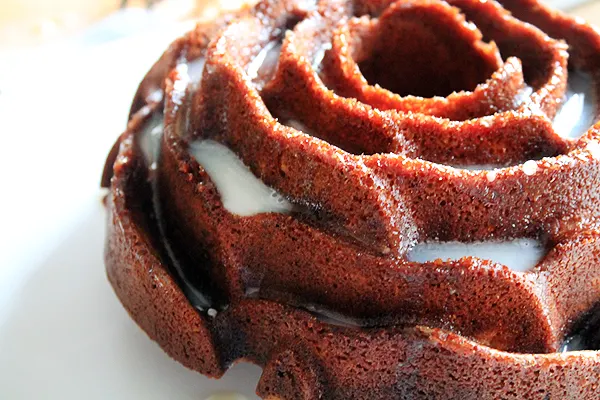 Decadent and eggy, with a crispy crust and a sweet glaze, Bishop's Cake is definitely my new favorite pound cake. The traditional recipe calls for vanilla extract in both the cake and the glaze, but I chose this opportunity to try out my new "Buttery Sweet Dough" extract emulsion from King Arthur Flour.
You know that smell that hits you when you step into a bakery? Sweet notes of citrus and vanilla, and everything there is to love about baking? That's what you get in the Buttery Sweet Dough emulsion. I kind of want to put it in everything, even my coffee. But if you're not in to ordering special ingredients, just use vanilla extract in both.
So have a piece of cake. In honor of friends who just get you, and don't mind when you gift them with a cake that already has a slice cut – because luckily, they get you.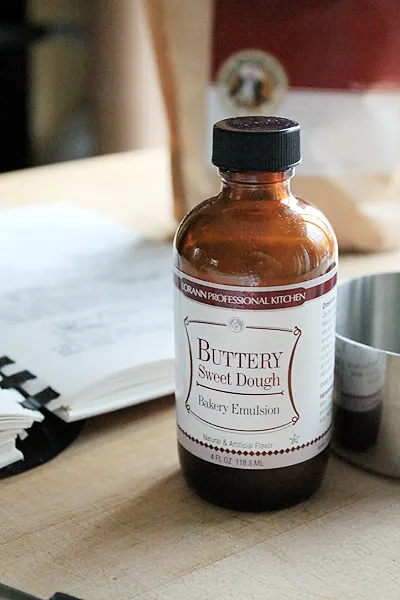 Bishop's Cake
Adapted from River Road Recipes published by The Junior League of Baton Rouge, 1959
makes one Bundt cake
Ingredients for the Cake
1 cup (2 sticks) unsalted butter, room temperature
2 cups granulated sugar
5 eggs
1 tablespoon lemon juice
1 tablespoon Buttery Sweet Dough extract or pure vanilla extract
2 cups cake flour
Ingredients for the Glaze
1/4 cup powdered sugar
1 teaspoon Buttery Sweet Dough extract or pure vanilla extract
1/8 cup milk
Directions for the Cake
Preheat the oven to 325°F. Grease and flour a standard Bundt pan, and set aside.
In the bowl of a stand mixer, or in a large mixing bowl, cream together room temperature butter and granulated sugar until they are well mixed.
Add eggs, lemon juice, and extract, then mix again, beating until light and fluffy.
In a separate smaller bowl, measure out 2 cups of cake flour. Either sift or whisk well to aerate the flour, then add it to the wet mixture, combining on low speed until the flour is just incorporated.
Pour the batter into the Bundt pan and bake for 1 hour and 15 minutes.
Allow to cool for a few minutes, then invert the Bundt pan onto a cooling rack. Tap the pan a few times until the cake releases onto the cooling rack. Allow it to cool on the rack for 20-30 minutes.
While the cake cools, make the glaze.
Directions for the Glaze
In a small bowl, combine powdered sugar, extract, and milk. Mix vigorously with a whisk until powdered sugar is completely dissolved.
When the cake is cool to the touch, spoon glaze over the cake.
Now dig in!

[wpurp-searchable-recipe]Bishop's Cake – – – [/wpurp-searchable-recipe]