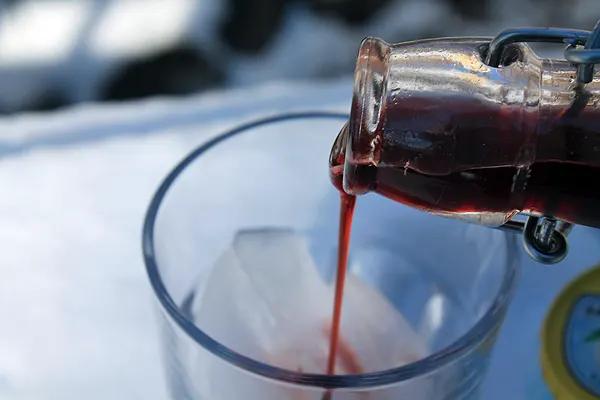 When I was a kid, we spent a lot of time in clubs and bars that my dad's band played in.
Some of my favorite memories of that time, other than getting to hear my dad play great music, of course – was when my mom would let us order a Shirley Temple.
We felt so grown up! Sprite and grenadine, how continental!
Homemade grenadine syrup is deceptive, and completely different from the stuff we had in Shirley Temples when I was a kid.
The depth of flavors that are produced when pomegranate juice is cooked down are sweet, earthy, and bright.
And way better than any "grenadine" whose primary ingredient is high fructose corn syrup, not juice. (I'm lookin' at you, Rose's.)
Most people think grenadine is a cherry flavored syrup, but the truth is that the origin of the name comes from the French word for pomegranate.
And I'm here to tell you that pomegranate syrup far surpasses cherry in this instance.

Homemade grenadine couldn't be easier to make. Just make sure to pick up a resealable bottle before you start.
I got mine at crate & barrel, but you can use any resealable jar in a pinch.
Some folks get crazy and lemon juice or star anise, but I like to let the pomegranate shine.
Add the syrup to sparkling water, lemon-lime soda for a Shirley Temple, or make it that twist I talked about in my Classic St. Germain Cocktail post.
No matter what you do, just make it!