Oh, November 23rd. It's a special day. First in my life, it was my Gaga's birthday. One of the special men in my life that would lead by example in showing me the kind of man I should look for when I grew up.
He had a sense of humor like no other. From electronic whoopie cushions found under unsuspecting chairs to addressing all cards to my nan as "Mrs. Boobies", his joy for life was infectious.
But he also had a serious side. The soldier who worked hard his whole career, stood up for what he felt was right, and lived life with a quiet efficiency and respect.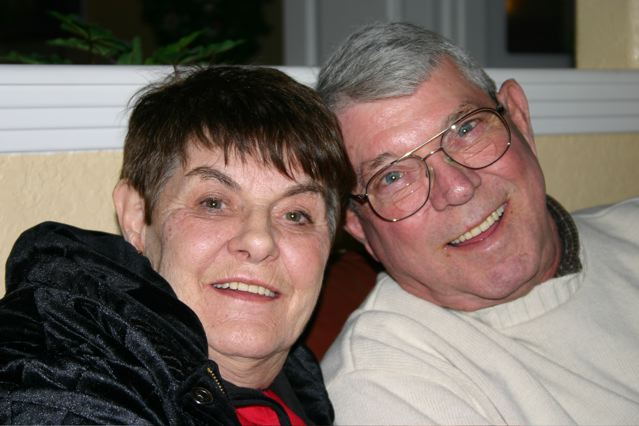 These are the qualities I wanted in a husband. I got all that and so much more when James and I met. The story of how we met, is to me, still so far-fetched. A one in a million shot.
We met online, in a chat room. I had followed a friend to a new IRC network – that's internet relay chat for you non-geeks. IRC was the precursor to instant messaging, Skype, and all of that. Just thousands of souls on a server, chatting about things that interest them.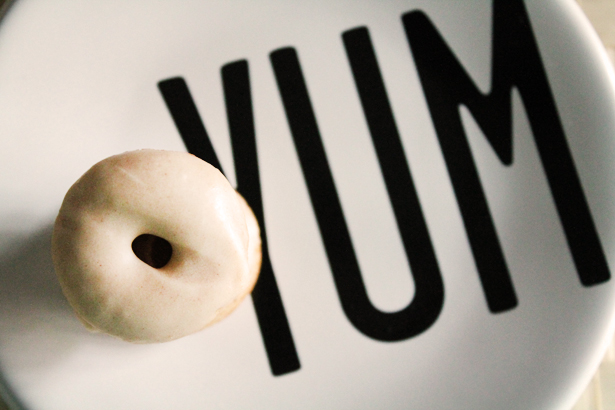 We had a mutual friend – James knew Mark from high school. I knew Mark from.. well, just randomly striking up a chat in a group room about movies or Quake or some other geeky thing.
There was just something about James.. right from the start, his humor showed through and there was a whisper of something in my heart.
When I finally admitted my crush, nearly a year later, his response took my breath away. "I've been waiting weeks for you to say that."
When James walked up to me at Victoria Station, I looked in his gorgeous blue eyes and knew this is the man I would marry. The feeling came over me all in a rush.
I can still point out to you the exact spot, between the doors and the tea trolley, where I stood when he found me and I found him.
We met face to face just a couple of months after that conversation over mutual crushes, on November 22nd. The first full day we spent together? November 23rd.
It really is the stuff movies and dreams are made of, and I can hardly believe I lived it.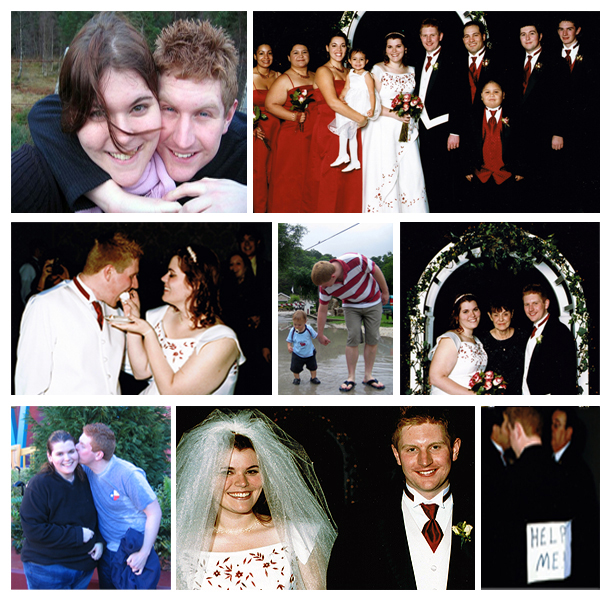 And so it began, our two year long-distance courtship. We saw each other every few months, for a week at a time.
When James asked me to marry him, he tried desperately to get me to the Peter Pan statue in Kensington Gardens, next to Hyde Park.
He knows it's one of my favorite spots in London (it appears at the end of one of my favorite films, Hook), and was doing everything in his power to get me there.
True to form though, I was more concerned about being on time for "friends" we were supposedly meeting (we weren't, it was a rouse!) and instead, we walked along the edge of the park, and stopped in front of Marble Arch.
There he proposed, and I said yes. Only later did I learn Marble Arch was the sight of many a hanging. (One of the many times I've learned I should stop getting in my own way.)
My grandfather met James several times, and he loved him dearly. They have an identical sense of humor, and Gaga loved to tease him. James proposed in July of 2005, three months after Gaga died.
To include my Gaga in our day, James agreed that we could get married on his birthday, November 23rd. I could not have asked for a more beautiful day or a more wonderful way to honor my first best friend while marrying my last best friend.
To my James, today it's been six years of marriage, eight together. Each day with you has been more magical than the last. We are the perfect team, an impossible match made over thousands of miles and mountainous tasks just so we could be together. Every struggle, every time I missed you so much when we were a continent apart, it was worth it for today. I love you.
Today I share with you a recipe for baked apple cider donuts because James and I have enjoyed them so much when we go to Vermont. We celebrated our first anniversary in Stowe, and several since. If you're looking for romance, Stowe, Vermont is where you want to be. And fresh Apple Cider Donuts? Not to be missed.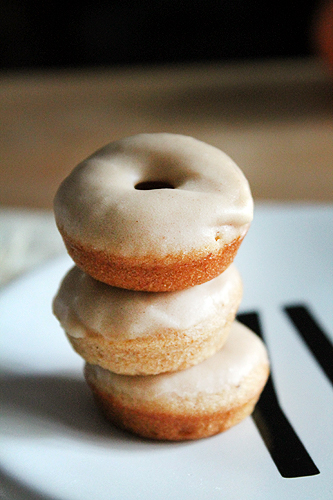 Baked Apple Cider Donuts
Makes 36 mini donuts
Donuts
Ingredients
2 tablespoons soft butter
2 tablespoons vegetable oil
1/4 cup granulated sugar
1/2 teaspoon salt
1 teaspoon cinnamon
1/8 teaspoon nutmeg
2 tablespoons boiled cider
1 large egg
1 teaspoon baking powder
1/8 teaspoon baking soda
1 1/4 cup all purpose flour
1/2 cup buttermilk
Directions
Preheat oven to 400F.
In a large bowl, beat together butter, oil, sugar, salt and spices. Beat in the boiled cider and then the egg, mixing until well combined.
In a smaller bowl, whisk together baking powder, baking soda, and flour.
Stir flour into wet ingredients, alternating with buttermilk. Begin and end with flour.
Bake in mini donut pans for approximately 5 minutes. Allow to cool completely, and then glaze.
Cider Glaze
Ingredients
2 tablespoons boiled cider
1 tablespoon heavy cream
1 cup powdered sugar
Directions
Place powdered sugar in a small bowl. Add boiled cider and heavy cream, and mix using a hand mixer. When you have a smooth consistency, dip cooled mini donuts directly into the bowl. Twist and pull up. Glaze should cover the top of the donut evenly.
Place on a piece of parchment or a cooling rack and allow to sit overnight. Glaze will harden slightly and crisp, and be perfectly delicious!

[wpurp-searchable-recipe]An Anniversary and Baked Apple Cider Donuts – – – [/wpurp-searchable-recipe]