Not too long ago, James and I finally hit up this restaurant in our town, called the Stage House Tavern. Billed as the oldest restaurant in New Jersey (it's been in operation since the 1700s), the place is pretty charming.
The menu isn't quite what I expected – I guess I was thinking along the lines of the Liberty Tree Tavern in Disney World. Silly me! Instead, it's part steak house, part fine Italian restaurant, with freshly made pastas and prime cuts of beef.
On our first visit, the specials menu drew me in. Tops on the list? The ground sirloin burger with Jarlsberg cheese and a housemade Sam Adams Octoberfest Beer Barbecue Sauce. Hello!

Biting into that burger, I was taken over by the tangy, earthy, wonderfully just-the-right-amount-of-spice sauce and knew I had to try to recreate it at home.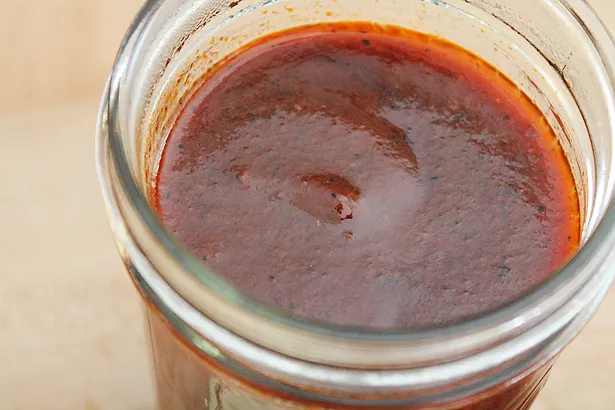 Why have I never made my own barbecue sauce? That was the first thing I asked myself after putting it together.
Barbecue sauce has to be one of the easiest things in the world to make. And it sure as heck took less time to make than searching the grocery store shelves for a bottle of sauce that doesn't contain HFCS.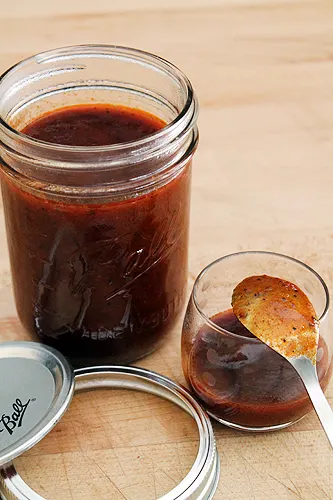 I'm sharing this today because I thought maybe you might have a few leftovers (turkey, stuffing, ham, mashed potatoes, pie..) that it would taste fabulous on, and give your palette some new flavors to get those leftovers eaten.
And who knows, you may have a few bottles of Oktoberfest hanging around too!
I hope you had a wonderful Thanksgiving!
Oktoberfest Barbecue Sauce
makes approximately 1 pint
Ingredients
4 tablespoons Native Texan Rub
1/4 cup Apple Cider Vinegar
3 tablespoons Vegetable oil
2/3 cup Sam Adams Oktoberfest beer or any beer of your choosing – but go dark
1/3 cup organic or non-high fructose corn syrup ketchup or 1/4 cup tomato paste
2 tablespoons brown sugar
Directions
Stir ingredients together in a small sauce pan.
Bring to a boil, then lower heat and simmer for 20 minutes until flavors are fully combined and sauce has reduced and thickened.
Keep in an air tight container in the refrigerator. I used a mason jar.

[wpurp-searchable-recipe]Octoberfest Beer Barbecue Sauce – – – [/wpurp-searchable-recipe]