It's time for another Secret Recipe Club post! I'll tell you, I really love how being part of the club forces you to get to know someone's blog, writing style, and photography style. It can be too easy to hit the StumbleUpon button, like what you see, but then move on in your everlasting quest to get to the end of the Internet.
This month I was assigned Savvy Eats – All About Smart Food & Fitness. Written by Julie, she is passionate about living savvy – being smart about what you eat, how you exercise, and about continuing to learn. That's something I can definitely get down with – I'm a firm believer that you should never stop learning!

Sidebar: It's a secret wish of mine to name my future little girl Savannah, and then call her Savvy. How adorable is that as a nickname?
Where were we? Oh yeah – leave it to me to find what is probably the most unhealthy recipe Julie's dared to post – Chocolate Malt Cake. There was never a chance I'd start with anything else from her blog once I saw that though. You see, The Brit loves anything and everything malt. How could I resist the opportunity to make a chocolatey dessert like this when I knew it would make his day?
I turned Julie's Chocolate Malt Cake into cupcakes. And because I'm lazy, I simplified her marshmallow filling a little bit. I have to tell you, this turned into one SUPER delicious cupcake. I added malted milk balls for garnish, and really love how they look like a jaunty little top hat of an accent.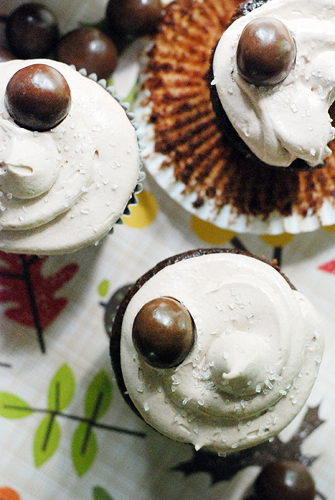 I used Scharffen Berger baking chocolate in powdered and melting form, and it is just gorgeous. If you have the chance, I highly recommend getting some for any chocolate dessert you make.
I hope you'll make these for your favorite person – for a birthday, like Julie did – or just because, like I did.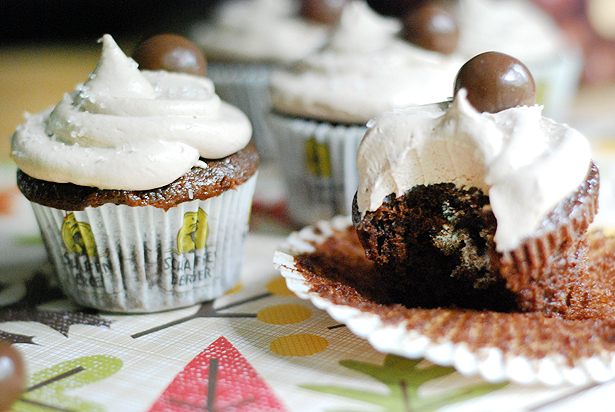 Malt Chocolate Cupcakes
Adapted from Savvy Eats
Makes 24 cupcakes
Ingredients
For the Cupcakes
2 1/2 cups All Purpose Flour
1 tsp Baking Soda
1/2 tsp Salt
3/4 cup Malted Milk Powder (I've linked you to King Arthur Flour, where I got mine)
1 cup cold Coffee (I used Green Mountain Coffee Donut House)
1/2 cup Canola Oil
1/2 cup Butter (1 stick)
1/3 cup Unsweetened Scharffen Berger Cocoa Powder
2 oz Unsweetened Scharffen Berger Baking Chocolate
3 Egg Yolks
1/2 cup Half & Half
1 teaspoon Vanilla Extract
Directions
Preheat oven to 325F. In a small bowl, combine Flour, Baking Soda, Salt, and Malted Milk Powder. Set aside.
In a medium saucepan over medium heat, combine Coffee, Oil, Butter, Cocoa Powder, and Baking Chocolate squares. Heat slowly and steadily until both the butter and baking chocolate are melted. Watch carefully, because if this overheats, it will expand and spill over quickly. Allow to cool while you combine the next ingredients.
In a large mixing bowl or the bowl of a stand mixer, combine Egg Yolks, Half & Half, and Vanilla Extract. Mix until well combined and frothy. Slowly pour in the chocolate mixture from the saucepan with the mixer on low. This will allow the eggs to temper. If you pour a semi-hot liquid in all at once, it will cook and scramble the eggs, which is not what you want in a chocolate cake!
Once chocolate mixture has been added, add the flour mix in increments, mixing well and scraping the sides after each addition.
Line 2 12 cup or 1 24 cup muffin tin(s) with cupcake liners. (You'll notice I used cute little Scharffen Berger ones – a little swag I picked up 2 years ago at BlogHer Food!) Using a 1/4 cup measure, scoop batter into each cup. By using the 1/4 cup measurement, you should end up with uniform and perfectly cooked cupcakes.
Bake for approximately 22-26 minutes, until a toothpick inserted into the center of the center-most cupcake comes out clean.
Allow to cool completely before filling or frosting.
Maple Marshmallow Filling
Ingredients
1 7 oz. tub of Marshmallow Cream (Found near the Peanut Butters & Jellies)
2 tablespoons Grade B Maple Syrup
Directions
Empty Marshmallow Cream into a small bowl. Add 2 tablespoons of real maple syrup (not imitation!) and whisk to combine. It will take a few minutes to whisk and combine fully, so don't give up!
Pour bowl contents into a pastry piping bag equipped with a Wilton 230 Tip, then poke the tip into each cupcake, squeezing the pastry bag to fill the cupcake until you see just a tiny bit of the marshmallow cream poking out of the top. Do not do this until cupcakes are COMPLETELY cool, or mashmallow filling will melt into the cupcake.
Malt Chocolate Frosting
Adapted from SavvyEats
Ingredients
1 cup (2 sticks) Unsalted Butter, softened
2 1/3 cups Powdered Sugar
1/3 cup Malted Milk powder
1/4 cup Unsweetened Cocoa Powder
1-3 tablespoons Half & Half
Directions
Whip butter in a stand mixer or by hand on high until light and fluffy. Add powdered sugar in increments until fully combined, then malted milk powder and cocoa powder as well. Whip for a solid 7-10 minutes, until all sugar, malted milk powder and cocoa powder are fully incorporated. Add half and half, one tablespoon at a time, until frosting is your desired consistency.
Frost cupcakes and refrigerate. When frosting has hardened somewhat, insert a malted milk ball into each cupcake for garnish. I also used some sparkling sugar for garnish, but both are completely optional.

[wpurp-searchable-recipe]Secret Recipe Club – Malt Chocolate Cupcakes – – – [/wpurp-searchable-recipe]