You might be asking yourself just what in the Sam Hell a gooseberry is. I first had these tart little beauties at a tiny English Tea room in San Antonio, which is probably the oddest place in the world to have them. They really only grow in cold climates like England and the Northeastern Seaboard of the U.S.
In the tea room, my pal Liz and I had gooseberry crumble. The gorgeous tart berries hidden under crispy crumble and topped with fresh cream were a divine revelation. I've thought about that dessert often since then, but until a few weeks ago, had never found a fresh gooseberry for sale. An early morning trip to our town's farmer's market brought excitement and joy. I just knew that the gooseberries would pair perfectly with the Honey Crisp apples I'd picked up at the stall before.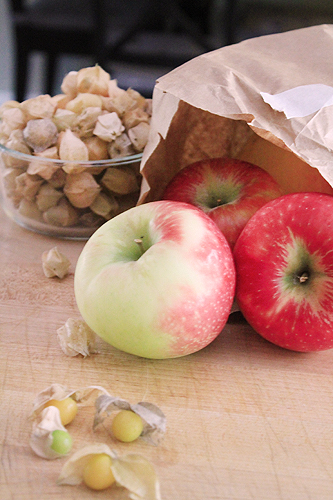 Apple pie is probably James's top dessert, though it fights for that position with Carrot Cake. He was pretty happy to come home from work and see this baby chilling on the counter top.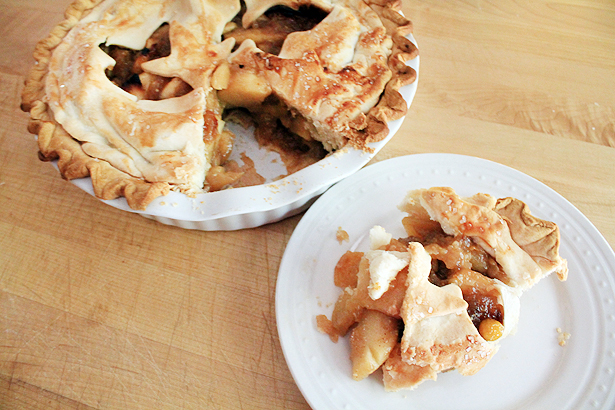 Gooseberries are in the Tomatillo family, so they have a similar papery husk that comes right off. In England, Gooseberries are green, but here in the U.S., they tend more towards an orange hue.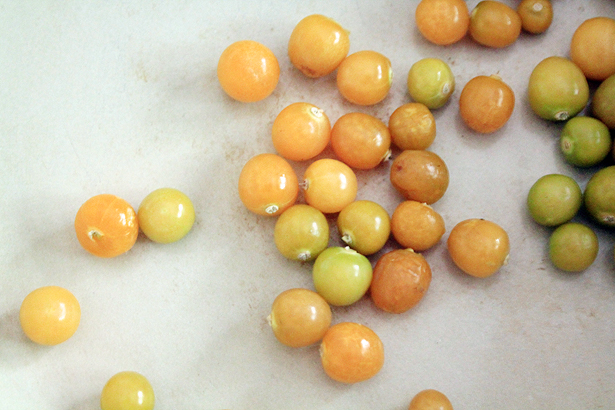 As they're mixed into the apple pie filling and cooked down, they add a perfect tartness you might also get with lemon juice. They pop when you bite into them, much like a cherry or tomato, but there's a sweet-sour note that will surprise and delight.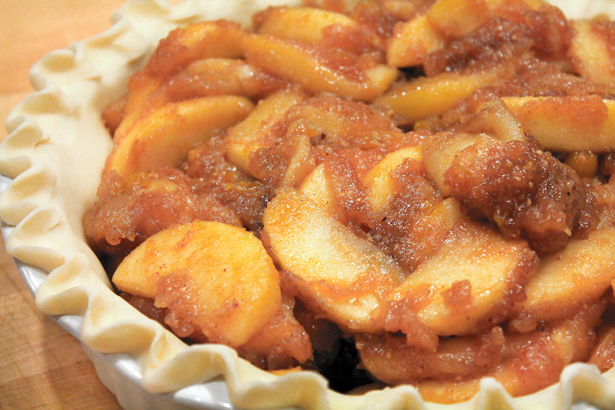 So go on, have a slice. I may or may not have had one for breakfast the day I took these photos.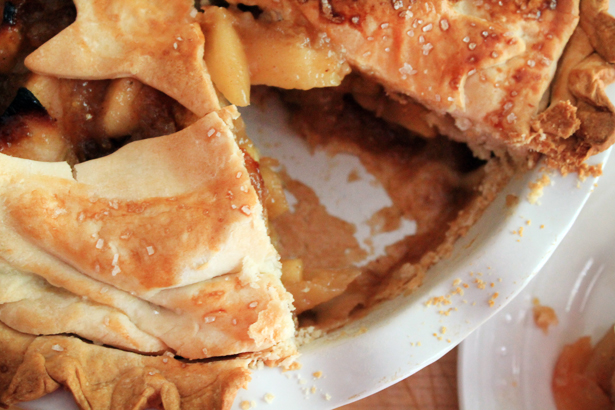 Note: I have learned that this pie is in fact made with Cape Gooseberries, which are a different species to the Gooseberries grown in England. However, their flavor profiles are almost identical, and you can use them interchangeably.
Come join Love the Pie with TidyMom sponsored by Cherokee USA, Le Creuset, Wilton, Bags by Bloom and Harvard Common Press.
Apple and Gooseberry Pie Filling
Fills one 9″ pie
Ingredients
9 Honey Crisp Apples, peeled, cored, and sliced into 1/4″ slices
2 tablespoons lemon or lime juice
1 pint of Gooseberries, de-husked and washed
2 tablespoons Salted Butter or Unsalted plus a pinch of salt
3/4 cup Dark Brown Sugar
2 tablespoons Apple Pie Spice
1 tablespoon Pure Vanilla Extract
1/4 cup King Arthur Flour Pie Filling Enhancer
Your favorite pie crust
Directions
Peel, core, and slice apples into 1/4″ thick slices. Place in a bowl and sprinkle with lemon or lime juice, whatever you have on hand. De-husk and wash gooseberries.
In a large pan, melt butter on medium heat. Add sugar, apple pie spice, and vanilla extract. When well combined and liquidy, add apple slices and gooseberries. Stir well to coat the fruit, then reduce heat to low and simmer for half an hour to an hour, until fruit is nice and soft.
In the meantime, prepare your favorite pie crust for a 2-crust pie. Homemade, store-bought, we're not going to judge.
When the fruit is nice and soft, add KAF's Pie Filling Enhancer and stir continuously until liquid is thickened. Immediately pour into prepared pie crust lined dish and top with second pie crust. Make sure to vent.
Bake at 425F until golden brown, usually about an hour. Make sure to cover the edges until about the last 20 minutes of baking to prevent over-browning.
This filling can also be used in cobblers, crumbles, or crepes. Enjoy!

[wpurp-searchable-recipe]Apple and Gooseberry Pie – – – [/wpurp-searchable-recipe]