Last weekend, I met up with my pals and fellow New Jersey based food bloggers, Nancy and Stephanie. Farmer's Market strolling and lunch on the agenda, we met at the Morristown Farmer's Market. I'd never hit that one up before, and I'm sure glad we did.
While I love our Scotch Plains Market, the Morristown one had a lot more organic offerings, and a lot more variety in meat and fish. Nancy immediately directed me to a vendor towards the corner of the L-shaped market where people were grilling up sausage and bacon on a portable George Foreman outdoor grill. Pork-filled free sample goodness is exactly what I needed to see on that sunshine-filled Sunday morning – I hadn't eaten breakfast!
The premise for this Sunday Supper started with that walk around the market. The first stall I visited had blue potatoes. The skins were similar in thickness to red bliss potatoes, but had a wild blue-purple hue. Inside, they're a creamy white, just like red bliss. I had to have them. In that same stall, big bunches of kale looked too pretty to pass up.
Next, a bag of sweet Vidalia onions. Lastly, that beautiful sausage. I love it when a package reads so simply. Ingredients: pork, water, curing salt, garlic, seasonings. Now, this stall called the sausage Kielbasy. But where I come from, it's Kielbasa. So that's what I'm calling it!
Once home, I had another stroke of inspiration in the tart green apples tucked away in my crisper drawer. Adding in a good bit of seasoning and some fresh herbs, this hash came together in a matter of minutes and spectacularly so. For lunch the next day it was even better!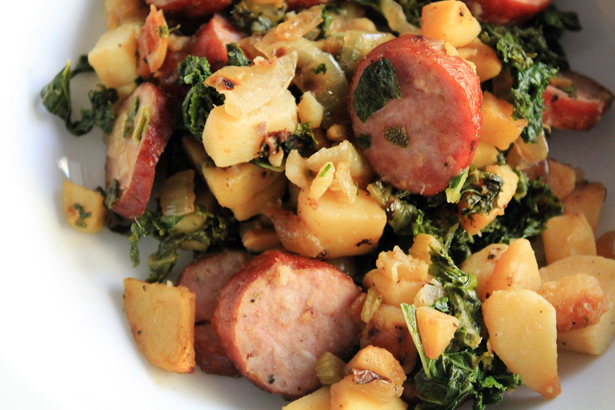 I desperately wanted to serve this hash with a beautifully poached egg on top, but the poaching Gods were not with me on this one. After four failed attempts with as many eggs, I gave up and we ate as-is. It was still plenty delicious.
Kielbasa, Apple and Kale Hash
Serves 3-4
Ingredients
1 lb Kielbasa, sliced into 1/4″ discs
4 medium Potatoes (any thin-skinned kind will do. I used blue because it's what I had on hand), diced
1 medium Sweet Onion, diced
1 large Green Apple, diced
2 medium stalks of Celery, diced finely
2-4 Kale leaves, stripped from the stems and chopped
2 tablespoons Olive or Canola oil
Salt, Pepper, and Nature's Seasoning to taste
Directions
Wash, dry, and chop potatoes, onion, apple, celery and kale. Slice kielbasa. Set all aside.
In a large frying or sauté pan, heat oil over medium-high heat. Add diced potatoes and stir immediately to coat with oil and prevent the potatoes from sticking to the pan. Season the potatoes with salt and pepper and allow to cook until they begin to get a little color on each side.
Add onion, apple, and celery to the pan and stir, allowing to cook down again until onions and celery start to go translucent. Season again with salt and pepper.
Add kielbasa slices and stir. Allow to cook until sausage begins to caramelize on each side. Add chopped kale and stir, allowing to heat and slightly wilt.
Season entire pot with either more salt and pepper or Nature's Seasoning to taste.
Serve immediately. For extra decadence, serve with a poached egg on top.

[wpurp-searchable-recipe]Kielbasa, Apple and Kale Hash – – – [/wpurp-searchable-recipe]