Peach Clafouti is the best breakfast you've never had. This sweet stone fruit, eggy custard pancake is your new favorite, I swear.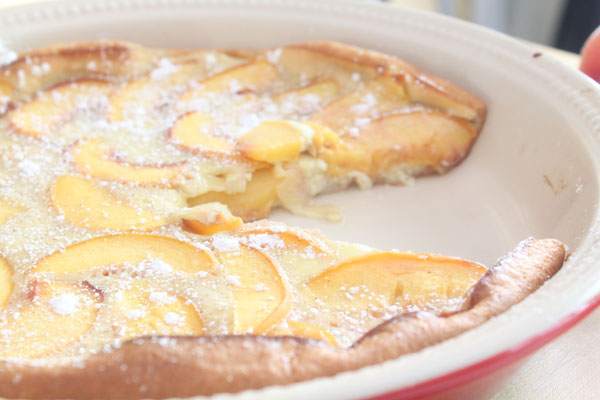 Every once in a while, I see a recipe that I just can't get out of my head.
Whether it's the photos, the ingredients, or the story behind it that drives the obsession really depends on the recipe.
I think it was equal parts of all three when it comes to this plum clafouti recipe.
Megan wrote about the clafouti for Food Fanatic, and from the moment I saw those plums ensconced in custardy sweetness, I was hooked.
I'd never eaten a clafouti before last weekend, but I can tell you already that this simple French recipe may become our new Sunday morning staple.
You can use any sort of fruit you like, so long as it's on the soft side. Apples might work if you cook them down first, and I'm already imagining an Anjou pear version.
Technically a clafouti is only a clafouti if it's made with cherries, but it's a recipe that's simply too custardy to be called a Dutch baby.
So we're sticking with clafouti. Plus, isn't it really fun to say?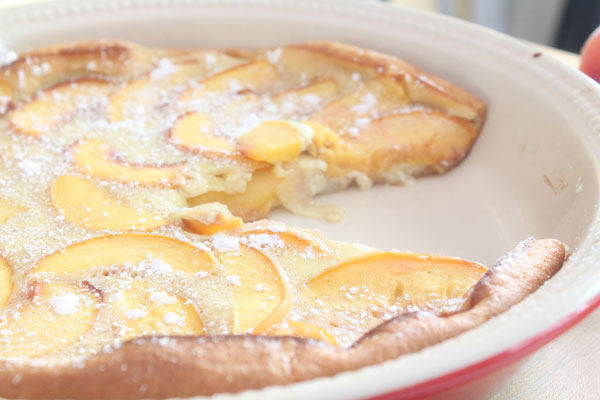 Megan used plums, cinnamon and nutmeg in her clafouti recipe. However, we've been burdened with an overabundance of peaches from our CSA thanks to some freak warm weather in the latter part of September.
Having more than I knew what to do with, we had a few that were 'about to be done for' yellow clingstone peaches. They're a perfect fit for this recipe.
If you're a fan of buttermilk or pumpkin pie, you'll love the texture here. Not to mention the simple egg base lends itself to so many different fruit and spice combinations.
For spices, I started to reach for cinnamon, nutmeg, allspice and clove – and then realized these are all the happy family members of Pumpkin Pie Spice!
Turns out, pumpkin pie spice is a match made in heaven with peaches too. I'm definitely thinking I should add some pumpkin pie spice the next time I make this boozy peach jam recipe.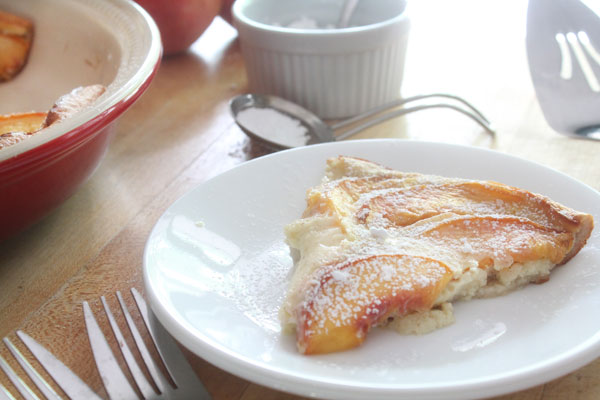 I'm telling you, this is just the perfect start to your Sunday. What fruit would you make it with?