Strawberry Lemon Cupcakes are light and sweet, and full of tart lemon flavor. The strawberry buttercream is impossible to resist.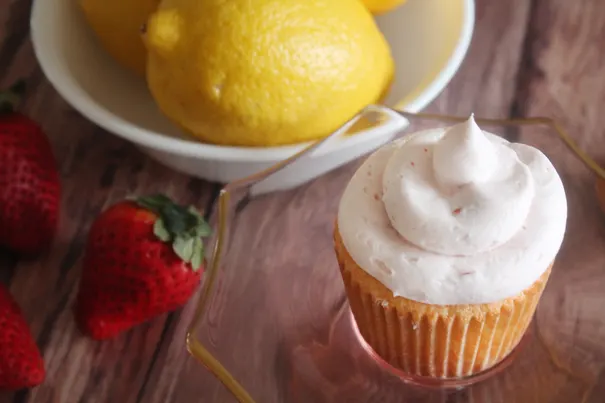 I feel sorry for winter babies. Being one myself, I know the envy that is birthday pool parties, slip and slides and barbecue parties, or, well, pretty much any outdoor party you can think of.
When February rolled around every year, all I wanted was a pool party with an ice cream sundae bar like my sister.
So I feel for Little E, my soon-to-be niece, over there in Ohio. Baby Girl, I know you will wish for birthday parties with swimwear and grilled meats.
But I promise that your mama and I will do everything we can to make your winter birthday super sunshiny and happy every year.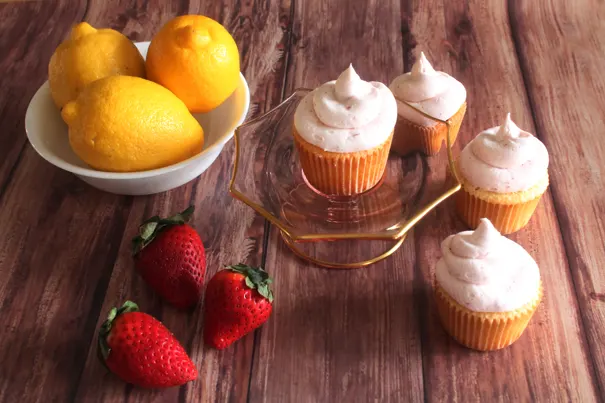 In case you haven't heard, my dearest friend in all the land (to quote Kristan) is about to have a baby girl.
Our little ones will be just about 3 months apart, and I already have secret machinations to betroth them to one another as soon as possible so that Jamie and I can be family f-o-r-e-v-e-r.
Sounds like a solid plan, right?
Back to cupcakes. The thing about the internet is that your bestest friends can sometimes live hundreds of miles from you.
As much as I'd like to take my little tush to Ohio and throw Jamie the rockin'-est baby shower (Not that she'd actually want one – stubborn girl), it's really not an option when I have my own newborn and the weather has made traveling incredibly stupid lately.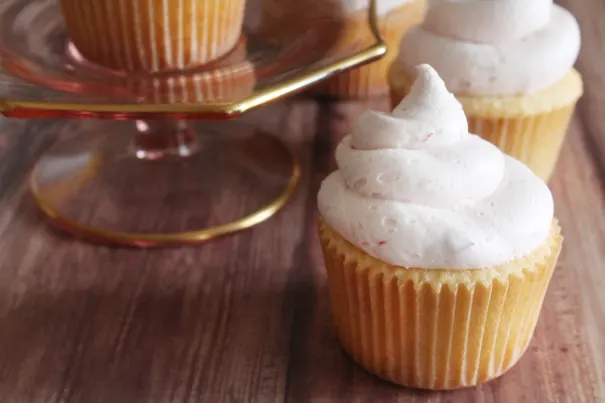 So we're throwing Jamie our own little baby shower right here on the interwebnets.
I made the most delicious of cupcakes for mah girl, because we all know Jamie loves a good cupcake.
You've seen her chocolate chip cookie dough cupcakes, right? And her Rolo cupcakes are not to be missed.
I wanted something light and bright, with a sweet little surprise inside, just like Jamie and her baby girl.
These Strawberry Lemon cupcakes are just the ticket. The cake is just the right amount of lemon-y and sweet.
Tucked inside each one is a fresh strawberry. And each one is topped with a light strawberry frosting made with yummy preserves for an extra sweet finish.
These are exactly the sort of cupcakes you'd want to see on the dessert table of a baby girl's baby shower.
Something summery to help you forget that it's silly cold outside.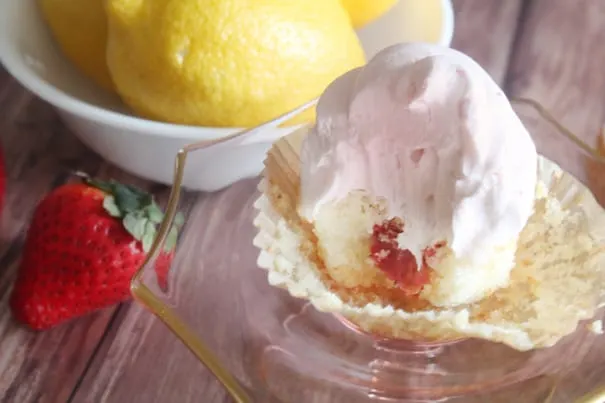 Jamie, you know I couldn't live without you. You make me laugh every day, and it's the best thing in the world to have a friend that just gets me.
I can't wait for our littles to be the best of friends. James and I couldn't be happier for you and Eric. Baby E is the luckiest little girl in the world. We love her so much already!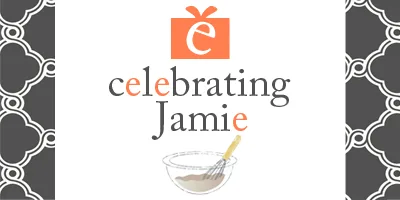 Julie from The Little Kitchen | Pistachio Pudding Cupcakes
Jen from My Kitchen Addiction | Sugar and Spice Cookies
Shaina from Food for My Family | Vanilla Raspberry Mini Meringue Kisses
Glory from Glorious Treats | Modern decorated cookies
Cheryl from TidyMom | Chocolate Cake with Raspberry Buttercream
Katie from Good Life {Eats} | Raspberry Hibiscus Soda
Aimee from SimpleBites | How to freeze a big batch of homemade waffles
Amanda from I am Baker | Heath Bar Cake
Steph from Steph Chows | PB oatmeal cookies
Allison from Some the Wiser | Raspberry Chocolate Chip Muffins
Megan from Stetted | Strawberry Jalapeno Palmiers
Shelly from Cookies & Cups | Bacon Cheddar Scones
Emily from Jelly Toast | Meyer Lemon Scones
Kristan from Confessions of a Cookbook Queen | Samoa Layer Cake