I don't have a recipe for you today. This post.. I've been writing this post in my head for literally the last year and a half.
If you listen to country music, you might know where it's going. There's a song by Miranda Lambert called "The House that Built Me", about her childhood home. I used to sing along to that song, loving it, but not feeling it in the depths of my soul.
Then, my grandmother died. And the process of disassembling her (and my grandfather's) home of 30 years began. I had over a year to come to grips with the idea that the house on East Magnolia Avenue would no longer be the anchor that pulled each family member close to the other. I have to tell you, I'm still not to grips with it. Now I can't hear that song without crying.
My grandparents were not rich, despite what the description of this house might tell you. When they bought it, it was five dilapidated apartments. They, along with my parents, spent the next three years restoring every inch of the historic home. From stripping original wood trim and doors of five layers of paint, to uncovering a stained glass window someone had covered in plywood, they slowly peeled back the secrets of this house while I was a young child, and they did it all with their own two hands.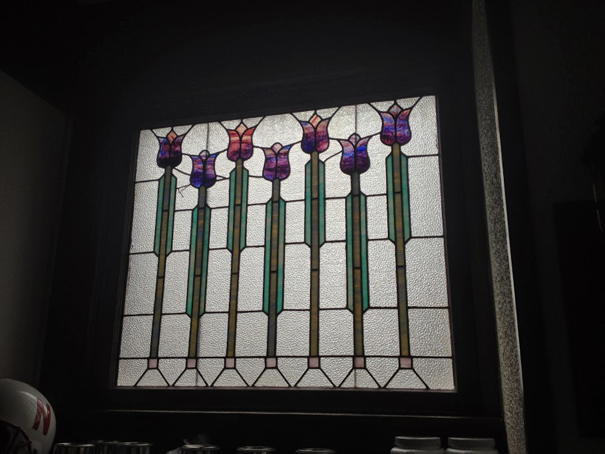 I think work like that must leave a mark on your soul.
I like to think that my sister and I had pretty idyllic childhood summers. We moved into Nanny and Gaga's at the beginning of every June, even though the place was only half an hour from our house. It just seemed easier on everyone, and it meant that Chellee and I spent our summers swimming with Nanny in the pool, or gallivanting off to the hardware store with Gaga – unless we were on an RV trip with them into the wilds of Arkansas, Florida, or Missouri, of course.
You have to understand that this house – it's huge. Over 5,000 square feet and built in 1905. It has a full basement, which is unheard of in South Texas because there's limestone six feet under the soil. In those summers, my sister and I learned every nook and cranny, every creak and groan, every hiding place a house that size can offer.
We played house in the windowless rooms of the basement, with their musty and familiar scent. Rooms so old the posts that hold up the entire house still have their bark. We ran wild in the backyard every day, usually only wearing a bathing suit and flip flops the whole day long.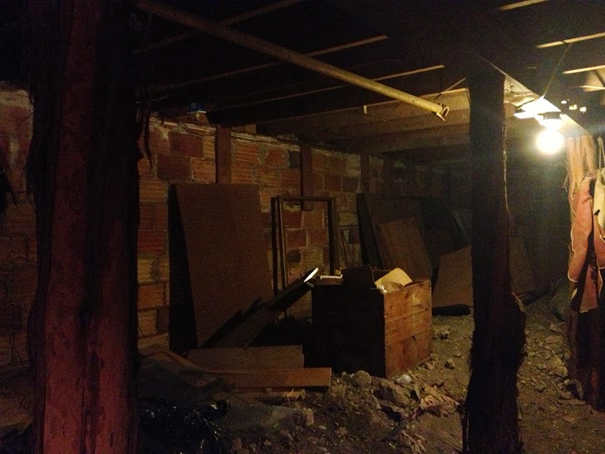 We picked blackberries and onions, and ate Nanny's fresh tomatoes straight off the vine. It was a treat to check the chlorine and pH levels in the pool, counting ever so carefully the red and yellow drops as they dripped into the test tubes.
But so much more than that, we learned the value of our family in those summers. Every weekday, my grandparents, my parents, my two uncles, and sometimes even Nan's beloved weekly housekeeper, Clemmy, joined around the dining table to eat lunch together. The chimes of Days of Our Lives signaled the beginning of lunch preparations, of which Chellee and I were expected to help. Gaga would lament the ridiculousness of the show, and then watch intently as John and Marlena played out their will-they-won't-they story.
We'd talk. We'd laugh. We ate the fresh tomatoes Chell and I picked that morning, and nearly every day, my grandfather would offer my dad cottage cheese and have a great big belly laugh, knowing full well my dad abhors the stuff.
As Chellee and I got older, friends, driving, and other plans took us away from those family lunches. But even at age 18, when I had a job in downtown San Antonio, it was just assumed and accepted that I would be home to Nan's every day for lunch with the rest of the family, since my office was only 10 minutes away. I never questioned it, because – well, it was home.
I'd like to say that the house my parents owned for the first 28 years of my life left such an impression, but it didn't. I don't think it did on them either. When they sold it, we all said goodbye, but we didn't miss it.
I know that each of us aches for the house on East Magnolia. Every sigh that house ever made, ever creak of the thick, solid wood front door sliding open. The feel of the terra cotta front porch tiles warm against your bare skin as you sat down for a chat, lingering over goodbyes with family and friends. Those are the moments that defined our family, tactile representations of the love we hold for each other.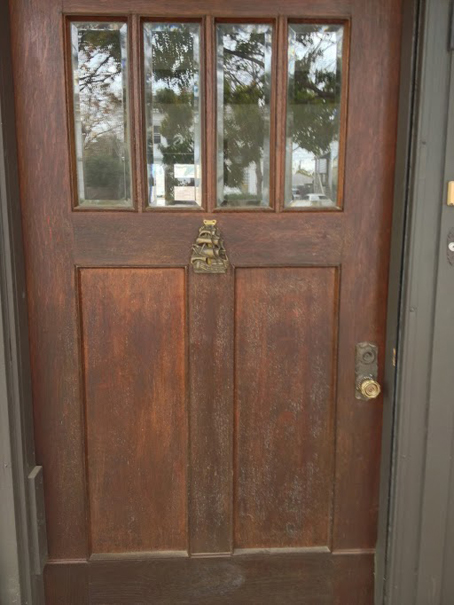 It might sound silly. In fact, I know it does. But oh my, how I miss the musty smell of that basement. When I was back the year before last, my parents had just finished selling the house to a wonderful family with young children. The promise of whole new traditions to fill the house hung in the air, but they were kind enough to allow me to come and say goodbye. The family was not there at the time, only workers making updates.
At the time, I was sad not to meet them and say thank you, but later I realized it was better. You see, it's kind of impossible to say goodbye to the house that built who you are as a person with other people watching.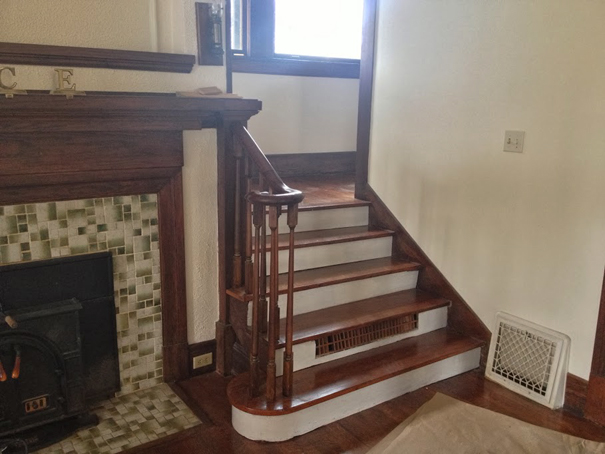 As I walked through each room, listening to the creak of the stairs one last time, I remembered Nan chasing me up them with a wooden spoon (Lord knows what I did, but I'm sure I deserved it). I remembered standing on the step stool at the kitchen counter, helping Nanny make cookies for the first time, and being in charge of the mashed potatoes at Thanksgiving.
I stood in the master bedroom, and remembered so many mornings of climbing into bed with her and Gaga, learning to read by reading the Funnies. The sound of the ceiling fan that always wobbled, but in a comforting way that lulled us to sleep.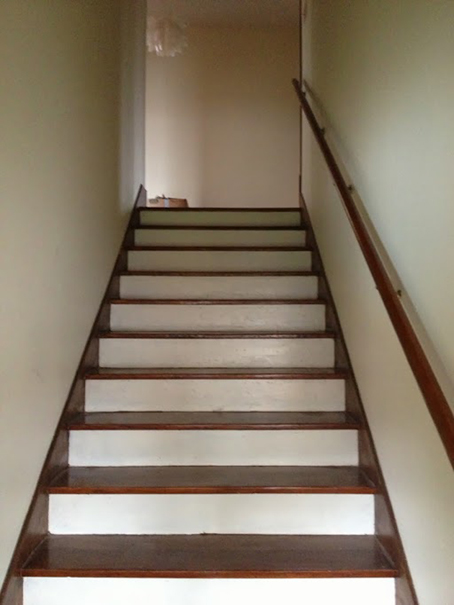 It wasn't until I was standing in the basement, though, that I really mourned the loss of a building which honestly, still feels like part of my soul. As I cried on my mother's shoulder, I know it wasn't just the house I mourned. It's the family structure we had for the first 25 years of my life. The assurance that I could always walk in that front door and be welcomed with a smile and something to eat. That Nan and Gaga would be sitting at the kitchen table, the news on the little TV, sharing the crossword puzzle.
Every Christmas, every birthday, every weekday lunch, was a family event in that house on East Magnolia.
It's not an easy thing to get over.
What helps, more than anything, though, is imagining that new family in their new place. Three young girls are now learning every nook and cranny, every hiding spot, and every step that groans. My wish for that family is that they have as much joy, as much love, as much togetherness in that house as my family did over the last 30 years.
They will be stronger for it, just like we are. And able to let go when the time is right.
It finally feels right to let go. I'm starting my own family. I'm sad that my son won't know the house on East Magnolia other than what I tell him about it. But I'm determined to create a similarly loving place for him, wherever we land.
I'll be able to do that because I learned how in the house on East Magnolia. The house that built me.