2011-09-01
1 hour
1 pie

The other week, Jennie put out the request that we all make a peanut butter pie for the ones we love.
I was definitely inspired, only, the one I love is as anti-peanut butter as you can get without actually being allergic to peanuts.
I was pretty sure if I presented James with a peanut butter pie, he would have stuck his tongue out at me and turned his nose up.
But the sentiment Jennie passed on, I took to heart. James has been begging me for two years now to create a Steak & Guinness pie recipe for him. Something like he'd find at the finest (or dingiest – often the same thing) chippy in all of England.

So that week, while everyone else was making peanut butter pies, I set to work on a Steak & Guinness pie filling for my Brit.
I think Jennie's reminder is a great one – if a loved one has asked a special request, don't put it off. Life gets in the way all the time. Remember that the dishes and dusting can wait.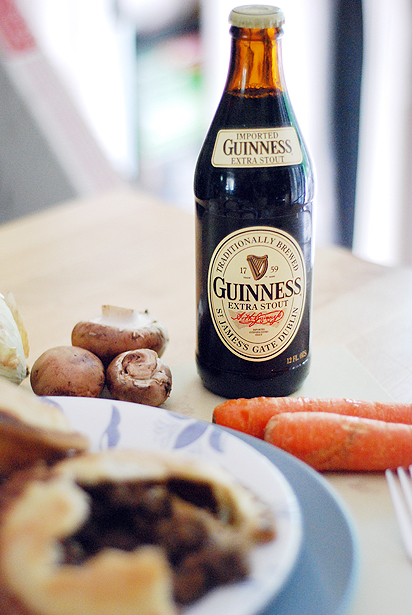 I cooked them up in our Breville personal pie maker – a recent purchase and obsession brought into our lives by the awesome Casey – but you can make a standard 8″ or 9″ pie too, and serve wedges instead of individual pies.
For those of you that do have a Breville Personal Pie Maker, there is enough filling here to make 8 pies.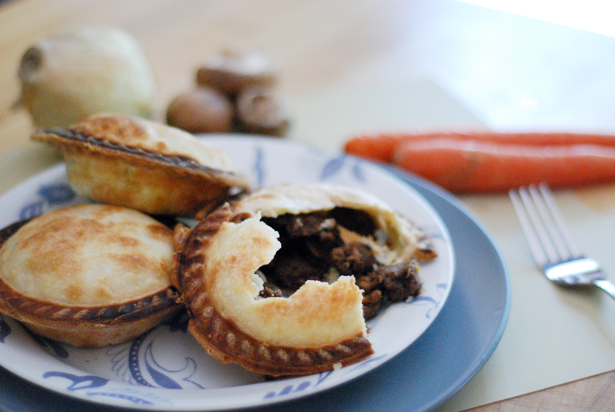 Steak and Guinness Pie
Ingredients
1 1/2 lb. Chuck (stew meat), cut into 1/2″ pieces
1/2 Vidalia or Yellow Onion, diced finely
8-10 Porcini Mushrooms, diced finely
2 Carrots, diced finely
1 Parsnip, diced finely
2 Garlic Cloves, minced
Salt & Pepper to taste
2 Bay Leaves
2 Tablespoons of Oil
1 12 oz bottle of Guinness
1/2 cup of beef stock
Directions
Heat 1 tablespoon of oil in a medium French oven or large skillet. When hot, add onion and mushroom. When browned, sprinkle with salt and pepper to taste.
Add diced carrot and parsnip, cooking until lightly browned. Remove entire vegetable mixture to a bowl.
Heat remaining tablespoon of oil in pan. Add diced stew meat, allowing to brown while stirring often. As meat browns, add minced garlic, salt, and pepper to taste.
When meat is browned, add vegetable mixture back to the pot, then add stock and Guinness.
Allow to cook down, uncovered, for 20-30 minutes on low heat until you have just a small amount of gravy with meat.
Use your favorite pie crust – homemade, refrigerated, whatever you fancy. Place bottom pie crust in pie dish, add filling, then cover with second pie crust. Cut a few slits in the top of the crust for steam, and bake at 400F for roughly 45-60 minutes until pie crust is golden brown.


[wpurp-searchable-recipe]Steak and Guinness Pie – – – [/wpurp-searchable-recipe]