Everyone has their favorite chicken and dumplings recipe. I've even blogged about what I thought was mine.
But the other night, come 5:30, I was struggling with dinner ideas when an intense craving for chicken and dumplings hit me. With the nearest Cracker Barrel over an hour away, waiting for The Brit to get home and then making that trek was just not an option.
But that craving would not abate – so I started simple and quick, with organic chicken stock in a box. Then, I simply let my hands, and my gut, take over.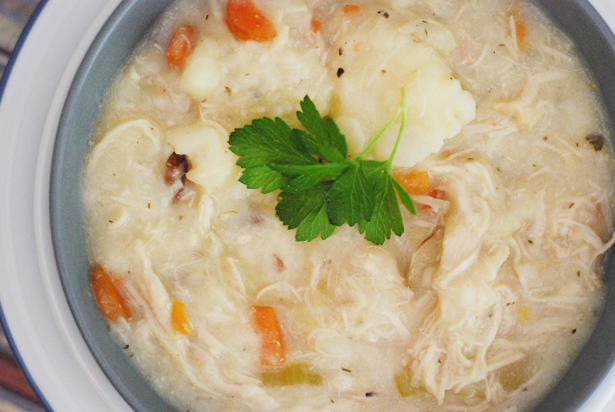 There are surprisingly few ingredients in this recipe, and when it was cooking, I just prayed it would be a serviceable dinner.
Instead, my friends, it was the most perfect version of chicken and dumplings I've ever made. No one was more shocked than me, I assure you.
The soup was ready to go in under a an hour, and I just let it simmer until The Brit got home from work, making and adding the dumplings just before we were ready to eat.
Fall is here on the East Coast – I feel more ready than every with soup like this in my weeknight repertoire.
What are you most looking forward to cooking this Autumn?
Come join the fun at the My Baking Addiction and GoodLife Eats Holiday Recipe Exchange sponsored by Le Creuset.
Easy Chicken & Dumplings
Soup Ingredients
6 cups Organic Chicken Stock
3 stalks Celery, diced finely
2 large Carrots, diced finely
1/2 large Onion (I used Vidalia), diced fine
3 Organic Free Range Boneless Skinless Chicken Breasts
1 tablespoon Bouquet Garni
Salt & Pepper to taste
Directions
Put stock in a large pot. Add diced vegetables. Rinse chicken breasts with water and add them directly to the pot to poach. Add Bouquet Garni and salt & pepper to taste.
Simmer on medium heat for 30-45 minutes, until chicken breasts are cooked through. Remove chicken from pot to a large plate. Shred chicken apart using two forks to pull. When all chicken has been shredded, add it directly back to the pot.
Cook the dumplings as directed below.
Basic Dumplings
From the King Arthur Flour Baker's Companion
Dumpling Ingredients
1 cup All Purpose Flour
3/4 teaspoon Kosher Salt
1 1/2 teaspoons Baking Powder
2 tablespoons Butter
1/2 cup Milk or Half & Half
Directions
Mix flour, salt and baking powder together in a medium bowl. Using your fingers, cut in the cold butter until you form pebbles that resemble course meal or cracker crumbs. Add the milk, stirring until just combined. There will be lumps.
Drop the dough into the simmering soup by teaspoon or tablespoonfuls (your choice on size of dumplings) and cook for 10 minutes uncovered. Cover the soup and simmer for 10-12 minutes more, until the dumplings are cooked through.
Enjoy over mashed potatoes if you like. We did.

[wpurp-searchable-recipe]Easy Chicken and Dumplings – – – [/wpurp-searchable-recipe]