Tacos de camaron (kam-ah-rohne) are a standard on most Mexican restaurants where I come from. Some people think of them as Shrimp fajitas, others simply shrimp tacos. Any way you look at it, you're looking at a delicious dinner in a very short amount of time.
Grilling season starts this weekend, and we'll all be looking towards our burgers, steaks, and chicken. Maybe it's just me, but I don't always immediately think of shrimp when I think of grilling. This is something that's got to change, because they're a fantastic, and a lot of times, a healthier choice.
I've given these giant prawns a Tex-Mex treatment, marinating them in Goya Sazon Liquida, garlic, Camino (or Cumin, as you non-Texans might call it), chili powder, and cilantro.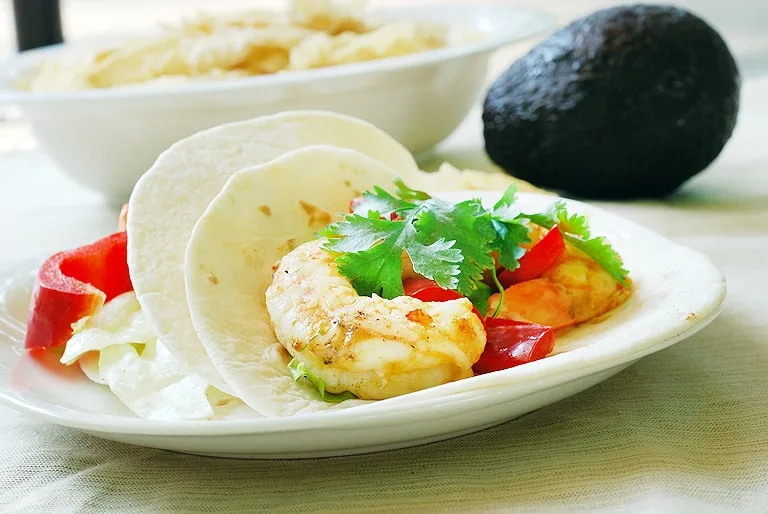 The chili powder gives just the right amount of heat, while the garlic and cilantro bring brightness and bite to fantastically fresh camaron.
Check back on Friday for a fantastic giveaway that might just have something to do with this recipe!
Shrimp Tacos
Serves 4
Ingredients
2 lbs jumbo shrimp, tail on (I used flash frozen)
1/2 cup Goya Sazon Liquida, or make your own (recipe to follow)
1 tsp Cumin
1 tsp Garlic Powder
1/2 tsp Hill Country Chili Powder (or the chili powder of your choice)
1/2 tsp Kosher salt
For Taco Garnish
Chopped Lettuce
Diced Tomato
Diced Red Pepper (grill in a foil packet, if desired)
Chopped Red or Sweet Vidalia Onion (grill in a foil packet, if desired)
Sour Cream or Crema Fresca
Fresh Cilantro
8-10 Flour tortillas
Directions
Overnight, thaw frozen shrimp in the refrigerator. If using fresh shrimp, you can go straight to marinating.
In a large bowl, combine Goya Sazon Liquida, Cumin, Garlic Powder, Chili Powder, and Salt. Whisk to combine and distribute spices throughout the liquid.
Add shrimp directly to the marinade and refrigerate for at least half an hour, up to 24 hours.
Preheat grill to medium high heat. Discard marinade.
Wrap tortillas in foil and place on the grill. If grilling onions and red peppers in a foil packet, drizzle them with a little olive oil and sprinkle with salt, and then place on the grill first.
When grill comes to full temperature, add shrimp. Grill shrimp for 3-4 minutes on each side.
Remove tortillas from grill and open (carefully, using tongs or oven mitt). Place 2-3 jumbo shrimp in each tortilla. Allow guests to garnish as they choose with lettuce, tomato, grilled onion and pepper, cilantro and sour cream.
Borracho Beans make an excellent side to this dish.
Goya Sazon Liquida
Ingredients
1/4 c. white vinegar
1/2 c. chopped red pepper
2 cloves garlic
1 tsp coriander
1/2 tsp cumin
1/2 tsp tomato paste
salt and pepper to taste
Directions
Combine all ingredients in a food processor or blender and pulse until you have a fairly smooth consistency. Use immediately, or store in an airtight container for up to 5 days.

[wpurp-searchable-recipe]Tacos de Camaron – – – [/wpurp-searchable-recipe]