Y'all, are you aware that Memorial Day is next weekend? I honestly can't believe it, myself. This year has just *flown* by, and the only reason I can really accept that it's actually Memorial Day weekend coming up is that The Brit and I are going to Florida Keys for five glorious days.
It's our first time, and I'm so excited! If you have any tips, restaurant recommendations, or photo spots for me, please make sure to leave them in the comments.
But before I jet off into the sun, I want to make sure you have your Memorial Day recipes on lock down.

This super easy, super simple, absolutely delicious salad is a favorite of my nan's. She keeps a tupperware of it on the go in her refrigerator at all times, topping it up with more of each of the ingredients as it starts looking a little sparse.
The beauty of this cucumber and tomato salad is that it comes together in minutes, but gets better the longer you let it sit. You can eat it five minutes after you make it, or five days.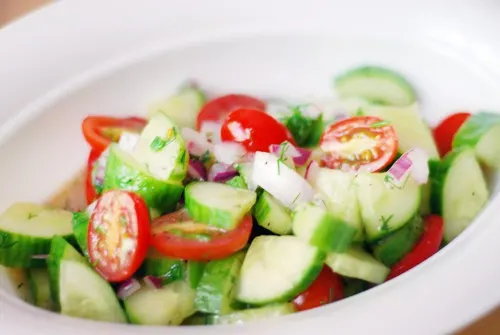 It's the perfect side to barbecue, fried chicken, or anything else you'd like to serve up this Memorial Day Weekend. Serve it along side Nan's Famous Potato Salad, and some brisket. My mouth is watering just thinking about it!
The recipe is really more of a formula, so feel free to divide or multiply in accordance with however much you need for your crowd.
Cucumber Tomato Salad

Serves 4-6
3 medium sized Cucumbers (I used English, but use the kind you prefer)
1 dry pint of Grape Tomatoes
1 medium Red Onion
5-7 sprigs of Dill
1 cup of Italian salad dressing (I used Newman's Own Light Italian)
Salt and Pepper to taste
Half and then quarter each cucumber, and then chop into 1/4″ pieces. If you're serving small children, or just prefer it, also halve the Grape tomatoes (You can also use cherry tomatoes, but I would definitely halve those).
Chop the red onion very finely, and then mince the dill. Add all items to a medium bowl, and sprinkle with salt and pepper.
Add the Italian dressing and stir with a serving spoon until all the vegetables are covered evenly with salad dressing.
You can add more or less dressing depending on your own preferences. This mixture is also handy to keep around for adding on top of other salad greens.
This keeps best in the refrigerator and served cold, but it isn't required to keep it cold at a barbecue like you would have to do for other mayo-based cucumber salads.
Enjoy with a cold beer and flavorful brisket on a hot day.

[wpurp-searchable-recipe]Cucumber Tomato Salad – – – [/wpurp-searchable-recipe]