It's time for another Secret Recipe Club!
I honestly can't believe it's already that time again. It's been a crazy four weeks since I posted that Lemon Pineapple Cream Pie, and it went by faster than I'd like to admit!
When I opened my assignment email this month, I was stoked! I've been assigned Heather's blog, Sweet and Savory Tooth. I first met Heather when she had my blog for SRC a while back. She made my maple corn bread recipe, and knocked it out of the park.

It took me absolutely ages to decide what I would make. I tossed around so many ideas, from Cranberry Banana Bread, (still on the to-make list, if I'm honest), Mini Pumpkin Donuts, and Ginger Chewies were all top contenders. And in fact, I somehow glossed over the recipe that I finally chose a couple of times before my brain registered the words, Pecan Praline.
Any Texan will tell you, those are magical words. If it's got pecans, and they've been covered in sugary goodness? I'm in.
So, I only have one note to say about this recipe. Heather's directions said to use an ungreased pan, and even going into the oven, I knew that wasn't going to end well in our kitchen.
Don't get me wrong – these bars are beyond delicious. Everything this Texan wants something called "pecan praline" to be. Buttery, nutty, with molasses notes a plenty.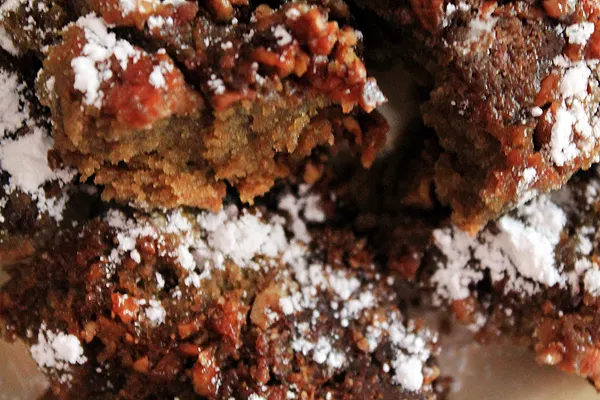 Unfortunately, when I went to invert the bars as the directions advised, the bars would not come out. Even after running a knife around the edge, and lightly tapping the bottom of the pan, they would not move. We ended up having to just kind of shovel the bars out in pieces with a spatula, and then cut squares out where we could.
I would recommend either greasing the pan with cooking spray, or lining it with parchment paper. Please do it, because you're going to want to eat these bars by the spoonful if you don't. I absolutely don't know this from experience. Nuh uh, not me.
I also highly recommend using the bars as the base of a vanilla ice cream sundae, with warm caramel syrup. I've been dreaming about that since I pulled them out of the oven.
Thanks, Heather, for some wonderful pecan praline goodness!
Pecan Praline Bars
adapted from Sweet and Savory Tooth
makes 16 bars
Ingredients
For the Praline Layer
1/2 cup packed brown sugar
1/4 cup butter
2 tablespoons evaporated milk
1 cup chopped pecans
For the Cookie Layer
1/2 cup butter
2 cups brown sugar
2 eggs
2 teaspoons vanilla
1 1/2 cups all-purpose flour
1/2 teaspoon kosher salt
Directions
For the Praline Layer
Preheat the oven to 350°F.
In a small sauce pan, combine 1/2 cup brown sugar, 1/4 cup butter, and evaporated milk. Cook together on low heat, stirring often.
Spray an 8″ x 8″ with cooking spray or line it with aluminum foil. When butter is melted in sauce and all the sugar has melted, pour it into the pan.
Spread the chopped pecans over the top of the praline sauce, making a nice even layer.
For the Cookie Layer
In a medium bowl or the bowl of a stand mixer, cream room temperature butter on medium speed, until light and fluffy.
Add brown sguar and continue to cream until completely mixed in and light and fluffy.
Add eggs, one at a time, mixing on medium speed after each addition. Add vanilla and mix again until completely incorporated.
In a separate small bowl, combine all purpose flour and kosher salt. Whisk together to aerate and evenly distribute the salt.
Add flour mix to the wet ingredients and mix on low speed until flour is just incorporated.
Spread the cookie dough over the pecans in an even layer.
Bake for 40-45 minutes, until the cookie topping is golden brown.
Allow to cool for 5 to 10 minutes before inverting onto a plate or cutting board, and then cut into 16 bars.

[wpurp-searchable-recipe]Secret Recipe Club: Pecan Praline Bars – – – [/wpurp-searchable-recipe]