We all have them: recipes in the arsenal straight from Mom's kitchen. We rarely mess with them because really, why mess with perfection?
One of my favorite things about cooking from memory is that you have that select set of go-to, weeknight meals that speak to you heart the same way a hug from your mama does.
This Beef and Mushroom Stir Fry is one of those recipes for me. When I was a kid, my mom made this at least once every two weeks. Pure simplicity: beef, mushrooms, soy sauce, and water, with a little flour to thicken. Sometimes there were bean sprouts, but more often than not, there weren't.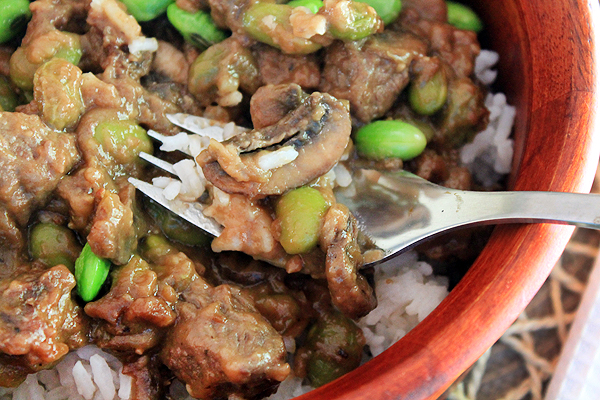 I don't know why I haven't made this simple supper more often in my adult life. It comes together quicker than take-out can be delivered, and I gotta be honest: to me, it tastes better.

I joojed up Mom's recipe only a little bit, I swear, and I am happy to report I don't regret it. The addition of frozen edamame for a little green goodness, minced garlic for a further savory factor, and ground ginger to brighten the whole thing up.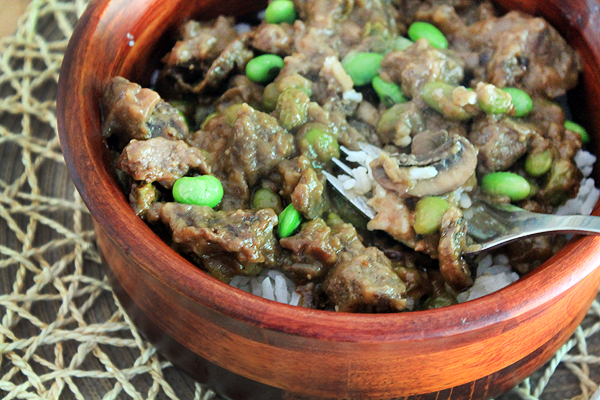 This may become my new Tuesday night go-to. How about you? Do you have a weeknight standard?
Beef & Mushroom Stir Fry
serves 4
Ingredients
2 tablespoon olive oil
1 1/2 lbs stew meat or stir fry beef
1 pint of button mushrooms, sliced
3/4 cup frozen edamame
2 tablespoon all purpose flour
1 cup soy sauce
1/2 cup water or low sodium beef broth
1 teaspoon minced garlic (roughly 2 cloves)
1/2 teaspoon ground ginger
salt and pepper to taste
Directions
In a large saute pan, heat olive oil on high heat. Pat stew/stir fry beef dry with a paper towel.
When the oil slides across the pan easily, add the beef to the pan and season with salt and pepper. Stir often so that beef browns on all sides. Remove beef to a bowl when it is browned on all sides. Do not cook through, as the beef will become dry and chewy by the time the rest of the stir fry is cooked.
Add mushrooms to the same pan the beef was cooked in and allow to brown a bit on all sides before seasoning with salt and pepper.
Add edamame to the pan. Allow that to cook a bit, warming from frozen. Roughly 2-3 minutes. Add beef back to the pan.
Lower the pan heat to medium. Sprinkle all purpose flour over the ingredients in the pan and stir. Add the soy sauce and water or beef broth. Stir well and often, allowing the sauce to simmer and thicken.
When the sauce has thickened to your liking, add the minced garlic and allow everything in the pan to simmer a few more minutes on low heat.
If you'd like to add some heat to your stir fry, stir in red pepper flakes for a kick.

[wpurp-searchable-recipe]Beef & Mushroom Stir Fry – – – [/wpurp-searchable-recipe]