Quick Strawberry Cream Cheese Pastries are just what you need when a craving hits. Part hand pie, part pop-tart, they're totally irresistible.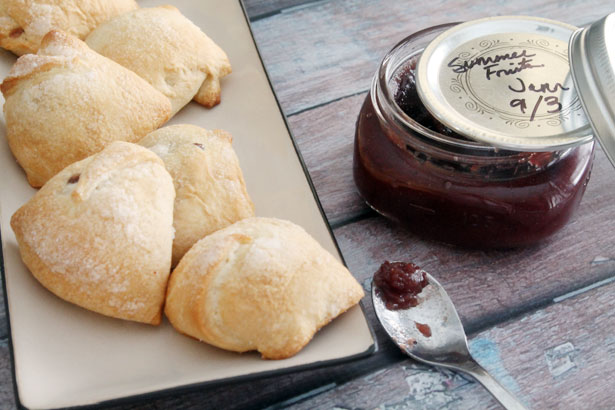 You know how some Saturdays you wake up with a deep longing for pastry filled with fruit and cheese? No.. me either. *Cough*
Here in the northeast, the weather has been chronically stupid. And I mean stoooooopid.
If it's not snowing, it's freezing rain, or the roads are so riddled with potholes from removing the remnants of stupid weather that you get four flat tires in three weeks and are terrified to even leave your driveway.
Or your driveway is so icy that you look out the window and realize the car that's had all those flat tires is actually about six feet further back on the driveway than where you parked it, and the only thing stopping it from destroying your mailbox is the mountain of snow you spent the morning cursing at.
Yes, those things have all happened to us in the last month.
So leaving my house for delectable pastries? No thanks. The baby and me are just fine in these 3-day old PJs, thanks.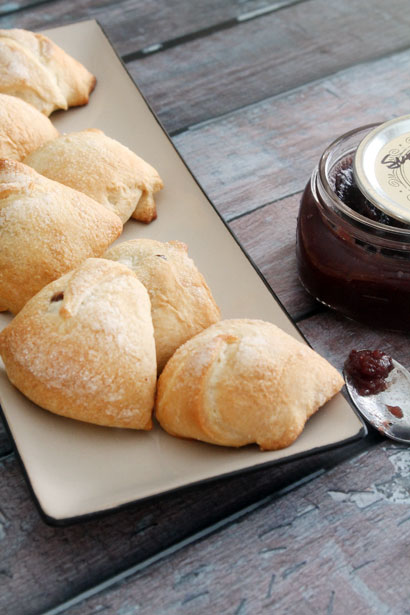 What's a girl to do with her Saturday morning, then?
With a tube of Trader Joe's crescent dough, strawberry summer fruit jam, and cream cheese, we're sorted in about 20 minutes.
I'm going to give you the jam recipe too, but please wait until these fruits are in season to make it.
I find out-of-season forced produce just doesn't have nearly as much flavor.
Bake these quick Strawberry Cream Cheese Pastries up on a cold morning (we're still having plenty of those) and pretend you're sitting in some posh little coffee shop, reading the paper and chatting with other patrons. In your pajamas, of course.