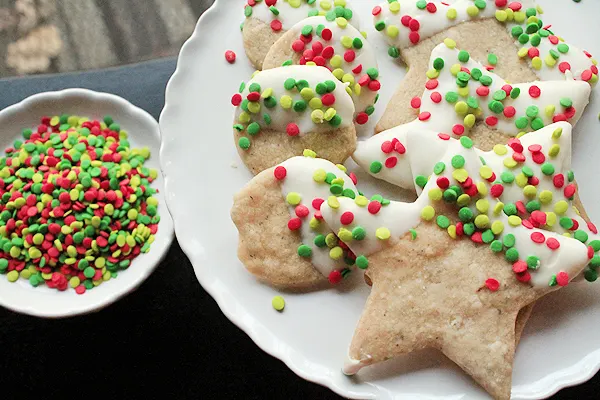 Last year I did The Great Food Blogger Cookie Swap and had a great time, and got some great cookies. This year, I was more excited than ever to participate because this year, participation meant money for the charity Cookies for Kids' Cancer.
Right about the time I needed to decide what cookies to make for my three assignees, my friend Maegan came to stay with us for Thanksgiving. Maegan loves peppermint tea, so I always make sure to have some on hand (along with Diet Coke, in the can, specifically) to make her feel at home.
After a very late night of talking and Prosecco drinking, I stumbled into the kitchen Thanksgiving weekend to make coffee. As I flitted around the kitchen island, I kept smelling the strong scent of peppermint. "WHERE is that coming from?!", I kept asking myself.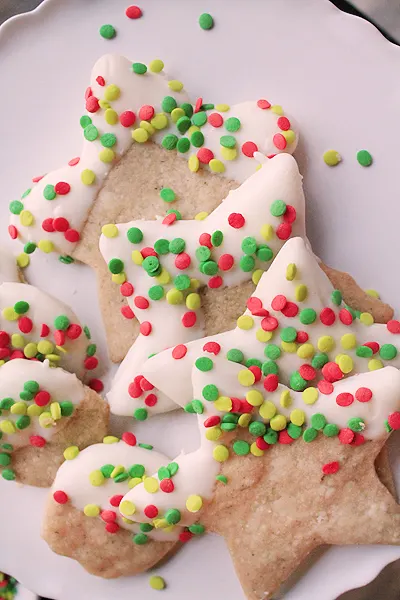 Suddenly I spotted the box of peppermint tea under a notebook. It had been left open the night before. (What can I say – we're classy. Prosecco followed by midnight hot tea!) The peppermint tea smelled strong, but also delightful, and I immediately thought of the Earl Grey Tea Cookies and Christmas Tea Shortbread I've made in the past.
In addition to peppermint tea flavored, I wanted these cookies to be extra special. What better way to do that than to dip each darling cookie in a wash of white chocolate, and then cover them in Christmassy sprinkles?
I especially love these sprinkles, because they have an addition of "Grinch" green. I think it sets off the other sprinkles that much better! (They're from Target.)
My Cookie Swap matches are Ami from Naive Cook Cooks, Kathy from The Cheap Gourmet and Kimberly from Eat the Evidence, some of whom were also given me as a match.
Kimberly and Kathy both sent me cookies – delicious, quickly devoured cookies. My husband was especially partial to Kimberly's World Domination Cookies, while Kathy's Potato Chip Cookies made my day! The third person to send me cookies was Camilla from Culinary Adventures with Camilla. She sent along a Boozy salted fennel pollen shortbread that James is still talking about. If you love licorice, you'll LOVE those cookies.
Back to Peppermint Tea Shortbread cookies dipped in White Chocolate and sprinkles – I think you'll love the mild undertone of peppermint through this buttery, brown sugar shortbread. Use any cookie cutter shape you desire. Candy canes or angels would be just as darling. Happy Cookie swapping!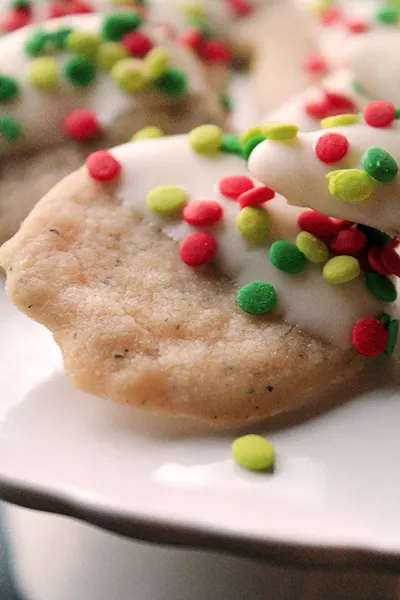 Peppermint Tea Shortbread dipped in

White Chocolate
makes approximately 60 cutout cookies of varying sizes
Ingredients
1/3 cup dark brown sugar
1/3 cup confectioner's sugar
2 1/4 cups all purpose flour
1/4 teaspoon kosher salt
1 Peppermint Tea teabag, finely ground
1 1/2 cups butter, softened
1 large bag white chocolate chips or candy melts
Christmas sprinkles
Directions
In a coffee grinder, empty the contents of one Peppermint Tea bag. Pulse until the tea becomes finely ground. Combine brown sugar, confectioner's sugar, all purpose flour, kosher salt, and finely ground Peppermint tea together in the bowl of a food processor. Pulse lightly a few times.
Add butter that has been chopped into large chunks to the mix in the food processor and turn on. Allow the processor to mix until a cohesive dough comes together.
Form the dough into a round ball and place between two sheets of wax paper. Roll the dough with a rolling pin until it's mostly flat, and as thin as you can make it without going beyond the boundaries of the wax paper. Place in the refrigerator for at least 2 hours to chill.
When dough is sufficiently chilled, lightly flour the counter top, and peel the wax paper from the dough. Preheat the oven to 350°F.
Flour a rolling pin and roll the dough until it is 1/4″ thick. Depending on the size of the surface you're rolling on, you may find it easier to divide the dough and roll in batches.
Use floured cookie cutters of your choice to cut out individual cookies. Reroll the dough after removing the cutouts, and repeat. Only do this once or twice, as the cookies will become tougher the more you do this.
Remember to flour the surface often to keep the dough from sticking.
Bake for 7 minutes on a parchment-lined cookie sheet, until the edges are lightly golden. Allow to cool completely before continuing.
Melt the white chocolate chips or candy melts in a microwave safe bowl, 30 seconds at a time. Stir after each increment, until the chocolate is completely melted.
Dip each cookie in chocolate as desired (I did one side of each cookie) and place on the cooling rack. Sprinkle immediately with holiday sprinkles. Allow to set for at least 4 hours.

[wpurp-searchable-recipe]Peppermint Tea Shortbread Cookies dipped in White Chocolate – – – [/wpurp-searchable-recipe]