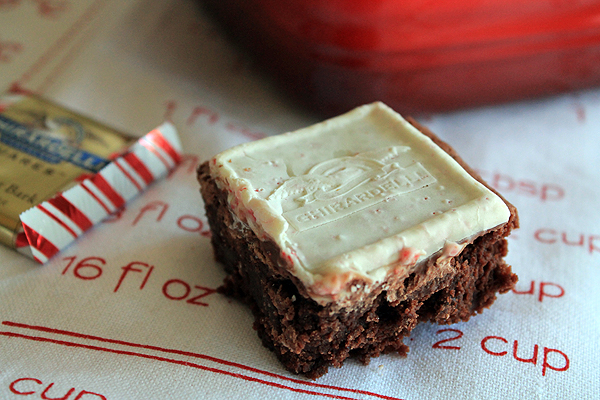 This time of year, I'm a sucker for the seasonal candy. I posted last week about Crinkle Cookies topped with festive candy cane chocolates. I definitely love the holidays and the candy they bring.
But my one true candy love come Christmas time is peppermint bark. In any form I can get it! Every year, James requires a chocolate orange in his stocking, and I require at copious amounts of peppermint bark – in bars, squares, bags, however I can get it! At least we play to each other's weaknesses, right?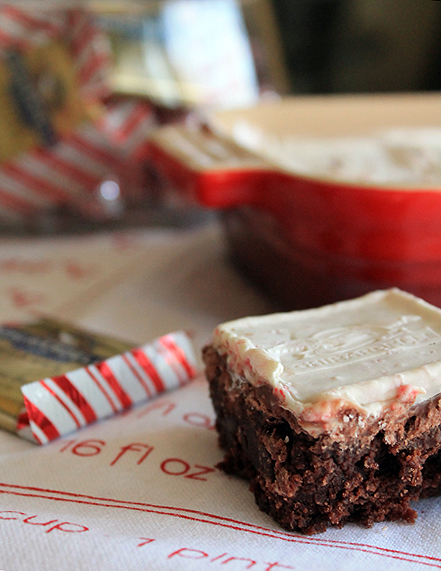 I love biting into the soft chocolate and crunchy peppermint right out of the wrapper, but peppermint bark is also delicious in other things – most notably, BROWNIES!
This recipe is simple and quick. Exactly what you want as you head out the door to a cookie swap or festive party. But being simple and quick doesn't mean it's not incredibly, lip-smackingly, morishly good.
What's your holiday candy crutch?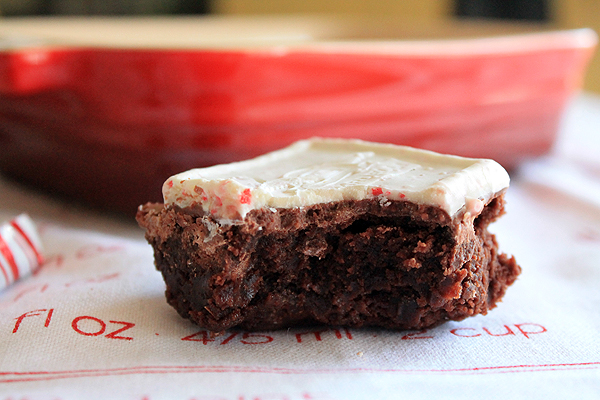 Peppermint Bark Brownies
makes one 8 x 8 tray of brownies
Ingredients
1 cup all-purpose flour
1 teaspoon baking powder
1/2 teaspoon kosher salt
1/2 cup butter (1 stick)
1/4 cup semisweet or dark chocolate chips
1 cup brown sugar
2 large eggs
1 teaspoon vanilla extract
Enough peppermint bark to cover the 8×8 tray. (I used Ghirardelli Squares, but you can use any brand of peppermint bark you choose.)
Directions
Preheat the oven to 350°F. Spray an 8″x8″ baking pan with cooking spray.
In a small bowl, combine flour, baking powder and kosher salt. Use a whisk to evenly mix and aerate the dry mixture. Set aside.
In a glass measuring cup, place butter and chocolate chips. Microwave for 30 seconds at a time, until butter and most of the chips are melted. Stir after each heating.
In a the bowl of a stand mixer or a large bowl, beat brown sugar and eggs together on medium speed. When light and fluffy, add vanilla extract and mix again.
Add butter-chocolate mixture slowly, mixing on low speed as you do.
Once the butter-chocolate mixture is completely combined with the sugar and eggs, add the dry ingredients in increments, on low speed.
When the flour is completely combined and mixed through, pour the batter into a greased 8″x8″ baking pan.
Bake for about 15 minutes. While the batter is baking, prepare peppermint bark to add to the brownies. Unwrap, chop, whatever you need to do for the particular brand of peppermint bark you've chosen.
At the 15 minute mark, remove the pan from the oven and top the batter evenly with peppermint bark side by side in the pan. Cover the batter entirely.
Place the pan back in the oven for 5-7 minutes, until the peppermint bark is lightly melted and the brownies have finished cooking through.
Allow to cool, then slice and serve.

Disclaimer: This post is not sponsored by or associated with Ghirardelli in any way. I really, truly love their chocolate squares, most especially the Special Edition Peppermint Bark, and use them often in baking.[wpurp-searchable-recipe]Peppermint Bark Brownies – – – [/wpurp-searchable-recipe]