Pear Pie Bars are a little bit different than the traditional apple standby. You've got to try them to love them.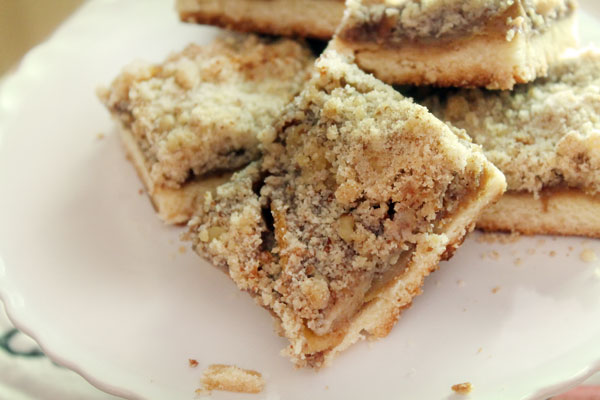 You guys, why isn't Pear Pie a thing? This is what crossed my mind as I bit into my eleventy-fifth Pear Pie Bar the other day.
Think about it – we make apple pie like we breathe air. It's just a given that as soon as the crisp fall weather rolls around, we've got apple pie on the agenda. But this is the season of pears too. Pears that sometimes offer a depth of flavor apples just can't reach.
Faced with an overabundance of Anjou pears from our CSA, I also had a brand new delicious recipe in my back pocket, courtesy of Megan. Megan recently started writing a column for Hobby Farms magazine, and when she told me about her Apple Pie Bars, I knew they'd be happening in SOME form in our kitchen.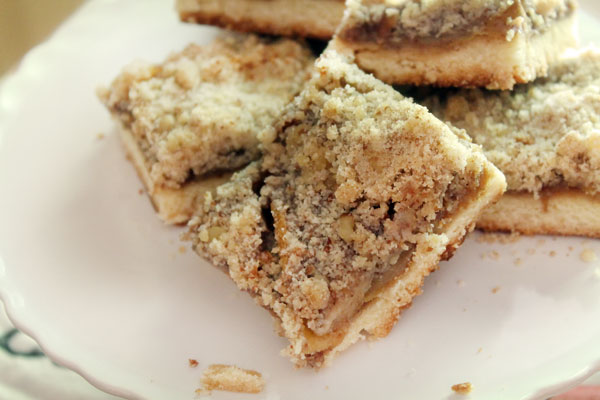 At the time though, I seriously thought it would be with apples! I'm really glad I used pears though. These Pear Pie Bars are SO good, and a refreshing departure from apple everything that's going to be appearing at dessert time right now.
I had a lot of pears to get rid of, so I sort of doubled Megan's recipe, but not quite. They need to be eaten within a couple of days, even when being stored in an airtight container, so make sure you've got someone to share them with.
Oh, and a proper pear pie is totally happening in this kitchen soon. It's just too good an idea not to!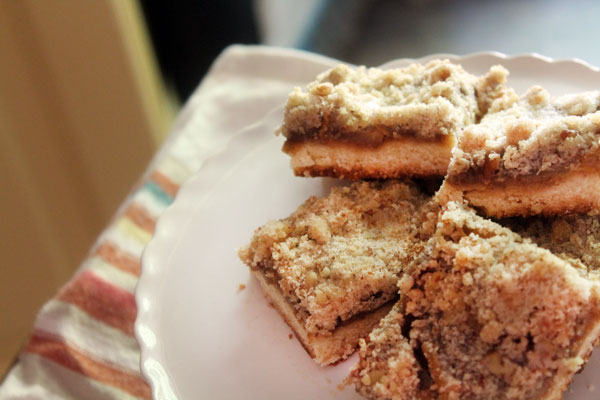 Pear Pie Bars
adapted from Megan's Apple Pie Bars Recipe on Hobby Farms
makes one 9″x13″ pan, about 24 bars
Ingredients
For the pastry base and crumble topping
3 cups all purpose flour, divided
3/4 cup powdered sugar
1/2 teaspoon kosher salt, plus a pinch
18 tablespoons chilled unsalted butter, diced and divided
1 egg
For the filling
6 ripe Anjou pears, sliced
5 tablespoons granulated sugar, divided
1 teaspoon cinnamon
1/4 teaspoon nutmeg
1 teaspoon vanilla extract
2 tablespoons brown sugar
1/2 cup pecans, optional
Directions
Spray a 9″ x 13″ baking pan with cooking spray and set aside.
Use a food processor to pulse together 2 1/2 cups all purpose flour, powdered sugar, and salt. Add 12 tablespoons of butter and pulse until the dough looks like wet sand.
Add egg and pulse until a soft, slightly crumbly dough forms.
Press evenly into the bottom of the sprayed pan so that the entire bottom is covered. Prick all over with a fork and then chill in the freezer for 30 minutes.
When the dough has about 10 minutes left to chill, preheat the oven to 375°F. Bake crust in the preheated oven for about 20 minutes, or until lightly golden.
While the dough is baking, melt 4 tablespoons of butter in a saute pan. Add sliced pears, cinnamon, nutmeg, vanilla, and 2 tablespoons brown sugar to the pan and stir to coat. Drop heat to Low and stir occasionally, making sure the ingredients are well mixed. The pears should soften pretty quickly, but you also want the sauce to caramelize and thicken a bit.
When the crust has cooled a bit, spoon pears evenly over the baked crust so that it is covered completely.
Prepare the crumble topping: In the food processor, combine 1/2 cup flour, 3 tablespoons granulated sugar, 2 tablespoons brown sugar, 1/2 cup pecans and 2 tablespoons butter until you have coarse crumbs. Sprinkle evenly over the pear layer.
Bake for 20 minutes, or until crumb topping is lightly golden and pear layer is bubbling.
Allow to cool completely before cutting into squares. I found this was easiest to do with a pizza cutter.
[wpurp-searchable-recipe]Pear Pie Bars – – – [/wpurp-searchable-recipe]