Brown Sugar Cookies for back to school! Sweet smiley faces to fill the lunchbox of your favorite littles.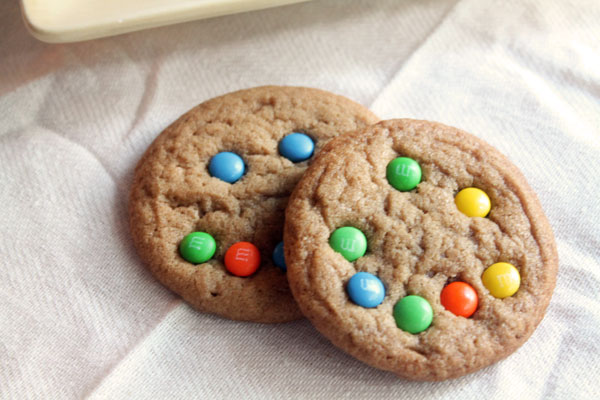 Across Northern New Jersey today, students head back to school. I've been more aware of this than ever, imagining the first day of school for my own little guy. But also, my niece, Ava, headed to kindergarten last week. No, I'm not her mama, but thinking about it certainly was bittersweet for her auntie too.
I like to think I have a really special relationship with both my niece and nephew. David, he made me an aunt. He is such a sweet boy, so tender and loving, even when he's being a crazy boy. He's very empathetic, and it can break your heart how much he thinks about and cares about the people around him.
My Ava though.. she's my doppelganger in a lot of ways, and I spent the second six weeks of her life helping my sister and brother-in-law care for her when my sister had to go back to work. I can remember so sweetly working at my laptop with Ava on my chest, snoring softly in her newborn haze.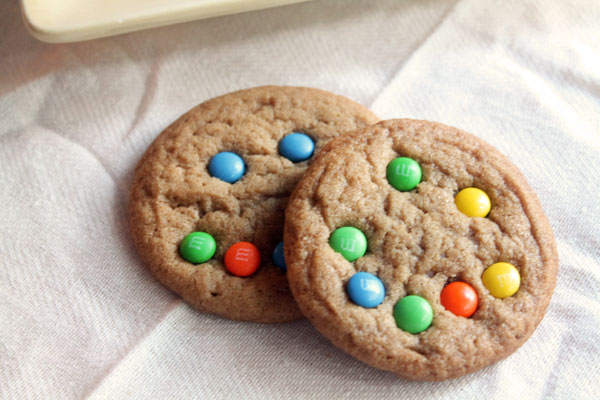 No, these two weren't born to me. And I know my love for EJ will be different. But I hope David and Ava know that they will always have an incredibly special place in my heart, and I truly do love them as my own. They impress me at every turn with their brilliance and beauty, and I hope they always know that.
Normally, I send them both cookies on their birthdays. David, especially, loves M&M cookies. But this year, I was dealing with major fatigue and morning sickness when his birthday rolled around, and despite my best intentions, I didn't get his cookies in the mail. Since Ava's birthday falls about a week after EJ is due, I'm pretty sure she won't be getting cookies in the mail for her birthday either.
But that's okay – I can celebrate other major milestones with cookies too. And I think the thing they'll remember when they're all grown up is that Aunt Amber always thought of them on special days, and did what she could to make it even more special, even when she lived far away.
These Brown Sugar Cookies are simple. Probably the most simple cookies you can make. They're very similar to a snickerdoodle in texture. They're great without the M&Ms, but I thought David and Ava would get a kick out of smiley faces for their first day of school.
I personally think there's nothing like a homemade cookie to welcome you home from school, or as a treat in your lunch box. Make these for the kids, or make them for yourself. You deserve a treat too.
If you're thinking ahead to Halloween, these would also be cute with a little orange gel food coloring in the dough to make Jack o' Lantern cookies.
Are your littles headed back to school today? I'd love to hear about it.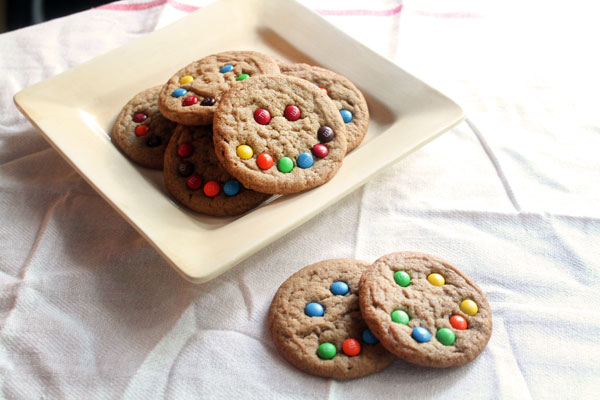 Brown Sugar Cookies with Mini M&Ms
Adapted from Crisco
36 medium sized cookies
Ingredients
2 cups all purpose flour
1/2 teaspoon baking soda
1/4 teaspoon salt
pinch of nutmeg
1/2 cup butter flavored vegetable shortening
1/2 cup unsalted butter
1 1/4 cups firmly packed dark brown sugar
1 large egg
1 teaspoon Mexican vanilla extract
Mini M&M candies, about a cup
Directions
In a medium bowl, combine flour, baking soda, salt, and nutmeg. Whisk together briskly to combine and aerate, then set aside.
In the bowl of a stand mixer, or a large mixing bowl, cream together shortening and butter. Add sugar and cream again until well mixed, then add the egg and Mexican vanilla and beat on medium speed until well incorporated.
Add the flour mixture in increments, beating on low speed after each addition, until all the flour is incorporated.
Refrigerate the dough for at least 30 minutes, but longer is preferred.
When the dough is sufficiently chilled, line a baking tray with parchment paper and preheat the oven to 350°F.
Using a medium cookie scoop, portion dough onto tray, placing at least 2″ apart – the cookies will spread. Chilling helps with this, but be prepared for more spreading if you don't chill your dough.
Bake for 12-14 minutes (mine needed exactly 13 minutes), or until golden brown.
While cookies are baking, pour mini M&M candies into a bowl to have at the ready. As you remove cookies from the oven, immediately press M&M candies into the cookies. Candies must be placed in the cookies while they're still hot, or they will not stick to the cookies. I baked 9 cookies at a time to ensure that I would have time to get all the M&Ms into the cookies before they cooled.
As you can see in the photos, I made smiley faces for the most part, but I also did letters, "A" and "D", and hearts. Smiley faces are easiest.
Allow the cookies to cool completely on the tray or a cooling rack, then store in an airtight container for up to 5 days.

[wpurp-searchable-recipe]Brown Sugar Cookies for Back to School – – – [/wpurp-searchable-recipe]