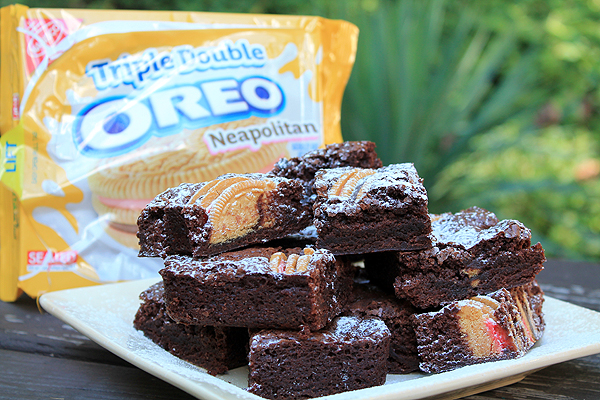 Y'all, I'm stress eating like whoa. It's been a rough few days without water or power, but we have it better than most. A tree fell, but missed EVERYTHING. We thought we were prepared with a generator and gas. But now we're on day 4, and everywhere is out of gas, including our generator. At least we got water back last night. Sadly, the latest news from our mayor is that it'll be another 7-10 days until we have power again. Bye-bye, freezer full of food.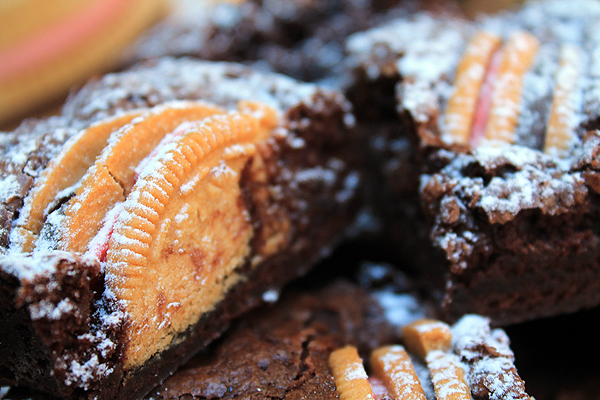 I made these Neapolitan Oreo Brownies a while back, at least a month ago. I hadn't had a chance to post them until now. Now seems like an appropriate time, because if I had a tray of these, I'd be sharing them with my neighbors and we'd all be drowning our sorrows in chocolate and Oreos.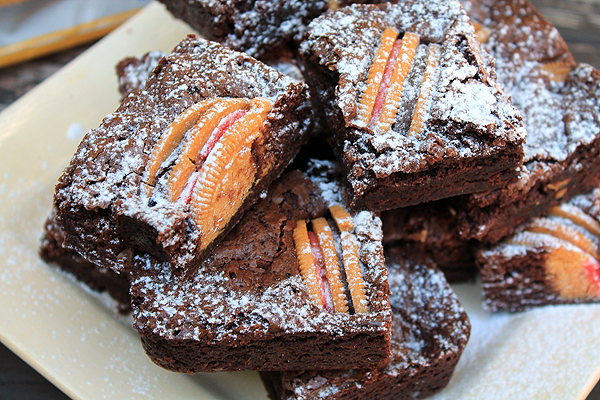 There's nothing overly complicated about these. I enjoyed them a lot, but some of James's coworkers didn't like the texture contrast between crunchy cookie and chewy brownie. I'll let you be the judge.
Please keep the Northeast in your thoughts and prayers. If you can, donate to the Red Cross to help the people in this area. It really is dire here.
Neapolitan Oreo Brownies
makes one 8″x8″ pan
Ingredients
1 cup all-purpose flour
1 teaspoon baking powder
1/2 teaspoon kosher salt
1/2 cup butter (1 stick)
1/4 cup semisweet or dark chocolate chips
1 cup brown sugar
2 large eggs
1 teaspoon vanilla extract
About 15 Neapolitan Oreos, cut in half
Directions
Preheat the oven to 350°F.
In a large bowl, combine flour, baking powder and kosher salt. Whisk to combine and aerate.
In a medium glass bowl, place butter and chocolate chips. Melt in the microwave for about 1 minute (mine took 1 minute and 10 seconds), until butter is completely melted, and when stirred, the chocolate chips melt completely into the butter.
Stir gently for 1 to 2 minutes or until chocolate and butter completely combine, and there are no lumps of chocolate chips. If you find that there are, microwave at 10 second intervals and stir after each until the lumps are gone.
Add brown sugar to the butter-chocolate mixture and whisk together, making sure the sugar is completely mixed in and there are no clumps throughout.
In a separate bowl or cup, whisk eggs and vanilla extract together with a fork, then add to the chocolate mixture. Stir to combine, making sure eggs are completely incorporated.
Pour wet mixture into dry, and fold gently with a rubber spatula until flour seems to be mostly incorporated. Do not overmix.
Pour the brownie mixture into an 8×8 square baking pan (I used metal, glass is okay too) sprayed with cooking spray, or greased with butter and sprinkled a little flour or cocoa powder.
Place Neapolitan Oreo halves throughout the batter – vertically, horizontally, covered or uncovered (I left quite a few uncovered for visual effect).
Bake for 20-22 minutes or until the top looks set and the brownies are a little squidgy when touched.
Allow to cool completely, then remove from pan and slice into squares.

[wpurp-searchable-recipe]Neapolitan Oreo Brownies – – – [/wpurp-searchable-recipe]