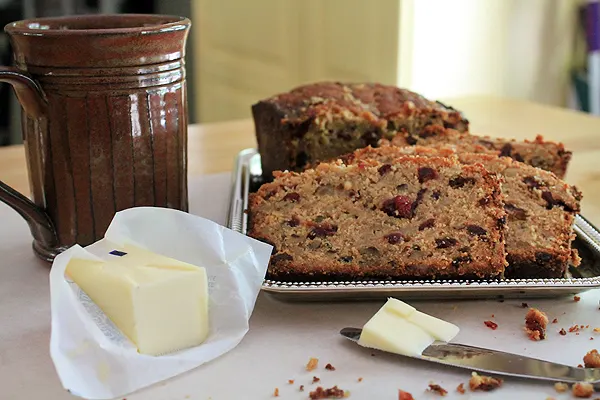 Dear World: I've found the best banana bread recipe. No, seriously, I have! I know, I know, food bloggers try to convince you all the time that what they've made is the best thing ever. Hear me out.
This recipe is adapted from Sweet and Savory Tooth, the blog I had this month for Secret Recipe Club. The recipe was one of my top contenders for that post, but in the end I made Pecan Praline Bars.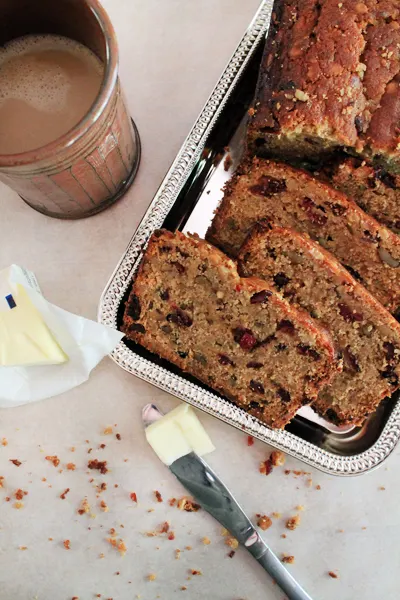 Something about this bread kept calling to me. I purposely let bananas go black on the counter top just so I could make it. Then, as I dug through the pantry for all the ingredients, one of my impulse King Arthur Flour purchases, Maple Flav-R-Bites, jumped out while I was trying to ferret out the walnuts. (The state of my pantry is a post for another time…)
I have these Flav-R-Bites in cinnamon too. I've used them in quick breads with great success in the past, so as I piled ingredients on the counter, I tossed the Maple flav-r-bites next to the walnuts.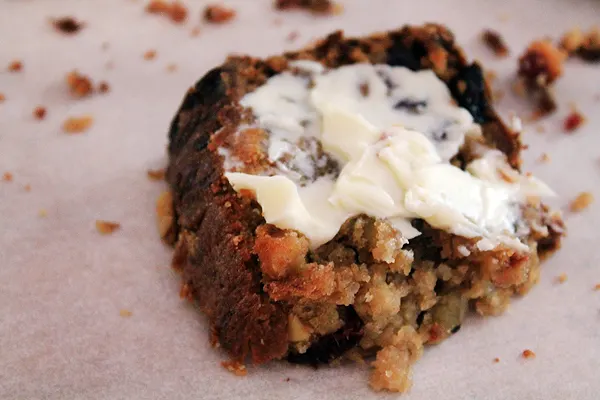 This is the best banana bread ever because the maple flavor mellows out the banana flavor so that you're simply left with a buttery, Autumnal breakfast bread. This, my friends, is banana bread for when you aren't in love with bananas.
I've never been a huge fan of banana bread. After a day or two, I find the overly sweet banana taste to be overwhelming, and I give up on eating the rest of the loaf.
I can tell you that James and I managed to eat this entire loaf by ourselves inside of a week. It keeps in the fridge incredibly well. I found myself in the fridge a couple of times a day, tearing off bits of a slice straight from the ziploc bag.
The walnuts and cranberries add just enough texture to make Maple Cranberry Banana Bread a hearty and toothsome breakfast. Or elevenses. Or 4 o'clocks. Whenever you need a sweet little pick-me-up.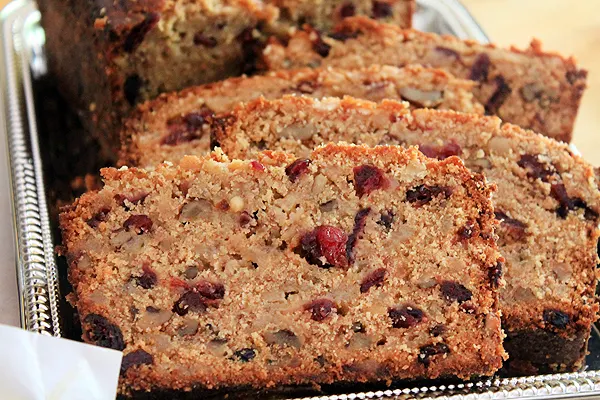 Maple Cranberry Banana Bread
Adapted from Sweet and Savory Tooth
Makes one 8.5″ loaf
Ingredients
2 cups all purpose flour
1/2 teaspoon kosher salt
2 teaspoons baking powder
1 cup brown sugar
1/2 cup butter, softened
2 large eggs, room temperature
1 cup mashed bananas (I used 4 medium sized bananas)
1 cup Maple Flav-R-Bites
5 ounce bag of Craisins
1/2 cup walnuts
Directions
Preheat oven to 350°F. Grease and flour a loaf pan. (I used a standard 8 1/2″ pan.)
In a medium-sized mixing bowl, combine flour, kosher salt, and baking powder. Whisk together to distribute the ingredients and aerate the flour.
In the bowl of a stand mixer or a large mixing bowl, cream butter and brown sugar together on medium speed.
Add eggs and beat again until completely incorporated. In a bowl or measuring jug, mash the bananas with a fork and then add them to the wet ingredients and mix on low until they're well incorporated.
Add the Maple Flav-R-Bites and mix through with a spatula. Let stand for 10 minutes. This softens the flav-r-bites so that they become pockets of maple flavor instead of crunchy maple bits.
Mix in the walnuts and dried cranberries with a spatula.
Pour the batter into the greased and floured pan, and bake for an hour and 15 minutes, or until a toothpick inserted into the center of the bread comes out clean.
If you desire, put a couple pats of butter on top of the bread in the last 10 minutes of baking for a crunchy crust.

Disclaimer: This post is not affiliated, nor was it solicited by King Arthur Flour. I truly enjoy their products and purchase them on a regular basis.
Where links to Amazon are provided, they are affiliate links. This means that if you later purchase something from Amazon after getting there via the link I provided, I get a few cents from Amazon's profit on what you purchased.[wpurp-searchable-recipe]Maple Cranberry Banana Bread – – – [/wpurp-searchable-recipe]