<center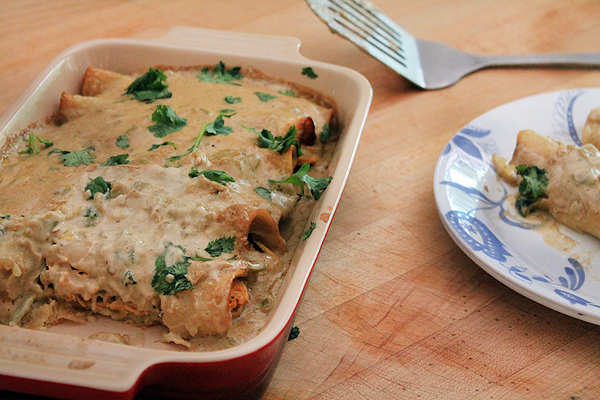 My parents are known for their routines. Since I was about 12 years old, they've visited the same Mexican restaurant every Friday night – or at least, they did until they moved across town last year. Believe it or not, they'll still make the 45 minute drive across San Antonio every now and then just to visit Casa Real and indulge in their favorites.
We even took James's family to Casa Real for a pre-wedding dinner. I was so proud to see his baby brother, David, pretty much inhale a plate full of tamales, refried beans and rice.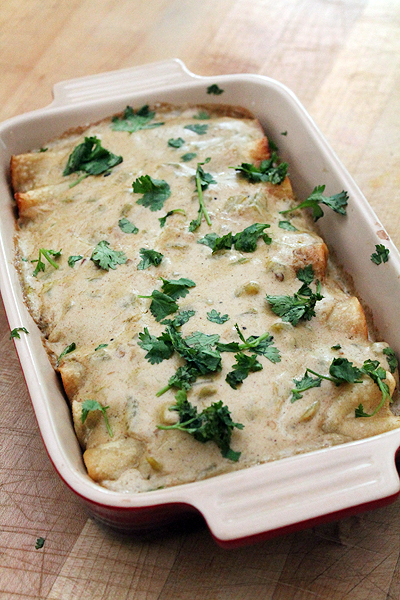 But Casa Real isn't just Mom and Dad's favorite hole-in-the-wall Mexican restaurant. Chellee and I consider it one of our favorite spots too. And my favorite thing on the menu? Sour Cream Chicken Enchiladas.
The first Sour Cream Chicken Enchiladas I ever had were made by the cooks in Casa Real's kitchen. The screaming hot plate placed in front of me, the scent of green chiles and cumin wafting into my face, and an entire week of school behind me. These are the things my teenage Friday nights were made of.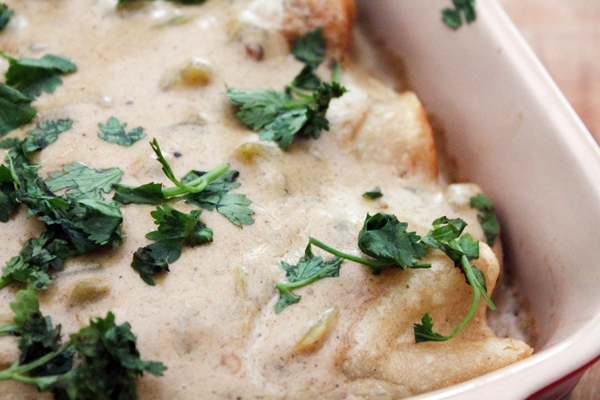 A few years ago I attended the Big Summer Potluck, where I tried Green Valley Organics yogurt for the first time. Normally, I avoid dairy products. After a surgery years ago, I've had trouble with lactose. For the first time in years, I enjoyed an entire cup of honey yogurt without feeling sick afterward. Honestly, that was enough for me – SOLD!
I searched out Green Valley Organics at my local Whole Foods store, delighted to find a ton of yummy yogurt flavors as well as sour cream! Popping open the sour cream when I got home, I was delighted to find that it's closer to Mexican Crema. Mexican Crema is sour cream, but it's not quite so thick in consistency. Closer to creme fraiche, if you will.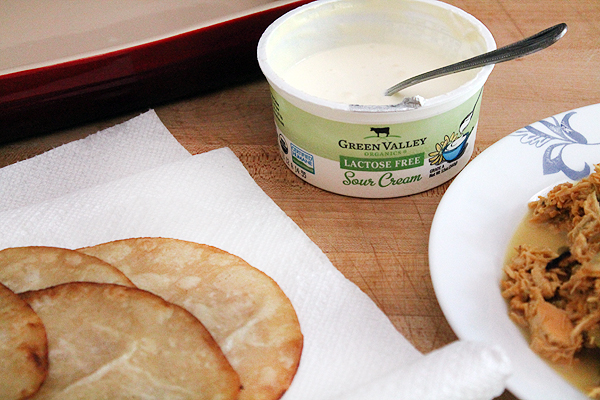 From the minute I started buying Green Valley Organic Lactose Free Sour Cream, I have dreamed of making Sour Cream Chicken Enchiladas with it because of how closely it resembles Mexican Crema.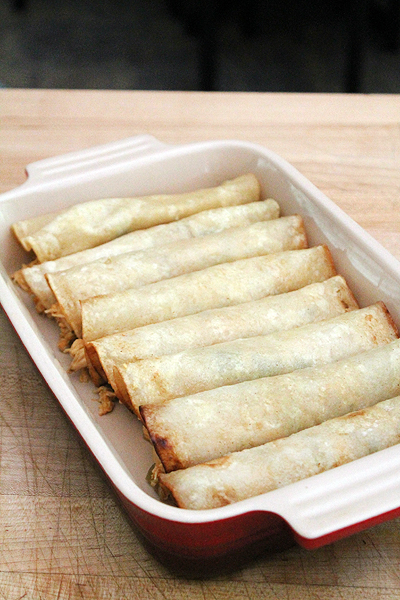 As with all traditional enchiladas, these Sour Cream Chicken Enchiladas are made with corn tortillas that are lightly fried before rolling into enchiladas. Corn tortillas must be cooked in some fashion to release their true flavor. Frying is the best way to do that, but you can also bake them (lightly spray them with cooking spray first), or grill them on a gas grill.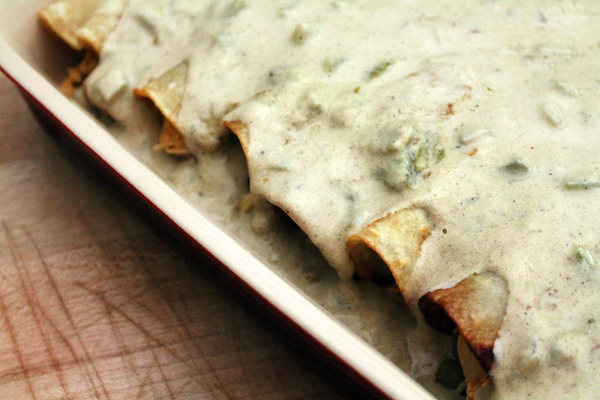 If you want to create a true Tex-Mex experience for your family, serve Sour Cream Chicken Enchiladas with Refried Beans (Sante Fe are my favorite), and Mexican Rice. Add guacamole salad and you've got a Tex-Mex feast!
Sour Cream Chicken Enchiladas
Serves 4, 2 enchiladas each
Ingredients
1 lb chicken breasts or thighs
1 packet Goya Sazón Coriander and Annatto
2 tablespoons vegetable oil
8 corn tortillas
1/2 large onion, diced
7 oz can of diced green chiles, divided
1/2 cup shredded sharp cheddar cheese
salt and pepper to taste
For the Sauce
2 tablespoons butter
2 tablespoons flour
1 cup organic low sodium chicken stock
1/2 cup Lactose Free Green Valley Organics Sour Cream
Diced green chiles
1/2 teaspoon garlic salt
1/2 teaspoon ground cumin
Fresh cilantro for garnish
Directions
Place chicken pieces into a medium sauce pan. Cover with the packet of Goya Sazón Coriander and Annatto. Add water to the pan until it covers the chicken completely. Simmer on medium high heat for approximately 20 minutes, until the chicken is poached through, and the internal temperature reaches 180°F.
While the chicken cooks, heat 2 tablespoons of vegetable oil in a frying pan on high heat. Dip the edge of a corn tortilla in the oil – if it quickly bubbles, the oil is ready. Line a plate with paper towels and keep it nearby.
Cook the tortillas in the hot oil, one at a time. Cook the tortillas for 10 seconds on each side, flipping using metal or heat resistant tongs. Allow the extra oil to drip off the tortillas into the pan before removing to the paper towel-lined plate. When all tortillas are cooked, set aside.
Leave pan with oil on medium heat and add diced onions. Season the onions with salt and pepper to taste and allow to brown. When onions show some caramel color and are mostly translucent, they are done. Turn the heat off.
Check your chicken. It should be mostly done. Remove it from the broth and use two forks to shred it. Turn the heat back on to the onions, then add the chicken to the pan and stir.
Open a 7 oz can of green chiles and spoon half the can into the chicken and onions. Add the broth you cooked the chicken in, and allow the mixture to simmer and the liquid to cook away.
When the chicken-onion mixture is heated through and has hardly any broth left, remove it to a bowl. Mix in the shredded cheddar.
In the same frying pan, add 2 tablespoons of butter. Melt the butter on medium heat. When the butter is completely melted, add 2 tablespoons of flour. Use a whisk to mix the butter and flour together into a light paste.
Add one cup of chicken stock, whisking as you add it to the roux. Allow the mixture to cook and thicken slightly.
Measure 1/2 cup of Lactose Free Green Valley Organics Sour Cream into the sauce, along with the remaining half of the green chiles. Use the whisk to stir and mix the sour cream and chiles thoroughly into the sauce. Simmer on low heat.
Preheat the oven to 375°F.
While the sauce simmers, assemble the enchiladas:
Spoon 2 tablespoons of chicken filling into the center of a cooked tortilla and roll it into a tight cylinder. Place the taquito in a baking dish, seam-side down. Continue to assemble until you have used all the tortillas. Any extra chicken mixture can be used in tacos or soup at a later date.
Pour the sour cream sauce over the enchiladas.
Bake for 15-20 minutes, until the sauce is bubbling. Serve with refried beans and yellow rice, and a delicious guacamole salad.

Disclaimer:
This is a sponsored post for Green Valley Organics Lactose Free Dairy Products. I was compensated for recipe development and provided the product as part of recipe development, however I have voluntarily purchased GVO products with my own money for years. All opinions about the product are my own.
Any links to Amazon in this post are Affiliate Links, which provides a small fee to Bluebonnets & Brownies if you reach Amazon via this website and then buy something.[wpurp-searchable-recipe]Sour Cream Chicken Enchiladas – – – [/wpurp-searchable-recipe]