I'm going to preface this post by saying that when I'm stressed, I don't always make the best food choices. My first experience with a Zagnut candy bar (outside of the movie Beetlejuice) came a few months ago when James and I embarked on a DIY project of sorts.
You see, we overhauled our kitchen two years ago. Completely gutted it, started from the ground up, and moved pretty much everything but the sink (and how that stayed in one spot is pure fluke). Our new cabinets, purchased from the cabinet company my mother works for, came complete with crown molding for above and below the cabinets.
I'm a freak about greasy cabinets, and one scrub too hard on the cabinet above the microwave sent the crown molding on one side of the kitchen all crashing down. Turns out this stuff is usually secured by hot glue. If I'd known that, I don't think the scrubbing would have commenced quite so vigorously.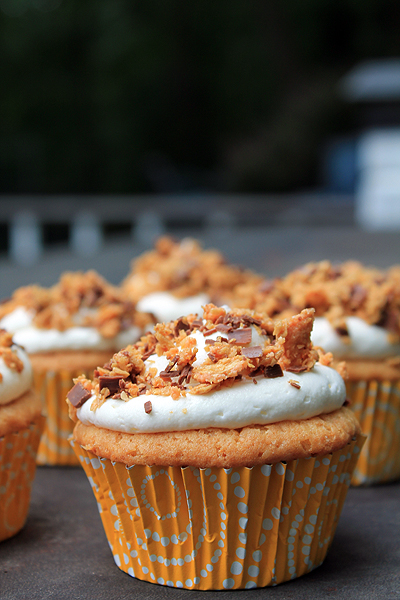 One Saturday, James and I devoted the day to putting this crown molding back in place. Not wanting to use hot glue again because (clearly) it doesn't hold all that well, we tried a few other solutions. Three types of glue, two nails, and four hours later, I found myself at Michael's craft store, in search of a hot glue gun and glue sticks.
Standing in a line that was too long for words, sweaty and frustrated, I suddenly realized I was starving. Like, stuff my face with anything in sight starving. I looked down, and the bright red packaging of a Zagnut stared back at me. I grabbed one as the line inched slowly forward, and read the ingredients.
If you've never had a Zagnut, the inside is basically the same as the inside of a Butterfinger. Flaky, crunchy layers of peanut butter goodness. However, the outside of a Zagnut is toasted coconut and vanilla, with a dusting of cocoa powder for good measure.

Once in the car, I might have done some unladylike hoovering of said Zagnut. I admit nothing, but offer the excuse of stress eating caused by a day of ridiculous DIY. Channeling Jamie and her candy-bar-into-dessert genius, I knew – just knew – I had to make Zagnut cupcakes.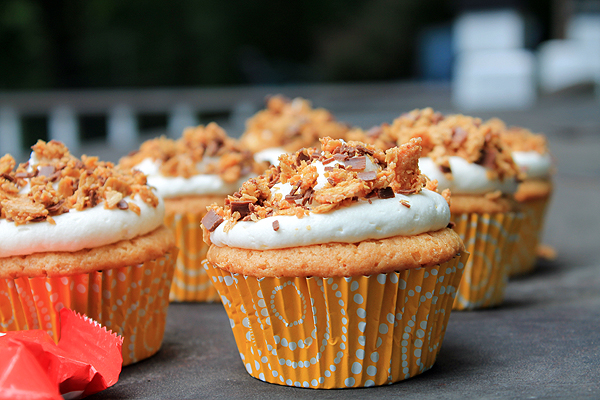 Turns out, Jamie ended up doing more than just allowing me to channel her genius. She came out here to Jersey to visit, (along with Megan, Shaina, and Kristen) to attend the Big Summer Potluck, and ended up basically baking the entire batch. After what Jamie deemed a failure in cookie making, we moved on to Zagnut cupcakes as our dessert du jour to take to BSP.
Luckily, they did the trick. I am in love with the super peanut buttery cake. Topped with a simple vanilla buttercream, we then crumbled Zagnuts on top, and shaved a little Hershey's chocolate on too. The use of a doctored up cake mix means that these cupcakes are incredibly easy to make.
And according to Erika, just the thing for our afternoon tea at BSP.
Oh, and in case you're wondering? The hot glue held for about 3 weeks. We're back to the crown molding leaning against the pantry, while I stare up at an unfinished ceiling every morning as my coffee brews. Anyone have any suggestions?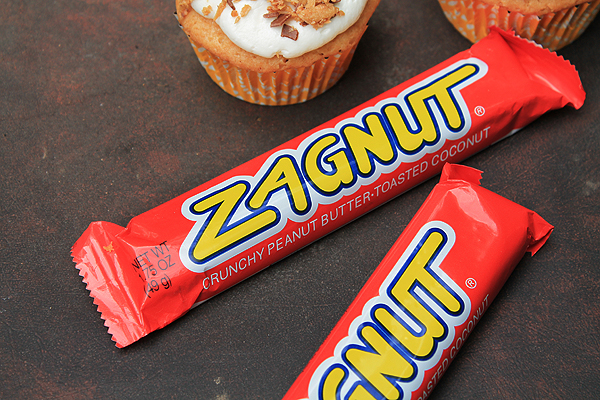 Zagnut Cupcakes
makes 24 cupcakes
Ingredients
For the Cupcakes
1 Duncan Hines Classic Butter Golden Cake Mix*
4 tablespoons unsalted butter, room temperature
3/4 creamy peanut butter (We used Skippy All Natural Peanut Butter with Honey)
3 large eggs, room temperature
1/2 cup of water, room temperature
*The ingredients listed after the cake mix should be used instead of the ingredients on the back of the box
For the Buttercream Frosting
From My Baking Addiction
4 sticks (2 cups) unsalted butter
1 1/2 lbs. powdered sugar (roughly 5 3/4 cups)
2 teaspoons clear vanilla extract
3 to 5 tablespoons half & half to reach desired consistency
2 Zagnut candy bars for garnish
1 Hershey Chocolate Bar, refrigerated and then shaved into chocolate curls with a potato peeler
Directions
For the Cupcakes
Preheat the oven to 350°F and line a cupcake pan with liners. Lightly spray the liners and pan with cooking spray.
In a large bowl, combine cake mix, butter, peanut butter, eggs, and water. Mix on medium-high speed until all ingredients are combined and mixed through.
Distribute into cupcake wells 2/3 of the way full. You should have enough batter for 22-24 cupcakes. Bake the cupcakes for approximately 18-21 minutes. When a toothpick placed into the center-most cupcake comes out clean, the cakes are done.
Allow cupcakes to cool completely before frosting.
For the Buttercream Frosting
In a large bowl, or the bowl of a stand mixer, beat butter on medium-high speed. When the butter is fluffy, begin adding powdered sugar in increments.
When all of the powdered sugar is incorporated, add the vanilla extract and beat again. (If you don't have clear extract, you can use regular pure vanilla extract, but your frosting will not be starkly white.)
Add half and half one tablespoon at a time, mixing after each addition, until you reach the desired consistency.
Pipe frosting onto completely cool cupcakes. We used a #1A tip.
Crush Zagnut candy bars into a bowl or ziploc bag. Sprinkle crushed candy bar on top of the fresh frosting.
If desired, use a vegetable peeler to peel slivers of chocolate off a Hershey bar. Sprinkle those on top as well.
Cupcakes are best eaten within two days of baking. Keep them refrigerated until serving.

[wpurp-searchable-recipe]Zagnut Cupcakes – – – [/wpurp-searchable-recipe]