Things have been a little quiet around B&B through the holidays. James and I made our three and a half day trek from New Jersey to San Antonio, arriving just in time for the family's Christmas Eve celebrations.
I decided to take a little break and really enjoy my family. I've been having a blast with my nephew and niece, David and Ava. We've baked sandwich bread and muffins, we sit together at the dinner table each night, and my favorite part of the day is asking them each what their favorite part of the day has been. Hearing David talk about his latest art project, or Ava about learning to read – it's priceless.

I made this bread just before we left New Jersey. I've been obsessed with Beer Bread for a long time. I love Jamie's recipe, and I use it nearly every time we make soup or chili on a cold Winter night.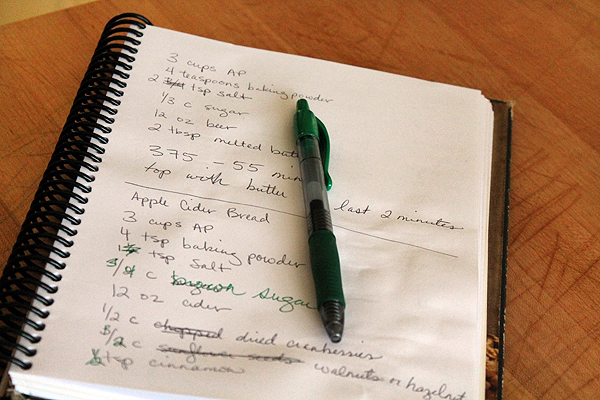 What happens when a thought becomes an experiment – I could not live without my recipe notebooks!
What you might find odd is that while I cook with beer all the time, I never drink it. I've never learned to love the taste of it as a beverage, but I think it's a fabulous ingredient!
The bottled alcoholic beverage of my choice happens to be Woodchuck Hard Cider. Made with champagne yeast and fine apple cider in Vermont, Woodchuck Hard Cider is bubbly and sweet with just the right amount of spice. It certainly smooths all the rough edges for this girl after a long day of work.
One evening, James and I were chilling on our deck, each with a cider, and a thought popped into my head – maybe I could adapt that beer bread into a cider bread, and head in a sweeter direction. I knew it had to be Woodchuck, simply because of that champagne yeast.
I'm happy to say that Hard Cider Bread is exceptional – perfectly apple-y and moist. It's somewhere between a quick bread and a pound cake, and because all the alcohol bakes off, it's appropriate for breakfast or dessert.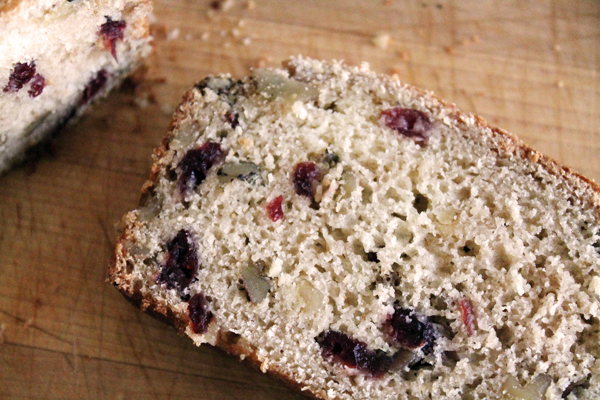 If you're looking for a super easy and quick sweet bread to take to a family function or potluck, this is the ticket. I guarantee you no one else will have tried Hard Cider Bread, so you'll be the talk of the potluck.
Very soon, you're going to see a bread pudding made from this bread. My mouth waters a little just thinking about it.
I hope that you've had an exceptional start to 2012, my friends.
Woodchuck Hard Cider Bread
Adapted from My Baking Addiction's Beer Bread

Ingredients
3 cups All Purpose Flour
1/2 teaspoon Cinnamon
4 teaspoons Baking Powder
1 teaspoon Kosher Salt
3/4 cup Dark Brown Sugar
1 12 fl. oz. bottle Woodchuck Hard Cider (I used Amber)
1/2 cup Dried Cranberries
1/2 cup chopped Walnuts or Hazelnuts (optional)
Directions
Preheat oven to 375F.
Combine flour, cinnamon, baking powder and salt in a large bowl. Whisk to combine ingredients and aerate.
Add brown sugar and whisk again.
Pour the bottle of hard cider into the bowl and stir until just combined.
Add cranberries and nuts (if using) and mix just until well distributed.
Spray an 8″ bread pan with cooking spray, then pour batter into the pan.
Bake for 45-55 minutes, until the bread is golden brown. Top with butter if desired and allow to melt for the last 2 minutes of cooking.
Allow to cool completely before removing from the bread pan to slice.
Absolutely fantastic toasted with a slather of good Irish butter and a strong cup of tea.

Disclaimer: I have not been asked by Woodchuck Hard Cider to write this post or develop this recipe, nor have I been compensated in any way. I simply love their products. I think you will too.
[wpurp-searchable-recipe]Woodchuck Hard Cider Bread – – – [/wpurp-searchable-recipe]