Today's guest post comes to you not from a fellow food blogger, but from a dear friend. Jenny and I have known each other since high school, through her husband Nate. Nate and I were best friends throughout high school, and our sisters played volley ball together, so we occasionally ended up staring off into space together at parent-enforced game attendance. Jenny wears many hats in her household – wife, mom, student – Super Woman, really. She took the time to write up one of her favorite recipes for me and you. Thank you, Jenny, for being so awesome!

---

So…where to begin with my love of all things sweet? Okay, I won't go that far back but I will elaborate on my love of coconut! Actually I should say my Aunt's love of all things coconut; it's for her that I make these delectable little treats.
My Aunt Delia is everything to me, she took me into her home when I was seven years old and raised me as her own. For that I will be forever grateful. However that is another story all together. This is about our never ending search for the perfect macaroon.

You see growing up I was always a foodie, I loved food, especially sweets – so there was nothing I wouldn't eat… to my aunt's dismay. She never had a treat that was her own because I would always discover it and eat it! I knew all her hiding spots, even the ones she didn't know I knew about.
Most of the time I was very careful not to sneak too many of her treats for fear that she would find out what I was doing; of course she knew and never stopped me. One day a packaged arrived from Germany, it was from my cousin Eileen.
Inside were the most beautiful candies and cookies I had ever seen! The cutest were tiny little balls that looked like snow, coconut! She was hopeful I would not enjoy coconut as many kids my age didn't. She hoped in vain. I loved them!
I ate my share and most of hers. After that she gave up hiding her treats and shared them happily with me. Years later we laugh about that now and thankfully have countless beautiful memories. Still I look back and wish I would have allowed my aunt the peace and luxury of enjoying her special little treats alone, without me pestering her and invading her hiding spots.
So knowing what I know now, that coconut is her ultimate indulgence (second only to chocolate), I have decided to combine the two in to one of her favorite cookies with a twist of course… a classically decadent almond macaroon dipped in rich, creamy dark chocolate ganache and topped with sliced almonds. How could I go wrong? 😉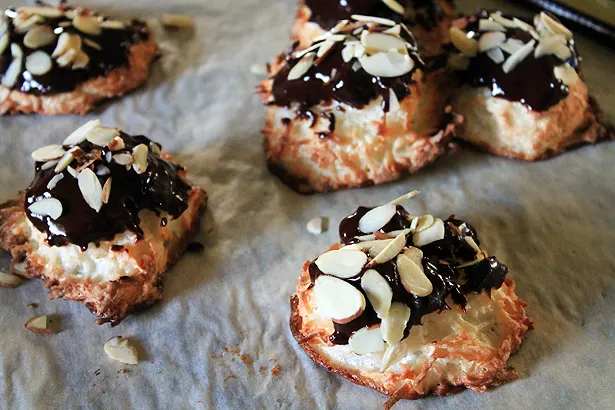 Coconut Almond Macaroons

with Chocolate Ganache and Almonds
Ingredients
For the Macaroons
14 ounces sweetened shredded coconut
1/4 cup sweetened condensed milk
Pinch of salt (I use kosher or fine sea salt)
1 teaspoon almond extract
4 large egg whites at room temperature
1/2 cup granulated sugar
For the Ganache
10-12 ounces semisweet or bittersweet chocolate
1 cup heavy cream for melting chocolate
Sliced almonds for topping cookies
Directions
For the Macaroons
Preheat the oven to 325 degrees.
Combine the coconut with the condensed milk, salt and almond extract in medium bowl.
Using a stand mixer with a whisk attachment beat the egg whites until foamy. Slowly add the granulated sugar to the foamy eggs and beat until medium peaks form (about 6-8 minutes on medium speed).
Next carefully fold the egg white mixture into the coconut mixture. Do not over mix, you want to keep as much of the egg white volume as possible.
Using a small ice cream scoop (this ensures even sizing) scoop the cookie mixture onto a lined sheet pan, parchment paper works best.
Bake cookies for 20 minutes or until golden brown. Once out of the oven transfer cookies to a cooling rack.
For less mess and to ensure cookies don't break, transfer cookies with the parchment paper onto the rack. Make sure you cool the cookies before dipping in chocolate.
For the Chocolate Ganache
Heat heavy cream in a sauce pan, making sure not to boil. Place half the chocolate chips in a glass or metal bowl. Once cream is heated pour over chocolate chips and let sit for 5 minutes. Stir until melted, add remaining chocolate chips and stir until smooth. This helps temper the chocolate.
Dip the cooled cookies in the chocolate ganache, sprinkle with the sliced almonds and place back on the parchment paper to set.
You can store the cookies for about 2 weeks in an airtight container lined with wax paper.
These cookies travel well and taste better the longer they sit. I find them most enjoyable a day or two after I make them. Enjoy!

[wpurp-searchable-recipe]Guest Post: Coconut Almond Macaroons – – – [/wpurp-searchable-recipe]