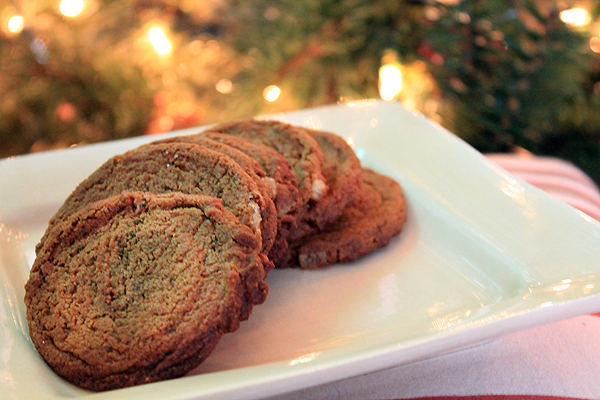 Let's get one last Christmas cookie recipe in under the wire, okay? I've been baking up a storm for weeks, and these are probably my favorite out of the bunch.
You'll read the recipe and think, "Flatten with a spatula, Amber?", but that's really how I achieved that perfect chewy texture. I don't claim to know if that's a professional thing to do, but it certainly worked for me.

These Chewy Ginger Molasses cookies embody Christmas flavors for me – especially ginger and nutmeg. Folks might go for the more flashy cookies with festive M&Ms or candy cane kisses, but when it comes down to it, I think the classics are far more satisfying.
What about you? What's your favorite classic Christmas cookie?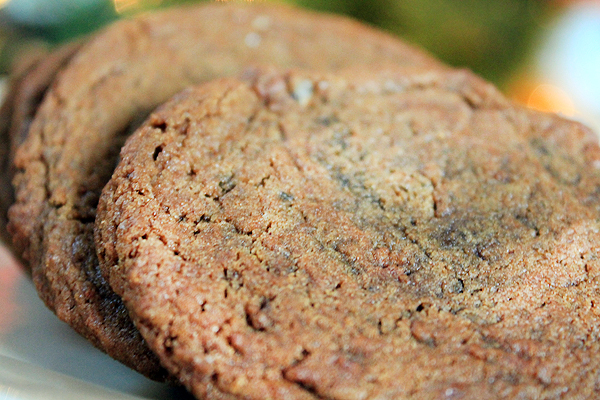 Chewy Ginger Molasses Cookies
makes about 2 1/2 dozen
Ingredients
3 cups all purpose flour
2 teaspoons baking soda
1 teaspoon ground cinnamon
1 teaspoon ground ginger
1/2 teaspoon ground nutmeg
1/2 teaspoon kosher salt
1 cup brown sugar
1/2 cup granulated sugar
8 oz butter (1 cup, 2 sticks), room temperature
1 large egg, room temperature
1/2 cup molasses (I did not use black strap)
1/2 cup crystallized or candied ginger pieces
Directions
Preheat the oven to 350°F. Line a baking sheet with parchment paper.
In a large bowl, combine all purpose flour, baking soda, ground cinnamon, ground ginger, ground nutmeg, and kosher salt. Combine using a whisk to aerate the flour at the same time. Set aside.
In the bowl of a stand mixer or a large mixing bowl with a hand mixer, cream together butter and both sugars. When light and well mixed, add the egg and mix again until light and fluffy. Add molasses and mix again on low speed, scraping the sides of the bowl often until completely mixed in.
Add the flour mixture in increments, mixing after each addition. Scrape the sides of the bowl often.
When dough is completely mixed, stir in candied ginger pieces by hand.
Using a medium sized cookie scoop, scoop dough onto a baking sheet, 6-8 per sheet. Bake for 12-15 minutes.
When cookies are removed from the oven, they will be puffy and round. Use the back of a flat spatula to press each cookie down. Allow to cool on the baking sheet for a moment, then move to a wire rack.
Keeps in an airtight container for up to 3 days.
Dough may also be portioned out and flash frozen for baking whenever you fancy.

[wpurp-searchable-recipe]Chewy Ginger Molasses Cookies – – – [/wpurp-searchable-recipe]