Gingerbread pizza dough covered in brown sugar ricotta, walnuts, and sugared cranberries. Serve it as an elegant dessert at your holiday party.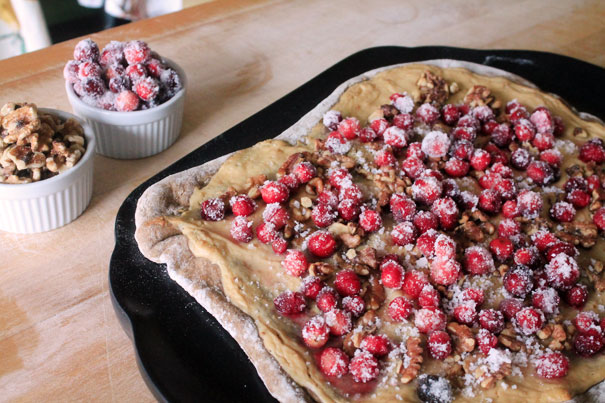 Every so often, a product comes along and inspires recipe greatness.
It might sound a little weird, but I love it when I'm tasked with creating a recipe that uses a specific kitchen tool.
It's a challenge to create something that shows off the assets of the product, but it's important to me that the recipe be able to stand on its own too.
That's why I'm so excited to share this Gingerbread Pizza.
A great baking stone is worth its weight in gold. Like this beautiful black baking stone made by Princess House.
I'd love to serve a cheese selection, or a huge pile of cookies, or even crudités piled high on its black shiny stone surface. But what's really awesome about it is that the stone can go on the grill, in the oven, or, pièce de résistance – in the dishwasher.
It stays hot or cold for up to 30 minutes, making it great for that cheese I mentioned. And it has raised edges to avoid spilling. Love that! You can even use it to bake cookies.
But I just knew that the first thing I had to do with this stone is make a pizza. But not just any pizza.
Something elegant and refined, the way the stone looks to me.
Christmas is not far away, and my mind turned to sweet things.
Gingery sweet things, thanks to this series on Simple Bites about building gingerbread houses.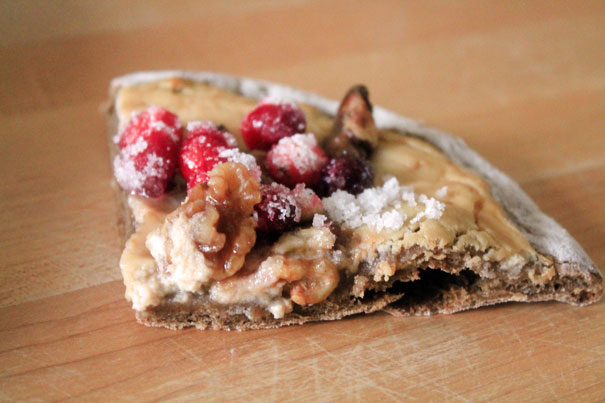 I decided there must be such a thing as gingerbread pizza. I mean, why not? Spices can easily be incorporated into pizza dough.
Why more people aren't adding garlic powder or oregano directly to the dough is beyond me. (Though I haven't tried it yet, to be fair.)
So I made a simple pizza dough. A little all purpose flour, a little white whole wheat. Heavy on the spices, but with only molasses for sweetness.
Much like the dessert pizza at the NYC restaurant Max Brenner's Chocolate by the Bald Man, I knew that the sweetness of this dessert pizza should come from its toppings.
The only slightly sweet base mellows the entire pizza, and keeps you coming back for more.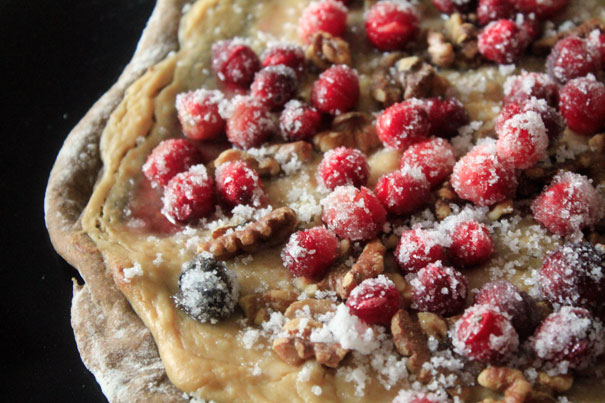 Covered in a quickly stirred together brown sugar ricotta cheese, then topped with walnuts and sugared cranberries, I fell head over heels for this gingerbread pizza in bite after bite.
The Brit? He adores anything ginger, period – and this was no exception. His only regret was that I made such a large pizza.
He couldn't stop eating it. I think you'll love it just as much.
Keep in mind that sugared cranberries need to be made a day in advance – they soak in simple syrup overnight.
If you'd rather get to your pizza quicker, you could probably get away with simple fresh cranberries and some extra sparkling sugar or honey glaze on top of the pizza as it comes out of the oven. But it won't be as pretty.