Pretzel Peppermint Bark Bites take just minutes to make. Good thing, because they disappear just as quickly!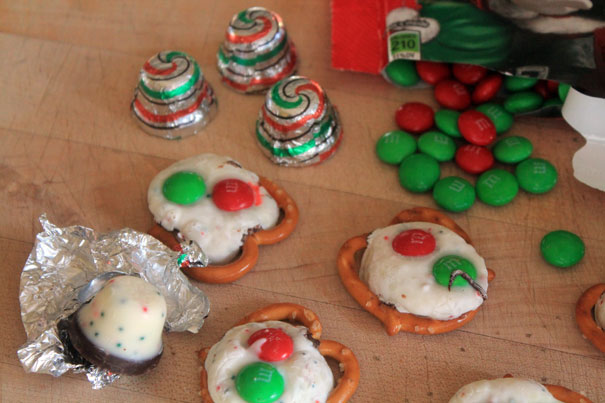 I know I'm not the only one seduced every. single. time. by Target's seasonal aisle. Right? I always troll that little area for holiday versions of my favorite chocolates and candies, or new seasonal flavor versions of them.
This year, I clocked Hershey's Peppermint Bark Bells. Hello, nurse! This time of year I become obsessed with absolutely anything peppermint chocolate flavored.
Those Ghirardelli squares? I may hoard the bags until April.. The same goes for Candy Cane Kisses. So when I saw these peppermint bark bells? *cough* 3 or 4 bags went into the cart.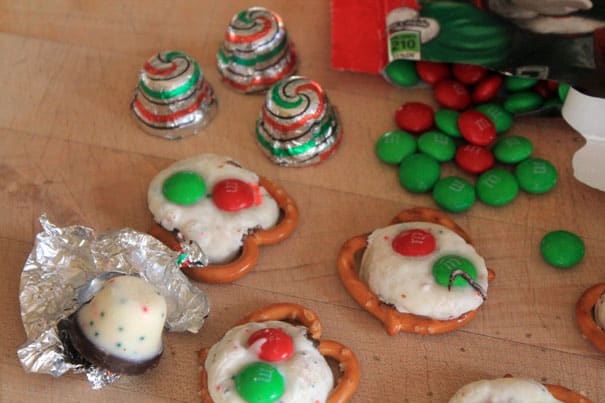 This year, we'll be heading to Texas for Christmas. It's Evan's first, and I'm really excited we can share it with our niece and nephew too.
We'll be having a family holiday party that doubles as a "Welcome Baby" party on the Saturday after Christmas.
With everything going on, I know I won't have an opportunity to bake up a storm like I normally would (Let's be honest – breastfeeding takes up a LOT of time!).
These peppermint bark bells have saved the day! I can make these without stressing myself out, and still make the family a treat.
Everybody loves pretzel bark.
With the addition of the Hershey Bells and two festive M&M candies, you can make individual bites that don't require big trays with carefully placed parchment paper, don't require breaking up, and are easy to pile into a bowl for grabbing by the handful.
The best part? They take exactly 5 minutes to make.
Do you have a super quick holiday recipe to share? I'd love to see it!