Deep fried turkey is pretty delicious. But I know what you're thinking – you're pretty dern skeerred of turkey frying. Don't be. Just stick with me, okay?
I have great memories of frying a turkey in the backyard at my Nanny and Gaga's. The men all standing around a great big pot of boiling oil, the scent of crisping skin and sage wafting through the breezy Thursday afternoon in San Antonio.
My sister and I stood nearby, amazed that a turkey could be cooked in such little time. We were used to Nanny waking in the early hours to start the turkey roaster she's had since the 70s (and it still works too!), and then lovingly basting it every 45 minutes like clockwork. Delicious? Yes. Labor intensive? YES.
The true secret to any good turkey, whether roasting or frying, is a good brine. You don't have to buy special box mixes, I promise. You have everything you need, right in your own kitchen to make the actual brine. You may need two extra tools to execute successfully, but your local grocery store will have what you need.
The beautifully fried turkey in the photo above was brined for only 6 hours, but it has TONS of flavor. Leaving it overnight would have been spectacular, but know that you don't have to.
Succulent and Savory Turkey Brine
Enough brine to cover a 14 lb turkey. Halve the recipe if using only a turkey crown or breast
8 cups chicken and tomato stock (I used Knorr)
2 tsp. cumin
1 tsp. pepper
1 tsp. red pepper flakes
4-6 garlic cloves, minced
1 onion, roughly chopped
1 prepackaged fresh poultry herb mix: rosemary, sage, thyme, parsley and oregano (or use individually purchased – eyeball the amounts based on your taste preferences)
kosher salt
In a large stockpot, combine stock (or bouillon and water), herbs, spices, minced garlic and roughly chopped onion. Simmer on low heat for approximately an hour, allowing the flavors to combine and cook down. Allow to completely cool to room temperature.
Remove any innards from turkey, rinse with cold water, and pat completely dry with paper towel. Place turkey in a brining bag, extra large ziploc bag, or dutch oven with ample head space. Sprinkle kosher salt all over turkey, both inside and out.
Pour brine over turkey and seal bag or cover dutch oven with plastic wrap and then replace lid. Less air means more flavor in the turkey later.
Allow to brine for at least 4-6 hours. 24 hours would be better. When ready, remove turkey from brine and again pat completely dry with paper towel. Do not discard brine.
Using a flavor injector, inject syringes full of brining liquid into the turkey. Concentrate on the breast, but use as much brining liquid as you'd like throughout the turkey. Pat dry softly when done.
Turkey is now ready for roasting or frying.

Turkey frying, even back in the early 90s, when the trend started, has always been a bit scary. Giant vats of oil popping and bubbling in your backyard – and you'd better make sure you're far enough away from the house not to start a fire. The bird has to be completely dry before submerging, and the oil temperature has to be kept constant, using an open flame.
All of that is pretty intimidating. In step Masterbuilt and Butterball. They've created an indoor turkey fryer. Yes, I did say indoor.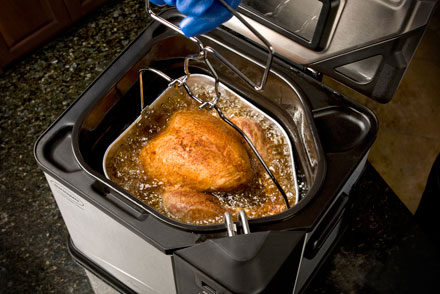 Image courtesy of Masterbuilt.com
I'm not going to lie. I was really nervous to get going on the Butterball Indoor Electric Turkey Fryer. But all those nerves were for naught. Let me tell you how easy using the Butterball Indoor Electric Turkey Fryer is:
I fried a turkey on a Monday night. After work. In my pajamas. And we ate it for dinner. On Monday Night. Fried turkey, on MONDAY NIGHT.
And I cleaned it today, in about 20 minutes flat. In fact, most of the pieces are dishwasher safe. LOVES. Here's a video to show you just how easy it is:
You want this thing in your home and as part of your Thanksgiving routine. Trust me.
The really exciting part? Masterbuilt and Butterball have graciously offered a brand-spanking-new turkey fryer to be given away here on Bluebonnets & Brownies. Gee, thanks guys!
So how do you win? There are several ways:
1) Leave a comment below letting me know what you'd serve with your fried turkey this Thanksgiving.
2) Follow Masterbuilt on Twitter.
(Leave another comment to tell me you did so, or it doesn't count.)
3) Like Masterbuilt on Facebook.
(Leave another comment to tell me you did so, or it doesn't count.)
4) Like Bluebonnets & Brownies on Facebook.
(Leave another comment to tell me you did so, or it doesn't count.)
5) Tweet the following: "I just entered to win a Butterball Indoor Electric Turkey Fryer from @BluebonnetBaker & @JohnMcLemore http://su.pr/4nwXTx #recipe #giveaway"
(Leave another comment to tell me you did so, or it doesn't count.)
The winner will be chosen via random.org and contacted on Monday, November 15th via email. Because we want you to have your turkey fryer by Thanksgiving, you must answer the email by 11:59 p.m. on Monday, November 15th, or we will choose another winner via random.org.
Contest open to U.S. residents only. All times are EST.
******UPDATE: Not only will you get the turkey fryer, you'll get Masterbuilt CEO John's cookbook (with forward written by Paula Deen, so you know it's legit!) and a $15 coupon towards a Butterball Turkey. Sweet.******
Increase your chances of winning a turkey fryer! My dear friend Kristen over at Dine & Dish is also giving away a Masterbuilt Butterball Turkey Fryer. Head on over to Dine & Dish to enter her giveaway too.

---

Disclaimer: While I received a turkey fryer, cookbook and coupon for a Butterball turkey from Masterbuilt myself for the purposes of review, the opinions expressed above are entirely my own, and were independently formed in the use of the product.
---
We have a winner! Comment #132 was selected by Random.org as the winner. Schmidty will be contacted via email and will receive his fryer directly from Masterbuilt. Congratulations, Schmidty! Now I've got to go plan my Thanksgiving meal with all these wonderful side dishes you guys have me salivating over. Thanks to everyone for participating!