More often than not, I cannot leave well enough alone. Whether it's where a vase sits in the living room, the recipe I can kick up a notch, or even the fonts on this blog – if I think about something for a little too long, I have to change it, make it better.
A few weeks ago you may have clocked a change here on B&B – I finally found some fonts I well and truly loved. So I went back to my developer's emailed instructions, and patiently set to changing them. Thank the sweet Lord for Chris Graver, is all I have to say.
Chris created the backbone of Bluebonnets & Brownies, took a Photoshop-created mock up I made, and turned it into a reality. He's an excellent designer, and all around good guy. Every time I email him, he responds cheerily, and he's always happy to help.
When I decided to mess around with those fonts, I messed a few things up. Chris came to the rescue quick as he could, and fixed it all without even the mention of what I might owe him. I couldn't let that go by without some sort of thank you.

I thought, "I bet Chris would like some cookies", and so I created some cookies that are a little like his personality. Sweet and tart, and a little nutty! (Hi Chris!)
I started with my favorite Saucer-sized oatmeal cookie recipe from Pam Anderson's Perfect Recipe for Having People Over. Seriously one of the best cookie recipes you'll ever find, people.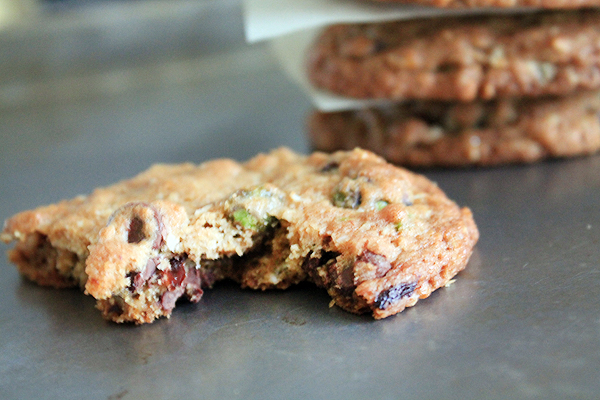 Make these cookies for someone who's been nice to you. Or even someone who hasn't. It helps to throw 'em off your trail. 😉
Dark Chocolate, Cherry and

Pistachio Cookies
Adapted from Pam Anderson's Saucer Sized Oatmeal Cookies
Ingredients
1 1/4 cups King Arthur all-purpose flour
1/2 teaspoon baking powder
1/2 teaspoon baking soda
3 cups old-fashioned oatmeal
1 teaspoon salt
16 tablespoons butter, melted (2 sticks)
2 tablespoons vegetable oil
1 cup granulated sugar
1 cup dark brown sugar
2 large eggs
1 teaspoon vanilla
1 cup dried black cherries
1 cup bittersweet chocolate chips
1 cup shelled pistachios
Directions
In a medium bowl, combine flour, baking powder, baking soda, oatmeal, and salt. Whisk together to combine and aerate, then set aside.
Melt 16 tablespoons (2 sticks) of butter and allow to cool slightly. Add butter, vegetable oil, and both sugars to a large bowl or the bowl of a stand mixer. Mix on low to medium speed until well combined.
Add eggs one at a time, mixing well after each addition. Add vanilla and mix again.
Incorporate the flour mixture a little at a time on low speed until well mixed in.
Add in dried cherries, chocolate chips, and pistachios (roasted or not, up to you). Mix by hand or on low with the mixer until the add-ins are well combined and mixed through the dough.
Chill the dough for 20 minutes.
When ready to bake, preheat the oven to 350F.
Place ice cream scoop-sized dough balls on a parchment lined cookie sheet – roughly 6 to a sheet. Bake for approximately 18 minutes.
Remove from the oven and allow to cool for a moment on the sheet before removing to a cooling rack. Allow to cool for another 5-7 minutes.
Enjoy with a big glass of milk, a strong cup of coffee, and your favorite book.

[wpurp-searchable-recipe]Dark Chocolate, Cherry and Pistachio Cookies – – – [/wpurp-searchable-recipe]