Jen and I first met at the Big Summer Potluck a couple years ago. Her beautiful smile and adorable pixie haircut drew me to her immediately. Jen is passionate about food, especially beautiful cookies. I can say from experience that her cookies taste as good as they look, which is saying something, because they are stunning to behold. Thanks, Jen, for guest posting today. You're a wonderful friend.
---
Hi, I'm Jen from My Kitchen Addiction, and I'm taking the reins here on Bluebonnets & Brownies. Don't worry, I won't stay forever… I'm just dropping by for the day to share a quick recipe with you. After all, Amber deserves a break once in a while, right?

It's always fun trying to come up with a recipe to share on another blog. It's a chance to meet up with new readers, and branch out into new things. Amber and I have been friends for quite a while… And, much like me, she is a fan of simple recipes packed with big flavor. So, I thought this frittata recipe would be a good one to share. It's packed with healthy ingredients and big flavors… The perfect one-two punch for the New Year!
I find that most people (myself included!) are looking for healthier recipes this time of year. We've all overindulged in sweets (please tell me that's not just me!) and eaten lots of heavy, rich holiday dishes. And, now we're ready for a break. Regardless of your position on New Years Resolutions (and, I can tell you, I'm not a huge fan!), I think we can all agree that we're not too interested in a big plate of cookies at the moment. The problem, though, is that most of us also aren't interested in healthy dishes that taste like cardboard.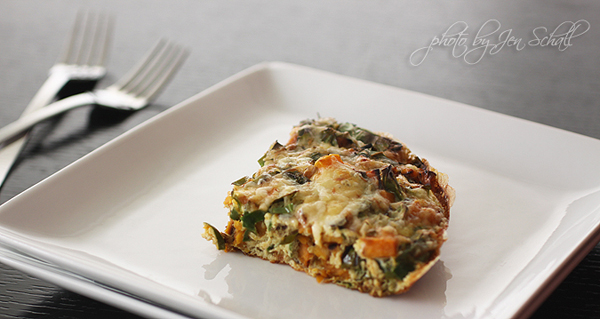 What gets me through the post-holiday season and dreary winter months is experimenting with big flavors. You can take an ordinary "healthy" dish like chicken, fish, or vegetables, and add a few bold ingredients, and it changes things entirely. That's what I did with this frittata. I started with the healthy stuff… Eggs and egg whites, lowfat milk, collard greens, and sweet potatoes (talk about healthy ingredients loaded with nutrients!). Then, I started adding some more interesting ingredients like chili powder and smoked chedddar. The chili powder adds a big punch to the eggs, and smoked cheddar is one of those ingredients where a little bit goes a long way. Sprinkling just a bit of the smokey, sharp cheese on top of the frittata makes all the difference.
It's a simple recipe that you can make for breakfast, lunch, or dinner… And, I promise, you'll completely forget that it's healthy once you take a bite!

Sweet Potato and Collard Greens Frittata
with Smoked Cheddar
Ingredients
1 tablespoon extra virgin olive oil
1 medium sweet potato, peeled and diced
Handful of collard greens, thick stems removed and chopped
2 eggs
2 egg whites
1/4 cup lowfat milk (2%)
1/2 teaspoon chili powder (a blend or ancho both work great!)
Pinch of Kosher salt
1/4 cup shredded smoked cheddar cheese
Hot sauce (optional)
Directions
Preheat the broiler.
Heat the olive oil in a nonstick skillet (approximately 9-10 inches in diameter) over medium heat. Add the potatoes, and cook, stirring occasionally, until the potatoes are soft, about 8 – 10 minutes. Gradually add the collard greens, wilting them down into the pan. Cook an additional 2 – 3 minutes.
Meanwhile, whisk together the eggs, egg whites, milk, chili powder, and salt.
Reduce the heat to medium-low, and pour the egg mixture down over the cooked potatoes and collards. Cover the skillet, and cook for about 10 minutes. The eggs will start to set and puff up a bit, but may still be runny on the top.
Remove the cover, and sprinkle with the cheddar cheese. Place the pan under the broiler until the eggs are set and the cheese is bubbly and golden (about 4 – 5 minutes).
Serve immediately, topped with hot sauce (if you like).

[wpurp-searchable-recipe]Sweet Potato and Collard Greens Frittata with Smoked Cheddar – – – [/wpurp-searchable-recipe]