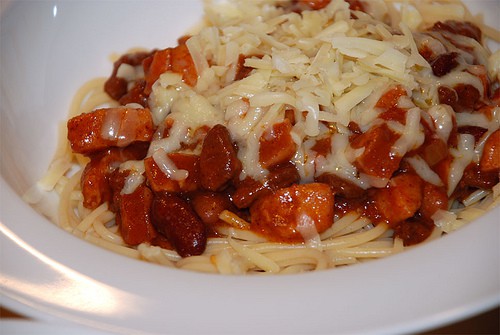 This is another one of those gems from my Nanny. I can't quite explain why I never thought to combine pasta and chili, but YUM! About 10 years ago I swung by her house for dinner, and this is what I was met with. She didn't put sausage in it, but that's because she used a different kind of chili that had much more meat to it.
I'm a little bit obsessed with this meal now, it was so incredibly good. I had made it for James once before, on a random night in England when we were both home late and starving. I don't know why I forgot how good it is, or why it's taken me this long to make it again. It's totally going back into the meal rotation!
The great thing about this meal is that you can go about it two ways – you can make your own chili, and lay it on top of pasta, or you can use completely jarred/canned ingredients. Either way, it's going to be amazing. And on your table in about 15 minutes flat. (If you used the canned stuff.)
The Players: Your choice of hot dogs/sausages, jarred or canned chili of your choice, spaghetti pasta, and sharp cheddar cheese for topping.
About my choices:
I love, Love, LOVE cheddarwursts. I don't know what it is, but I think they're great. In a tortilla, in a hot dog bun, in chili. If you have a craving for something savory, these guys will do the trick.
The hubby, however, prefers things with a little heat. So when I decided to make this dish, I used his favorite hot sausages, and my favorite cheddar sausages, and just used the little jars of Bush's chili to keep serving sizes uniform, since I was cooking in two separate skillets.
You can get a big jar, the same size as regular jarred spaghetti sauce, and use that with one kind of sausage. Or use both. Or whatever sausage you want! Kielbasa would be great. Just use whatever amount of hot dogs or sausages and chili that will feed your family.
Normally, James and I can eat two of these hot dogs each, and that's how I planned my cooking quantities.
You can use absolutely any kind of chili you want to. I really like this Bush's chili. It's pretty tasty, not too hot, and has beans and meat in it (you can also get beanless). It's just the right consistency for this meal.
About our pasta – we use Dreamfields. It's meant to be low-carb pasta. It tastes amazing. Initially, we bought it when we were on Atkins. But now I won't buy any other. It's light, and doesn't make me feel like I've eaten a football. You know how pasta normally kinda sits at the bottom of your stomach once you've eaten a meal? Yeah, this stuff doesn't do that. And it doesn't impact your glycemic index. I dig that.
Once you've assembled your ingredients, get a pot of water on the boil for your pasta.
Then, take your sausages, and slice and chop them into quartered pieces.
p.s. I am sorry about the funky lighting in some of these photos. This is the first post to be done from our new kitchen, and the camera didn't really like the new lighting!
Next, heat a frying or sauteing pan of appropriate size for your quantities. High heat is fine. Throw your sausage pieces into the pan, and allow to cook up until slightly browned and heated through.
You should also throw your spaghetti into the boiling water at this time.
When you really want to pick one of those little sausage pieces up and pop it in your mouth, you're ready to add the chili.
And stir.
Let heat for whatever time your pasta needs to cook. In my case, it was 9 minutes.
While it's doing that, you'll want to stir occasionally, and also, decide that rather than the cheddar jack in the original photo, that you want Cabot's Seriously Sharp Cheddar Cheese for the top of this bad boy. This cheese is the closest cheddar I've found to English cheddar made in America. It is amazingly good. Yeah, I shredded some, and then ate some, and then had to shred more. :/
Also, anything from Vermont = Good.
Your spaghetti should be al dente now, so pour that into a strainer, and get a lovely pasta facial. Then go find those great pasta bowls you got at Bed Bath and Beyond that make you feel posh, and throw it in there.
Take a big serving spoon, and add a couple dollops to the spaghetti. Top with sharp (I mean it, regular Cheddar is not going to cut it here!) Cheddar cheese. If it floats your boat, sour cream is good on top of this too. It just so happens that that does float my boat, and I'm still dreaming of how good it was. God, this post is making me hungry!
Here are our two dinners, James's nice and spicy, mine deliciously savory.
Man, oh, man. I may never have regular spag bol again! (That's Spaghetti Bolognaise, or just plain ol' Spaghetti, if you're from the U.S.)
Now here's where I just might blow your mind. What if, I then took the left over chili mixtures, both spicy and savory, mixed them, layered it, cheddar cheese, and then mashed potatoes in a casserole dish for Cowboy Cottage Pie. This little epiphany came to me tonight as I was making the dish for the next post. We're going to try it for dinner tomorrow night, and I'll be sure to let you know how it goes.
Update: I made "Cowboy Cottage Pie" exactly as described above. I added some more chopped sausage to get more bang for our buck on the leftovers, then mixed in frozen sweet corn, then a layer of grated sharp cheddar cheese, and then the layer of mashed potatoes. I sprinkled the top of the mash with paprika. I baked it at 375F for 30 minutes, and let me just say that it was amazing.