Club sandwiches were a favorite growing up. There used to be this pub.. or, the closest thing to a pub you can find in San Antonio, called Chelsea Street Pub. They tried desperately hard to be very British.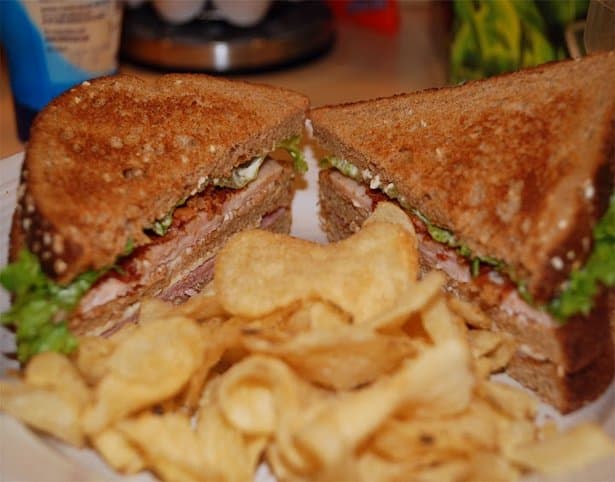 One of the coolest things about the place though, was that they had live music on Friday and Saturday nights, so my first experience of the place was seeing my dad play there with his band.
It was such a special treat to go there to watch Dad, and also get dinner. Not to be missed were their club sandwiches. Years after the place closed, my mom was still making club sandwiches at home. My best friend through out school, a guy called Art, used to get down on his knees and beg to stay for dinner on the nights he knew we were having these lovely sammies.
Now, I know clubs are nothing special to a lot of people – a diner standard, and you might think that one is as good as the next. But I'll tell ya – nothing beats my mom's club sandwiches. The secret? A lot of love, and a little bit of Season-All. To make the perfect club, assemble your ingredients.
The Players: Sandwich bread (I used organic honey and oatmeal, but white bread is traditional), sliced ham and turkey deli meat, American cheese, bacon, lettuce, tomato, mayo and Season All. You'll also need a toaster and a frying pan.
Do NOT. I repeat, DO NOT use Miracle Whip. For the love of baby jeebus, do not use Miracle Whip!
Oh yeah.. there's no PG Tips tea in this recipe. I just kinda forgot it was hangin' out back there, as it's kind of a permanent fixture in my kitchen.
Start by frying up some bacon. Usually, I stick with 2 slices of bacon per sandwich, because you'll half them, and end up with 4 pieces across the width of the bread.
When the bacon is nicely browned on both sides, but not overly crispy, lay it on folded paper towel to get rid of some of that grease.
Now for the bread. Typically, Club Sandwiches are layered sandwiches – so there are usually 3 pieces of bread PER sandwich. However, I am a wimp, and only eat it with 2. If you're looking for the carb overload, go ahead and hit up that 3rd slice of bread.
You want to toast that bread up now, until it's a nice golden brown.
Then lather each slice of bread with a bit of mayonnaise. You don't have to heap gobs on, but it really is the 'glue' of this sandwich, so each slice should have a little bit.
Now we're ready to start building our sandwich.
Start by placing a few lettuce leaves and slices of tomato one slice of bread. Sprinkle the tomato with Season All. This savory little spice mixture is actually the secret ingredient to this sandwich – the ingredient that makes this meal absolutely irresistible. Something about this seasoning mix brings out the flavor of the tomatoes and adds subtle improvements to plain ol' deli meat that just makes for an amazing meal.
On the other slice of bread, layer slices of ham. If you love Season All like I do, you'll sprinkle just a little bit on the ham too.
Don't forget a slice of American cheese!
Now, there's a bit of a debate as to whether you should put a slice of cheese on every layer. I gotta tell you… there's a way to enjoy this sandwich without instigating a coronary. So stick with one slice.
Now layer your third piece of bread on top of the cheese. On that bread, add slices of turkey, and your bacon, broken into 4 pieces so that you have even 'coverage'.
Lastly, stack it all together.
Mmm mmm mmm, Dagwood would be proud. Add some potato chips or fries and a pickle, and you've got a meal to make any pub proud.