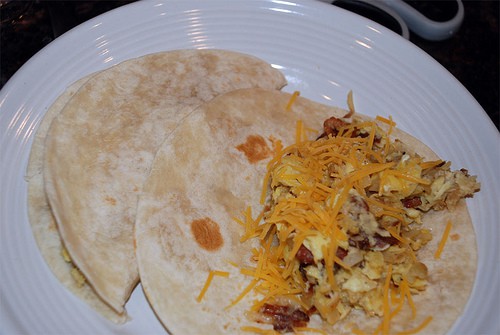 Breakfast tacos. On every worth-their-salt Mexican restaurant menu in Texas. The great thing about these is that it doesn't matter if you're vegetarian, carnivore, or somewhere in between, you can fill your taco with whatever tickles your fancy, and have a delicious breakfast in just a few minutes.
I'm pretty sure the first time I made these for my husband, he wept a little.

The Players: Eggs, Bacon, Hash browns (shredded potatoes), chopped onions, flour tortillas, salt and pepper. You will also need 2 tablespoons of vegetable oil, but I forgot to drag that into the photo.
Optional, but tasty: sharp cheddar cheese, salsa, sour cream etc. to top.
This recipe is for 2 people, but feel free to double, triple, quadruple it, etc. to feed your family.
Start with 4 slices of thick bacon.
Using sharp kitchen shears, because it's easier than using a knife, slice the bacon into small pieces, like so:
Now layer the bacon pieces in a hot frying pan (set to high) to cook.
And let it brown up nicely, but not get too done. You're going to be adding that back into the frying pan at some point, so don't let it get crispy.
When it's brown, but not crispy, remove it to a plate with paper towel to drain some of the grease off. Do not drain the pan.
Add two tablespoons of vegetable oil to your bacon grease in the pan, and make sure it heats up thoroughly. I suggest keeping it on medium-high heat.
Add approximately 1 cup of hash browns to the pan. Be careful to add gently so as not to splatter yourself with hot oil. Ouch!
When the potatoes start to brown up nicely, add about 3 tablespoons of chopped onion, and stir.
Now add back in that yummy bacon.
In a bowl, crack 5 eggs, and stir them well, so that all the yolks are broken. Add salt and pepper to taste.
Go ahead and pour those eggs right on top of the rest of the ingredients in the frying pan, and stir with your spatula. Set the temperature to low.
Now leave those eggs to cook, stirring occasionally so that they don't brown.
This next step is VERY important for authenticity!
Take a smaller, 'omelet' sized frying pan, and place it on high heat. When you can feel heat coming up from the face of the pan, lay a flour tortilla in it. No need for any kind of grease, flour tortillas are initially made with lard, and so retain some natural cooking oil.
After about 20 seconds, use tongs to flip and cook the other side.
This, my friends, is how you properly reheat a tortilla. It makes it taste like it has just come off the griddle in your abuela's kitchen.
At this time, your breakfast taco mixture should look like this:
Take your just reheated tortilla, place it on a warmed plate, add two tablespoons of this loveliness, and you're good to go.
Add any toppings you want. I like mine with sharp cheddar cheese. James likes his with HP Sauce (gross!). Other people like ketchup, salsa, sour cream, or nothing at all.
You can put anything you want into breakfast tacos. Popular menu items back home are:
Potato and Egg
Bacon and Egg
Sausage and Egg
Bean (refried) and cheese
Carne Guisada (see recipe!)
Chorizo and Egg
Go forth and make Breakfast Tacos! You will not regret it.