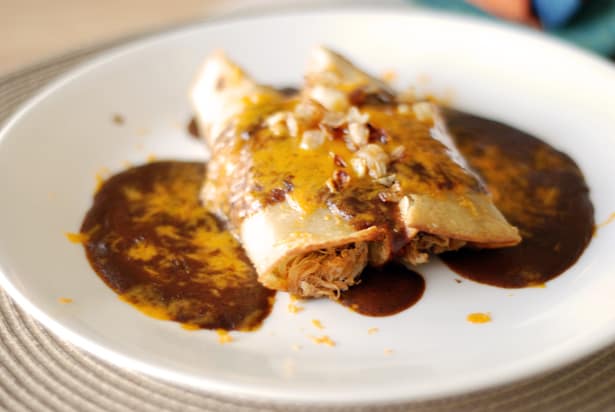 Cheese enchiladas are comfort food to me the way matzo ball soup might be to someone on the East Coast. It's just one of those satisfying meals that sounds good no matter what time of day it is, where you are, or whether or not you've just eaten.
I just got my Texas Monthly magazine yesterday (thanks to my hubby for subscribing), and this month is dedicated to "How to Cook Like a Texan". Of Cheese Enchiladas, Katharyn Rodemann writes, "They say our palates memorize flavors. If that's the case, every Texan has enchiladas learned by heart."
Amen.
I'm surprised at myself for not making them more often, because they are so easy to make it is silly. Authentic enchiladas are made with corn tortillas, not flour. Don't let the Kraft, Pillsbury, and Betty Crocker websites fool you. There is no such thing as Enchilada pie, or enchiladas made with flour tortillas. At least, not that any Tex-Mexican would recognize.
Knowing that I couldn't get away with just cheese filled enchiladas in this household (The Brit would be asking me "Where's the carne?" faster than you can say carnivore), I fattened up my enchiladas with some pulled chicken thighs poached in chicken and tomato stock, cumin, garlic, tomato paste and ancho chili powder.
We were both really happy with the outcome – even more so when Mr. B&B proclaimed them the "Best enchiladas I've EVER eaten". Now, folks, my husband tells me all the time that what I've made is good or yummy. But the man is pragmatic as he is charming, so I rarely get a "best ever!" comment from him. It made me glow!
Make these for dinner tonight. Cook like a Texan!