Spices are important to cooking. If I'm honest, when I think about cooking, the addition of spice is really what makes cooking an art and not just burning hunks of meat and vegetable over flame.
Knowing where your spices come from is important. You wouldn't believe how different Cinnamon from Vietnam is to Cinnamon from China. Knowing the different flavor profiles can allow you to be a better cook, and create exotically delicious baked goods.
When Greg from SpicesInc.com contacted me and asked if I'd be interested in testing out a custom built spice set, I was intrigued. When I received a box of spices that he had put together, just for me, after reading my entire blog, I was intrigued, impressed, and flat out floored.
The box I received included lovely things like Ancho Chili Powder, and my favorite, Hill Country Chili Powder – so named for just what happens to be my favorite part of Texas. You want to get your spices from someone who knows what they're talking about. Knows where their spices came from, and what that means to you and your cooking.
My adorable, beautiful, wonderful friend Aimee at Simple Bites gives you a more in-depth look at spices, and why you should buy them from someone like Greg with this timely post.
The spices she recommends are exactly the sort of spices love you'll get from SpicesInc.com. And now, you have the opportunity to win your very own customized set from them!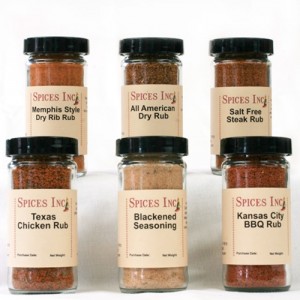 Leave a comment with the following information:

· Choose any 6 spices, herbs, seasonings, chiles or extracts from SpicesInc.com
· Name your Spice Set
· Provide a couple of sentences on why you picked these particular spices. This is especially important!
You must create an original set, with an original name. You must use the names given to each spice on SpicesInc.com
An example of this would be:
—
Name: Hill Country Harmonies
Spices:
– Ancho Chili Powder
– Texas Chicken Rub
– Texas Smoked Turkey Rub
– Hill Country Chili Powder
– Fajita Seasoning
– Deep South Dry Rub
I chose this spice set because it reminds me of all the good food I grew up with in South Texas. Fajitas are just as likely to be on my dinner plate as smoked turkey or brisket, and I like my food to have just the right amount of spice. I learned to eat this way from the time I was little – even enjoying spicy barbecue sausage at the age of 3!
—
The SpicesInc.com will choose the winning entry based on originality, stories, and creative naming abilities. Your spice set will be sent to you, but you will ALSO have your name featured on this new custom set on the SpicesInc.com website. How cool is that?!
---
This giveaway is provided to you by Spices, Inc. It will close at 11:59:59 p.m. on March 31st. A winner will be chosen by Spices, Inc. on April 1st. I did receive a set of spices chosen by the team at Spices, Inc. to review, but I did not receive any compensation for this post. My opinion of the spices was formed after using them in my own cooking.