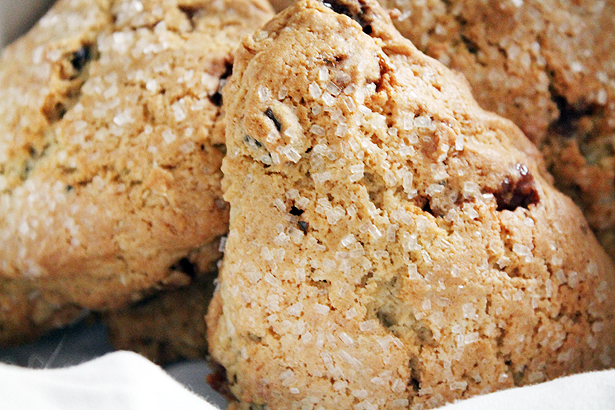 As I've gotten older (I'm not going to say grown up, because, well, I haven't), I've come to appreciate the beauty of being one of the first people up on a holiday morning. The quiet before the storm on Thanksgiving, or being one of the first people to see the wonder and joy on my niece and nephew's faces when they spot what Santa brought.. those moments are priceless.
I also sort of cherish being the one to provide a delicious start to the day on mornings like that. I've been known to wake up at 4 or 5, just so I can get muffins, coffee cake or scones into the oven in time to wake everyone else up on time with their delicious scent wafting through the house.
Scones are by far my favorite morning bread to make. Thanks to Pam Anderson's famous trick of using frozen butter and a cheese grater to easily integrate butter into the scone dough without overworking it, it couldn't get any simpler. I keep a box of butter in the freezer at all times so that scones are never far from my baking reach.

International Delight is asking bloggers to share their favorite holiday treat, and as I thought about it, I knew that my answer couldn't be anything other than scones.
To me, freshly baked scones are the baked good equivalent of those perfect early morning priceless moments.
Then I got a crazy, hair-brained idea. What if, instead of sour cream or buttermilk, I used International Delight Coffee Creamer in a scone recipe?
The resulting scones, I kid you not, are the best scones I have ever made.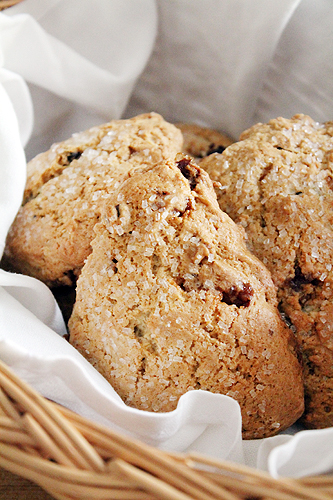 Light, moist, and incredibly flavorful Caramel Macchiato Scones, to be exact.
The addition of melty caramel bits from King Arthur Flour and finely chopped walnuts creates the perfect texture.
I ended up having to send half the batch to work with James, because otherwise I simply would have devoured them all myself inside of a day. I couldn't walk past one without breaking off a chunk to have with my coffee.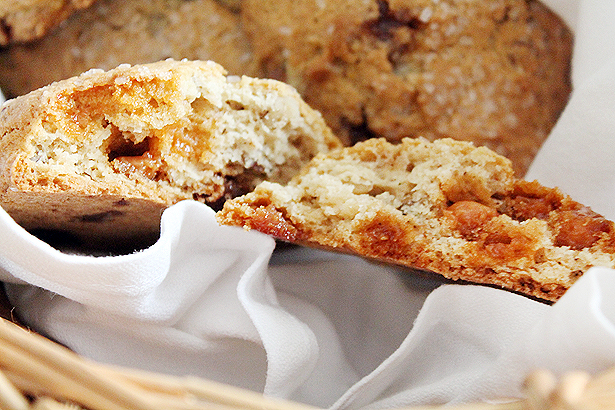 Caramel Macchiato Scones
featuring International Delight Coffee Creamer
Ingredients
1/2 cup International Delight Caramel Macchiato Coffee Creamer
1 large egg
2 1/2 cups All Purpose Flour
1/3 cup sugar
1 teaspoon baking powder
1/2 teaspoon baking soda
1/2 teaspoon kosher salt
8 tablespoons (1 stick) unsalted butter, frozen
1/2 cup caramel bits
1/2 cup finely chopped walnuts (optional)
Sparkling Sugar for garnish
Directions
First, freeze the butter for at least an hour.
When butter is ready, preheat oven to 350F.
In a medium bowl, combine flour, sugar, baking powder, baking soda, and salt. Whisk together to thoroughly aerate and combine.
In a separate small bowl, whisk together egg and International Delights Caramel Macchiato Coffee Creamer so that egg is broken and liquids are thoroughly mixed together.
Using a cheese grater, grate frozen butter directly into flour mixture. When all butter has been grated into flour mixture, mix with a fork or whisk so that butter is fully incorporated. Add in walnuts and caramel bits and mix again.
Add egg-creamer mixture and stir until dough comes together in a shaggy mass.
Remove dough to a flour covered surface and shape into an 8″ round, roughly 1 1/2″ thick. Using a knife dipped in flour, cut round into 8 triangles and separate.
Place each scone at least an inch from each other on a parchment lined baking tray. Sprinkle each scone with a spoonful of sparkling sugar for garnish.
Bake 15-17 minutes, until scones are golden brown. Allow to cool before eating.
Enjoy with a strong and milky cup of coffee or tea. These scones are so flavorful and moist, they don't even need butter or jam.

Tell International Delight what your favorite holiday treat is for a chance to win a $200 Walmart gift card.
Capture the flavors of the holidays in every cup of coffee with International Delight Creamers. Available in a variety of flavors, such as, Pumpkin Pie Spice, Vanilla Spiced Rum and White Chocolate Raspberry.
TellTeTeTell International Delight what your favorite holiday treat is for a chance to win a $200 Walmart Gift Card.
Capture the flavors of the holiday's in every cup of coffee with International Delight creamers. Available in a variety of flavors, such as Cinnabon, Almond Joy and Pumpkin Spice, International Delight can make everyday feel like a holiday.
This is a sponsored conversation written by me on behalf of International Delight. The opinions expressed by me do not necessarily reflect the view of the International Delight Brand.
[wpurp-searchable-recipe]International Delight Caramel Macchiato Scones – – – [/wpurp-searchable-recipe]