Philadelphia's City Hall – that's William Penn on top.

I've decided to add a little something different today, and post about a recent adventure James and I went on with my parents. We love to travel, and I think it's about time I talked about it. Whenever I write about our travels in future, I'll title the post Bluebonnet Adventures.
A lot of people don't know this about me, but I love history. If I had to choose another subject to do a degree in, it would be History. This is kind of surprising to me, because in school, while I liked it, I didn't LOVE it.
It wasn't until I'd spent time in England and Wales, walking around castles and graveyards and churches that were, in some cases, nearly 800 years old, that I began to appreciate history for what it is – a story. The story of someone who lived and died – and lived!

My first time in Philadelphia – whoa. I was struck by how young our nation really is, and how easy it is to forget that. So much of Philadelphia has been kept as it was when our country was founded. Philadelphia was our nation's first capital, and maybe I'm seeing this from an outsider's perspective, but to me, they've done a spectacular job of preserving the feeling of a newly born port city.
Especially in Old City and Center City, the two oldest areas of Philadelphia.
As you walk through Old City, you fully expect to see horses tied up to the still standing posts, Revolution soldiers spill out of the nearby City Tavern. (Try the Sweet Potato Biscuits, made from Thomas Jefferson's own recipe.)
Here you'll find Constitution Hall, the Liberty Bell, the site of Ben Franklin's house, his tomb, the original Quaker meeting houses, and the new National Constitution Center.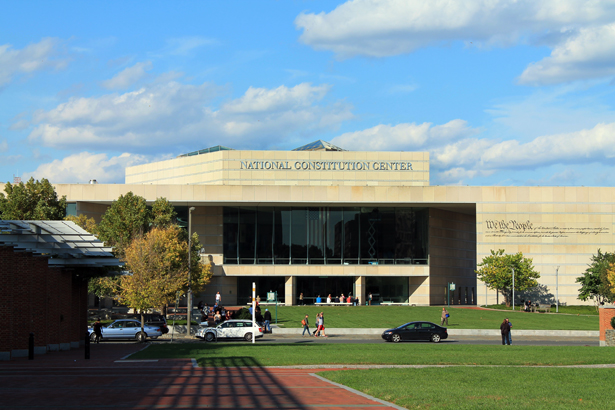 The National Constitution Center is just across the street from Independence Mall, which houses the Liberty Bell.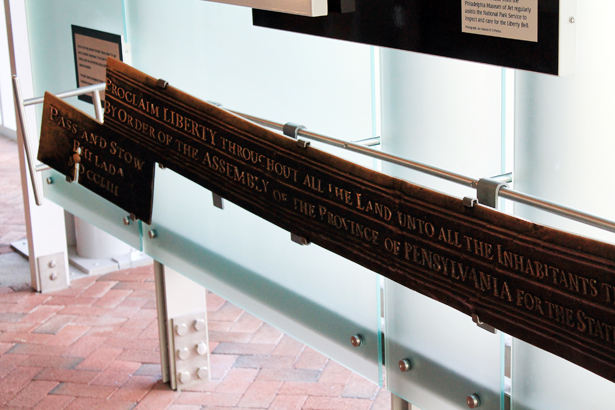 This is a cast of the Liberty Bell inscription, viewable in the Liberty Bell center on Independence Mall
The National Constitution Center has to be one of the most interesting, interactive museums I've ever been to. There are so many exhibits to check out, and almost all of them are interactive. Probably my favorite exhibit, though, is the Declaration of Independence Signer's Hall. Here, lifesize bronze statues of each of the Declaration's signers stand and sit around the room.
Find your favorite founding father and stand next to him – see how you match up. Quite a few of them are very tiny! Ben Franklin's statue carries on the tendency of people to think he's good luck (people often toss pennies on his tomb and make a wish in the nearby cemetary), for his bald head has a fine sheen from people rubbing their hands on it, Buddha like.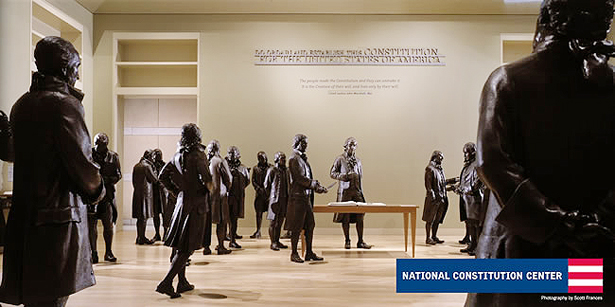 Image Courtesy of the National Constitution Center
Walking in any direction, you simply breathe in history. I honestly felt those courageous, clever souls of the Founding Fathers wandering through the city. There's a hopefulness in Philadelphia, a sense that anything is possible.
Also in this area of town is Elfreth's Alley, the oldest continually inhabited residential street in the nation. Walking down this street is nothing short of stepping back in time. Each of the residences has been preserved, and people still happily live modern lives here.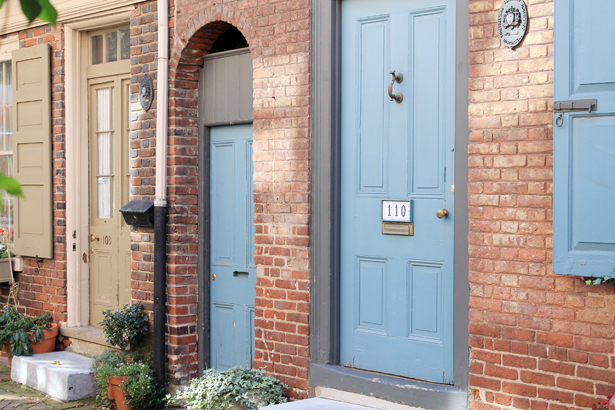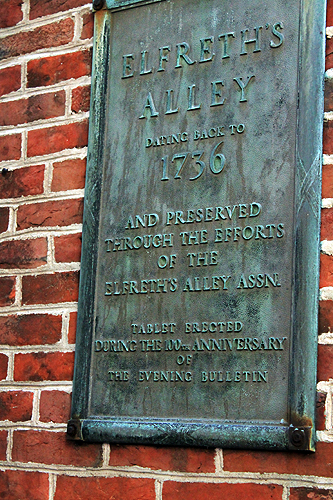 It should also be said that no trip to Philadelphia is complete without a trip to Reading Terminal Market. Like any indoor food hall and market, every twist and turn of Reading Terminal Market shows you more delights.
From fresh flowers and freshly ground coffee to Food Network featured Cheesesteaks, eating and shopping your way through Reading Terminal Market is a must-do.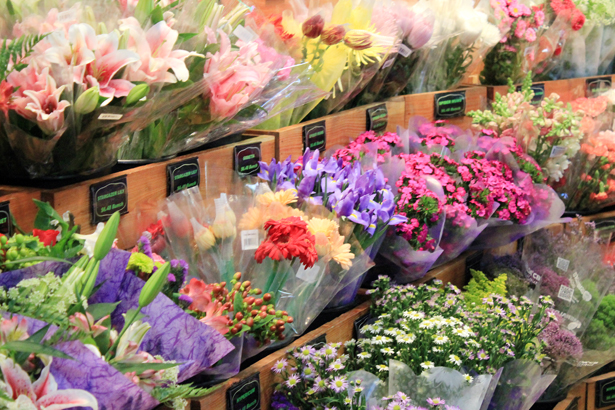 Fresh flowers are hard to resist – they smelled like sunshine and happiness!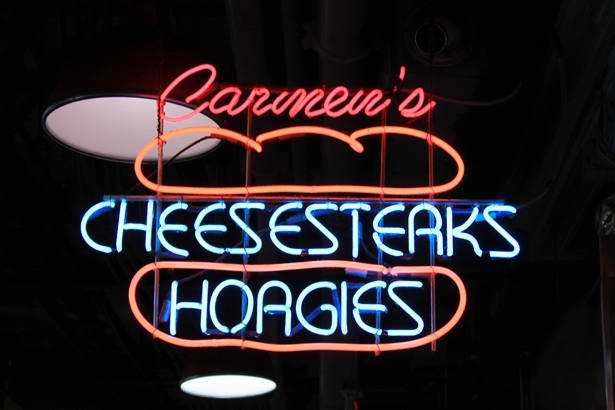 Carmen's Cheesesteaks are AMAZING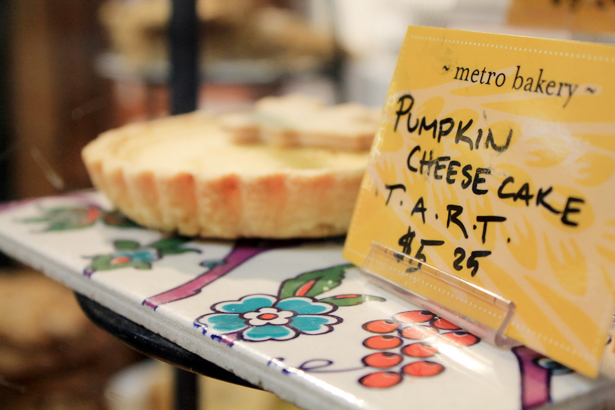 Who could resist Pumpkin Cheesecake Tart? Certainly not me.
This is but a taste of what you can do and see in Philadelphia, but certainly some of my favorite spots. I hope that you'll visit and have your own adventure!

---

I have not been asked or compensated for this post by anyone. Our trip to Philadelphia was entirely of our own making and paid for by us. This post is not sponsored in any way. I simply love Philadelphia and wanted to share my take on it with you.[wpurp-searchable-recipe]Bluebonnet Adventures: Visiting Philadelphia – – – [/wpurp-searchable-recipe]