So have you seen Caramel Apple Milky Ways yet?
Listen, I know that the stores push it – piling bag after bag of Halloween candy into the seasonal section in mid-August, when honestly, I'd still like to buy patio furniture! I'm lookin' at you, Target.
However, when surprises like bite-size Caramel Apple Milky Ways are what I find when I grudgingly wander through those aisles (looking for Candy Corn Oreos, if you must know), well.. I can almost forgive them.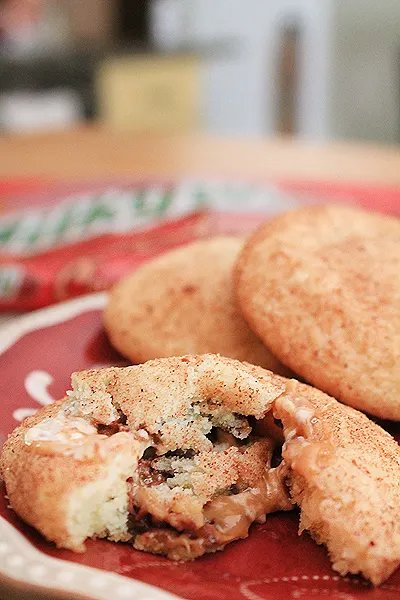 James laughs at me a lot, because now when I find new candy I want to try, my first inclination is to ask myself what I can stuff them into. I blame Jamie. She's a bad influence.

It just so happens that *my* favorite cookie recipe is the Snickerdoodles I've posted here and on Kristan's site, based on a recipe by Nicole over at Pinch My Salt. What makes them special is that they're made with Pumpkin Pie Spice instead of a plain cinnamon sugar mixture.
Well, I don't know about you, but I don't really think pumpkin pie spice and caramel apples mix too well together. So instead of pumpkin pie spice, I used apple pie spice.
I shared these beauties with my new co-workers when everyone came to town for a sort of internal convention. I was SO nervous! Would my crazy cookie baking ways be too much for them? My thanks to Matthew for not only tasting the first cookie, but declaring it SO good he went back for like 4 more.
That they gave the 1 kilo (that's nearly 2.5 lbs) Cadbury's Dairy Milk Chocolate Bar a run for its money made me SO proud.
What's better than a Snickerdoodle, y'all? A Snickerdoodle rolled in apple pie spice and sugar, and stuffed with a Caramel Apple Milky Way!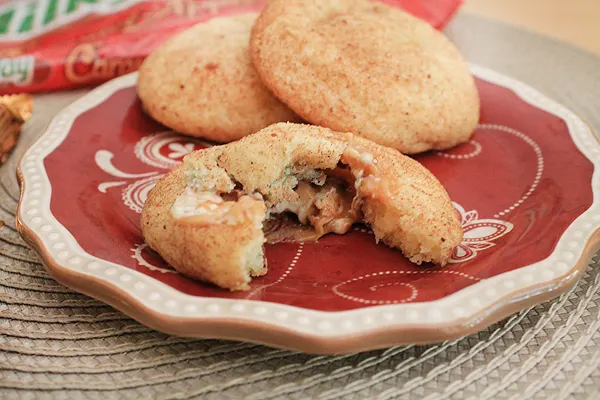 Besides. They give you just one more excuse to go into the Halloween Candy aisle. You're welcome. 🙂
Caramel Apple Snickerdoodles
makes 36 medium cookies
Ingredients
36 bite-size Caramel Apple Milky Way candies, frozen (contents of 1 bag, roughly)
2 3/4 cups all purpose flour
1 tablespoon baking powder
1/4 teaspoon salt
1/2 cup butter, softened
1/2 cup shortening
1 1/2 cups granulated sugar
2 eggs
1 teaspoon vanilla extract
1/4 cup granulated sugar
2 teaspoons apple pie spice
Directions
Freeze the contents of one bag of Caramel Apple Milky Way Candies for at least an hour.
In a medium bowl, combine flour, baking powder and salt. Whisk thoroughly to combine and aerate.
In a large mixing bowl, combine butter and shortening and mix on medium-high speed until creamed together. Add sugar and mix again. Add eggs and vanilla and mix again, scraping down the bowl often.
Refrigerate for at least 20 minutes.
Preheat oven to 400°F. Line 2 baking trays with parchment paper. In a small bowl, combine sugar and apple pie spice, and mix well with a spoon so that each is well distributed.
Using a tablespoon or medium cookie scoop, scoop 1 1/2″ cookie dough balls. Press a frozen Caramel Milky Way into the dough ball and roll the dough around it, until the candy is completely enrobed in cookie dough.
Roll the dough ball in the sugar and spice mixture, and place it on the baking tray, giving 1 1/2″ of space between each cookie.
Bake 12 to a tray for about 12 minutes and remove from the oven immediately. Allow to cool slightly (for about 3 minutes), then remove to a cooling rack to cool completely.
Make sure that the cookies have cooled significantly before you try to move them to the cooling rack. Because of the chocolate in the centers, they will easily fall apart if you try to move them too soon.
***If you, by chance, bought your Caramel Apple Milky Ways a while ago and have been sneaking a few of them here and there, that's okay. While the bag typically holds about 36, just freeze what you have left. These cookies are also delicious (though not quite as gooey) as plain Snickerdoodles, so stuff the dough balls you can, and bake off the rest without stuffing them. Just for you, Aimee Shugarman!

Amazon links within this post are created from an affiliate program. Bluebonnets & Brownies receives a small commission on products that are purchased through these links.[wpurp-searchable-recipe]Caramel Apple Snickerdoodles – – – [/wpurp-searchable-recipe]