Caramel Apple Pie is luscious and perfect for your holiday table. You will adore all that extra caramel!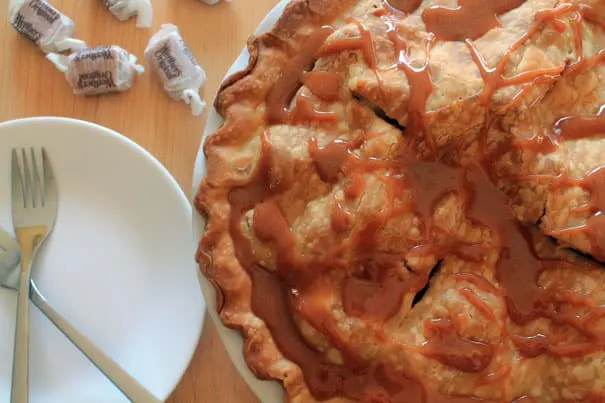 Okay, so it's not really the "season" for caramel apple pie, but I'm never one to let the season stop me when I've got a craving.
There's still plenty of great apples popping up at my local market, and who's with me: there's never a bad time for pie.
I'll be honest and tell you that this pie came to me months and months and months ago, back when James and I were in Orlando for Food Blog Forum at Walt Disney World.
You may not know it, but at Epcot, there's a German pavilion, and in that pavilion is a new Werther's Caramel shop.
Everything you could ever imagine in caramel flavor, from apples to popcorn, shortbread to fudge, if it can be made with caramel, you'll find it in the Karamell-Küche.
While walking around Epcot noshing on caramel corn that had been made before my very eyes, I thought of the caramel apples I had also considered.
Call me weird if you want to, but I've never been excited by a caramel apple.
Something about the stickiness potential turns me off. Caramel apple pie, however, is another story. That's something I can get behind.
Each bite of this pie is like that first bite of a caramel apple – without ever getting to the middle of the plain apple.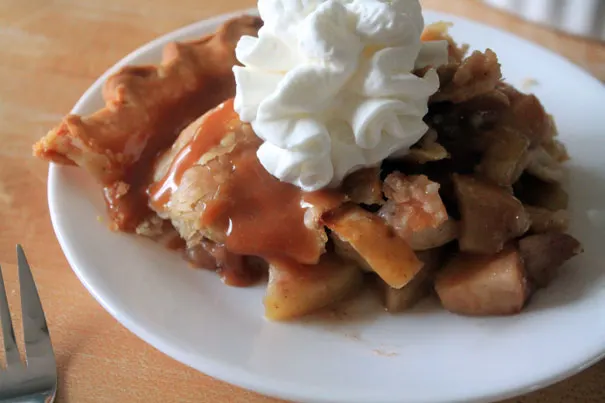 We attended a pie swap recently, which was the impetus for baking up this delicious pie.
Since both James and I wanted to go, that meant two pies. I knew immediately that I'd be taking Nanny's Kahlua Pie.
And finally, finally, my dream of Caramel Apple Pie could come true.
It did not disappoint. This is the apple pie of apple pies. Perfectly spiced, and not overloaded with sugar.
I used Pink Lady apples, which happen to be my favorite for eating and baking.
They're just the right amount of tart to pair well with caramel. Adding a drizzle of caramel on top of the pie just makes every bite perfection.
You're gonna love this caramel apple pie.