Shiner Bock Cupcakes with Peanut Butter Cream Cheese Frosting are as decadent as they sound. Earthy and rich, this is no kiddie cupcake. Only grown-ups allowed.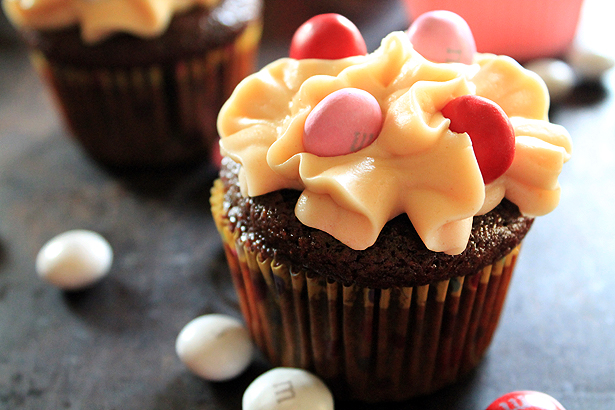 If you're Texan, you know Shiner. Shiner, Texas, that is. Famous for one thing: Shiner Bock beer.
Spoetzl Brewery, where Shiner Bock is brewed, has been in business since 1909, and is the oldest independent brewery in Texas.
Shiner Bock is Spoetzl's flagship beer. Brewed since 1913, this dark and dangerous brew was originally considered a lent beer.
Only about 30 years ago did Spoetzl start making Shiner Bock year round.
Now, we've discussed before that I'm not a beer drinker. But I sure can use it in a baked good.
It makes me a very proud Texan to say just how amazingly diet-crash-worthy these cupcakes are.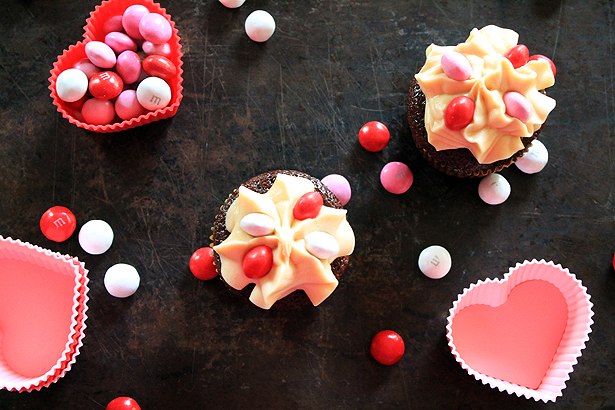 They're exactly the sort of dark and dangerous you want to make for a sweetheart this Valentine's day.
The beer is nowhere near as dark as Guinness, but I think it goes just as well with chocolate as the stout does.
Shiner Bock doesn't overwhelm the cupcake, but you can definitely tell it's there.
A delicious, deep undertone that will have people asking you, "Just what is in this cupcake?".
And don't worry – they're safe to share with your favorite mini-Valentines. The alcohol cooks out as the cupcakes bake.
Be sure to use a high quality cocoa powder like Scharffen Berger to achieve fantastic chocolate flavor, okay?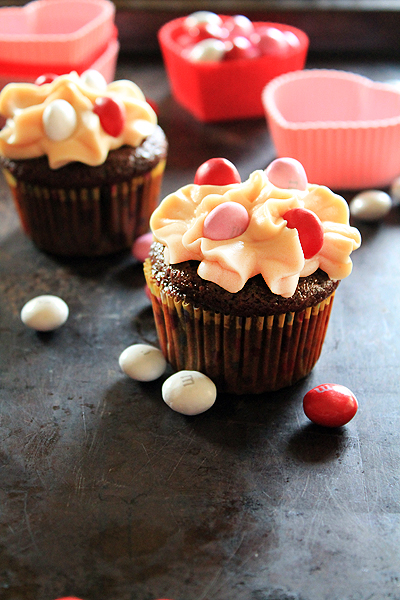 P.S. Love those Silicone Heart Cupcake Bakers? You can get them from King Arthur Flour.