If you're Texan, you know Shiner. Shiner, Texas, that is. Famous for one thing: Shiner Bock beer. Spoetzl Brewery, where Shiner Bock is brewed, has been in business since 1909, and is the oldest independent brewery in Texas.
Shiner Bock is Spoetzl's flagship beer. Brewed since 1913, this dark and dangerous brew was originally considered a lent beer. Only about 30 years ago did Spoetzl start making Shiner Bock year round.
Now, we've discussed before that I'm not a beer drinker. But I sure can use it in a baked good. It makes me a very proud Texan to say just how amazingly diet-crash-worthy these cupcakes are.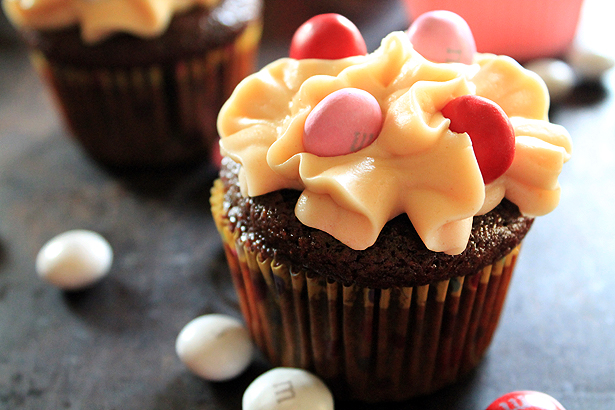 They're exactly the sort of dark and dangerous you want to make for a sweetheart this Valentine's day. The beer is nowhere near as dark as Guinness, but I think it goes just as well with chocolate as the stout does.
Shiner Bock doesn't overwhelm the cupcake, but you can definitely tell it's there. A delicious, deep undertone that will have people asking you, "Just what is in this cupcake?".
And don't worry – they're safe to share with your favorite mini-Valentines. The alcohol cooks out as the cupcakes bake.
Be sure to use a high quality cocoa powder like Scharffen Berger to achieve fantastic chocolate flavor, okay?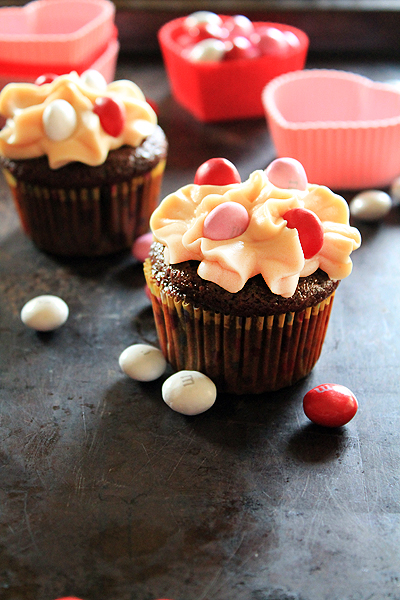 Shiner Bock Cupcakes with Peanut Butter

Cream Cheese Frosting
Makes 24 cupcakes
Ingredients
For the Cupcakes
2 cups King Arthur All Purpose Flour
3/4 cup unsweetened Cocoa Powder
1 teaspoon Baking Soda
1/4 teaspoon Kosher Salt
1/2 cup (1 stick) Unsalted Butter, melted
2 cups Granulated Sugar
3 large Eggs
1 tablespoon Vanilla Extract
3/4 cup Vanilla Greek Yogurt or Sour Cream
1 12 oz bottle Shiner Bock Beer
For the Frosting
1 8 oz block of Cream Cheese
1/2 cup Creamy Peanut Butter
1 teaspoon Vanilla Extract
2 pounds Powdered Sugar
Valentine's Day Peanut Butter M&Ms for decoration
Directions
For the Cupcakes
Preheat the oven to 350F.
In a medium bowl, combine flour, cocoa, baking soda, and salt. Whisk thoroughly to aerate and combine, then set aside.
In a large bowl or the bowl of a stand mixer, combine sugar and melted butter. Mix on medium speed until well combined, then add eggs, one at a time, mixing after each addition.
Add vanilla and Greek yogurt or sour cream, and mix again, creaming until well combined and fluffy.
Add the dry mixture and beer in increments – first a bit of the dry ingredients (mix on low), then some of the beer (mix on low), then the dry ingredients again, until both dry ingredients and beer are combined into the cake batter.
Line a muffin tin with paper cupcake liners. Fill each cup 3/4 of the way full with batter. Bake for 23-25 minutes, rotating the pan once, halfway through baking. Allow to cool completely before frosting.
For the Frosting
In a large bowl, cream together cream cheese and peanut butter until light and fluffy. Add vanilla extract and mix again until all liquid is fully incorporated.
Slowly add the powdered sugar in increments, mixing well after each addition on low speed at first, and then medium as the sugar mixes in. Mixing on a higher speed after a few moments will allow more air to get into the frosting, making it lighter and fluffier.
Continue mixing until the entire 2 pound bag is incorporated into the frosting. I found that at this point my frosting was the perfect consistency, but if you like it a little thinner, add some heavy cream or half and half, 1 tablespoon at a time, and mix until you get your desired consistency.
If you find you want it a little thicker, refrigerate first, to firm up, for about 10 minutes. Remove from the fridge, and beat again in the mixer. If you find the frosting too thin, you can add more powdered sugar at this time.
I like a lot of frosting on my cupcakes, and this makes enough frosting to liberally cover 24 cupcakes. Don't be shy!
After frosting each cupcake to your liking, top each one with a few Valentine's Day Peanut Butter M&Ms.
You can refrigerate the cupcakes for up to 3 days, but I don't suggest adding the M&Ms until you're ready to serve. The moisture in the frosting will erode the candy shell on the M&Ms after a day or so if you add them immediately.

P.S. Love those Silicone Heart Cupcake Bakers? You can get them from King Arthur Flour.[wpurp-searchable-recipe]Shiner Bock Cupcakes with Peanut Butter Cream Cheese Frosting – – – [/wpurp-searchable-recipe]