This is a Sponsored post written by me on behalf of Dean's Dip for SocialSpark. All opinions are 100% mine.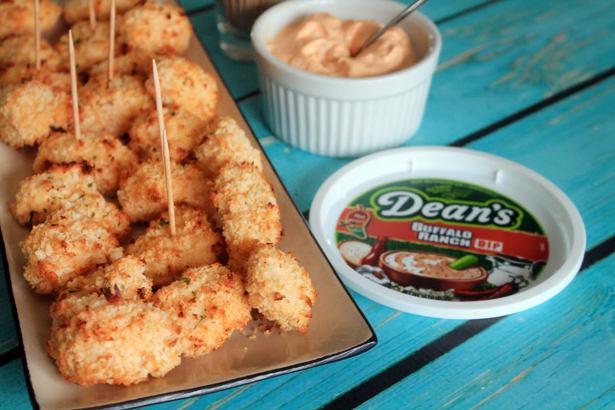 These Buffalo Ranch Chicken Poppers are perfect for parties, dinner, or even the kiddo's lunchbox if they're okay with a little kick. Crunchy, poppable, and perfectly delicious.
When I was growing up, we had a lot of parties. Block parties, Halloween parties, and pool parties. Both my grandmothers excelled at hosting parties, and I like to think that my sister and I get our party-throwing skills from them.
At each party, we always had a great mix of homemade and store-bought snacks. It isn't a party without seven layer dip, or Dean's Ranch Dip, both of which are exceptional paired with Doritos.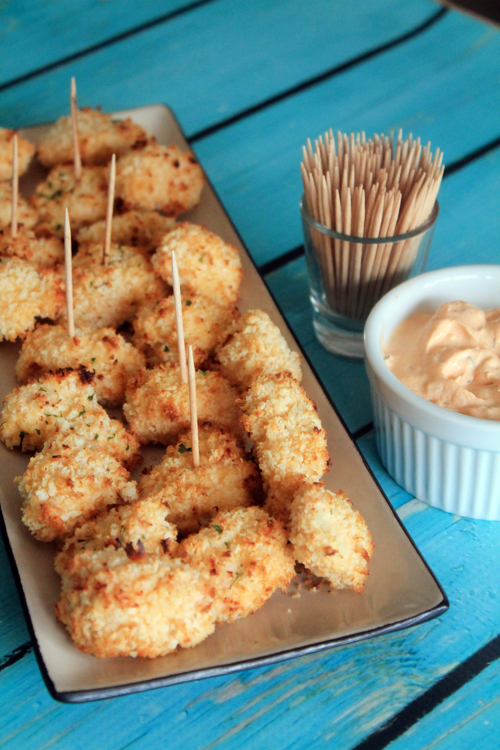 So when Dean's Dip offered to partner with me to create a recipe featuring their new Buffalo Ranch Dip, I was all over it. Any reason to make and eat party food!
If you know me in real life, spicy buffalo wings aren't something I normally reach for. While I like a slow burn, intense heat is not something I look for in my food. The good news is, this Buffalo Ranch Dip is perfect for both timid eaters and heat seekers alike. While I lightly dip my chips in, and get a small coating, James can go full-on-dunk, and we're both happy with the heat level.
And in making this chicken, I added just a little extra cream cheese and an egg, both of which helped to mellow out while enhancing the fantastic bold flavor provided by Dean's Dip Buffalo Ranch Dip.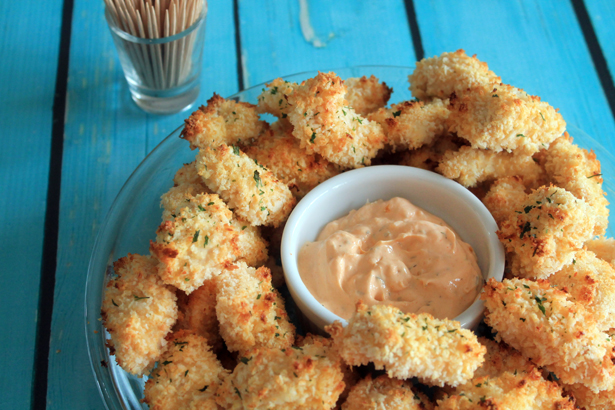 Even better? These Buffalo Ranch Chicken Poppers are kid approved. I shared them with friends, and got a resounding thumbs up from even the littlest in the group.
Panko provides a nice crunch to these baked chicken bites. You can serve them as dinner by making bigger chunks, or as I have here as an appetizer. I think each bite-sized popper is perfect as is, but serve the bites with extra dip so folks can kick up the heat if they want to.
You're gonna love 'em. Creamy ranch meets bold buffalo in one dip. And you can pick it up in the refrigerated section of the grocery store. I found mine near the sour cream.
When you make these poppers, be sure to share them with Dean's Dip on Facebook and Dean's Dip Instagram. You can even get a coupon when you visit their Facebook page!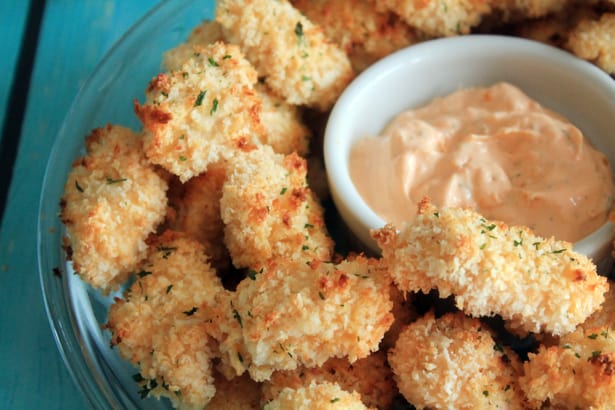 Yield: 75 Poppers
Buffalo Ranch Chicken Poppers
Ingredients
1/2 cup Dean's Dip Buffalo Ranch Dip
1/3 cup grated Parmesan
1/3 cup cream cheese , softened
1/2 teaspoon kosher salt
1/4 teaspoon black pepper
1 teaspoon garlic powder
1 egg
2 1/4 cups panko bread crumbs
1 tablespoon dried parsley
2 pounds boneless skinless chicken breast (roughly 3 large breasts)
More Dean's Dip for serving
Instructions
In a medium sized bowl, mix Dean's Dip Buffalo Ranch Dip, grated parmesan, cream cheese, kosher salt, black pepper, and garlic powder together until well combined. Add egg and whisk until egg is completely incorporated. Set aside.
In a second bowl, combine panko and dried parsley. Stir until the parsley is well distributed.
Chop chicken breasts into 1" to 1.5" sized chunks. Place all chicken in the Dean's Dip mixture. Stir to completely cover the chicken and let chill for approximately 20 minutes.
When chicken is ready, preheat the oven to 425°F. Place a cooling rack on top of a baking sheet. This allows air to circulate around the whole chicken piece and get crispy on all sides.
Take one chicken popper from the dip mixture, and drop it into panko mixture, rolling until fully covered. Place the chicken piece on the cooling rack, and repeat until all chicken has been covered in panko.
Bake for 15 minutes, until chicken is golden brown and cooked through. Test with a thermometer, making sure internal temperature reaches 165°F.
Serve immediately with dip, or refrigerate once cool and reheat prior to serving. These would also freeze well.
Notes
Please note that because of the large quantity of chicken poppers, you may need more than one baking sheet/cooling rack combo, or you may have to work in batches. Just remember to keep the chicken refrigerated in the dip mixture. Do not dip in panko until just prior to baking, or the breadcrumbs will get soggy and not crisp up again.