You've heard of the Secret Recipe Club, right? If you haven't, let me give you the rundown: think Secret Santa, but for making and blogging a fellow blogger's recipe.
It's such fun getting your assignment each month, mentally strolling through what might be a new-to-you blog, finding all the treasures it holds.
This month I was assigned Kitchen Trial & Error, written by the beautiful Kate.
I had such a hard time trying to decide what to make! Kate has a ton of awesome recipes varying all over the map: sweet, savory, baked, and extra garlicky.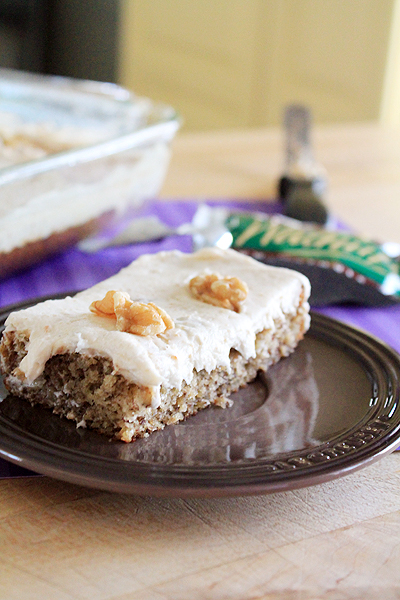 Then I spotted these Banana Bars. Two things drew me to them. First, that they are a legacy recipe from Kate's childhood. Kate's Aunt Judy was famous for them.
Secondly, they were new to me. I've never had a banana bar or anything like it using bananas, and I was intrigued. We happened to have some bananas on the counter. They were actually still in the green stages when I first picked out the recipe, but I pulled 3 away from the bunch and tucked them away in a hidey-spot in the kitchen so James wouldn't eat them. They were perfectly spotty brown by the time I went to make them.
Banana Bars are absolutely yum! With the cream cheese frosting and my addition of walnuts, I was reminded of carrot cake, without all the extreme work to get there. We really enjoyed these for both breakfast and dessert.
I added maple sugar and walnuts to the frosting simply because I love them both. If I can add maple sugar to something, I will.
I happened to have several packets of walnuts from a foodie event over last weekend, provided by the California Walnut Board. Remember when I went to visit them? So I just *had* to toss those delicious little nuts in.
Banana Bars with

Maple Walnut Cream Cheese Frosting
adapted from betty crocker and Kitchen Trial and Error
Ingredients for Bars
1 cup mashed bananas (roughly 3)
1 cup sugar
1/3 cup vegetable oil
2 eggs
1 cup all purpose flour
1 teaspoon baking powder
1/2 teaspoon baking soda
1 teaspoon cinnamon
pinch of salt
Ingredients for the Frosting
3 ounces cream cheese
1/4 cup butter
splash of vanilla
3 cups powdered sugar
1 oz walnuts – a handful (optional)
2 tablespoons maple sugar (optional)
Directions for the Bars
Preheat the oven to 350F. Spray a 9 x 13 baking dish with cooking spray or grease with butter.
Combine bananas, sugar, oil and eggs in a large bowl. Mix well for 2-3 minutes with a hand mixer on high, until banana chunks have all broken down.
In a separate smaller bowl, combine flour, baking powder, baking soda, cinnamon, and salt. Whisk together to combine and aerate. Add to the wet ingredients and stir by hand. Mix until well incorporated, but do not overmix.
Pour into the baking dish and bake for 25 to 27 minutes, until a toothpick inserted in the center of the cake comes out clean.
Allow to completely cool before frosting.
Directions for the Frosting
While the cake is cooling, place the butter and cream cheese on the counter to come to room temperature. When the bars are ready to frost, place the butter and cream cheese together in a large bowl.
Using a hand mixer, cream together the butter and cream cheese until well mixed. Add the splash of vanilla extract and mix again.
Add the powdered sugar one cup at a time, fully incorporating it before adding the next cup.
Toss in the maple sugar and walnuts (chopped or not) and mix again on high speed.
Spread the frosting evenly over the bars, then place in the refrigerator for at least 20 minutes.
Absolutely delicious for breakfast or dessert!

[wpurp-searchable-recipe]Secret Recipe Club: Banana Bars – – – [/wpurp-searchable-recipe]