Gingerbread pizza dough covered in brown sugar ricotta, walnuts, and sugared cranberries. Serve it as an elegant dessert at your holiday party.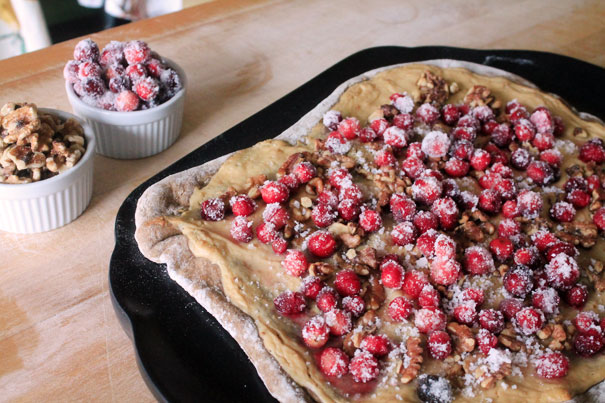 Every so often, a product comes along and inspires recipe greatness. It might sound a little weird, but I love it when I'm tasked with creating a recipe that uses a specific kitchen tool. It's a challenge to create something that shows off the assets of the product, but it's important to me that the recipe be able to stand on its own too.
That's why I'm so excited to share this Gingerbread Pizza. When the Terra Flame by Princess House Ultimate Grill, Bake & Serve Stone arrived on my door step, the first thing that impressed me was the shear weight of the thing. This, my friends, is one heck of a baking stone.
The second thing that impressed me is just how darn pretty it is. I'd love to serve a cheese selection, or a huge pile of cookies, or even crudités piled high on its black shiny stone surface. But what's really awesome about it is that the stone can go on the grill, in the oven, or, pièce de résistance –
in the dishwasher
. It stays hot
or
cold for up to 30 minutes, making it great for that cheese I mentioned. And it has raised edges to avoid spilling. Love that! You can even use it to bake cookies.
But I just knew that the first thing I had to do with this stone is make a pizza. But not just any pizza. Something elegant and refined, the way the stone looks to me. Christmas is not far away, and my mind turned to sweet things. Gingery sweet things, thanks to this series on Simple Bites about building gingerbread houses.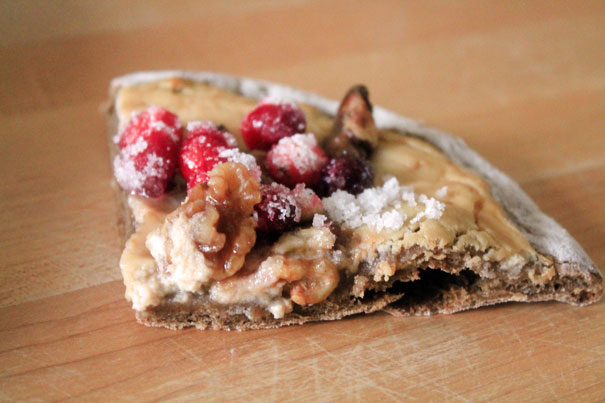 I decided there must be such a thing as gingerbread pizza. I mean, why not? Spices can easily be incorporated into pizza dough. Why more people aren't adding garlic powder or oregano directly to the dough is beyond me. (Though I haven't tried it yet, to be fair.) So I made a simple pizza dough. A little all purpose flour, a little white whole wheat. Heavy on the spices, but with only molasses for sweetness.
Pizza dough is perfect for this post, because Princess House also sent me their Specialty Stainless Steel 5-Qt. Mixing Bowl with Lid & Base. I'm smitten with this weighty mixing bowl. The base holds it steady on any surface, which means mixing this pizza dough by hand would not be an issue. The lid means not messing around with plastic wrap to cover the dough for rising, which I am always tearing into the wrong size. Pretty sweet.
Much like the dessert pizza at the NYC restaurant Max Brenner's Chocolate by the Bald Man, I knew that the sweetness of this dessert pizza should come from its toppings. The only slightly sweet base mellows the entire pizza, and keeps you coming back for more.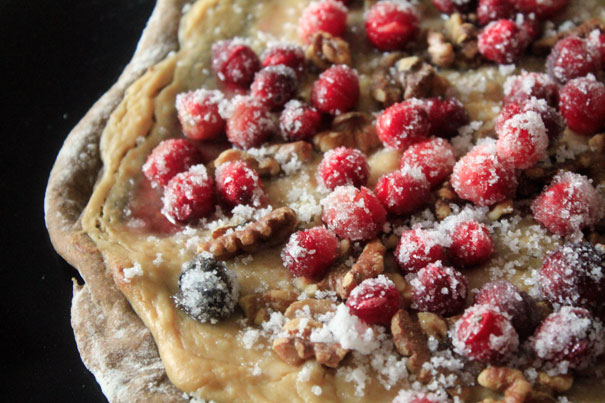 Covered in a quickly stirred together brown sugar ricotta cheese, then topped with walnuts and sugared cranberries, I fell head over heels for this gingerbread pizza in bite after bite. The Brit? He adores anything ginger, period – and this was no exception. His only regret was that I made such a large pizza. He couldn't stop eating it. I think you'll love it just as much.
Keep in mind that sugared cranberries need to be made a day in advance – they soak in simple syrup overnight. If you'd rather get to your pizza quicker, you could probably get away with simple fresh cranberries and some extra sparkling sugar or honey glaze on top of the pizza as it comes out of the oven. But it won't be as pretty.
Gingerbread Pizza with Sugared Cranberries
Total Time
1 hour
38 minutes
Ingredients
For the Cranberries
2 cups fresh cranberries
2 cups granulated sugar, divided
1 cup water
For the Gingerbread Pizza Dough
1 teaspoon cinnamon
1 tablespoon canola oil
1/4 teaspoon nutmeg
1/4 teaspoon ground cloves
1 teaspoon ground ginger
1 teaspoon kosher salt
1 1/2 cups all purpose flour
1 cup white whole wheat flour
2 1/4 teaspoons active dry yeast
1 cup warm water
2 tablespoons molasses
Other Pizza Toppings
1 cup Raw or Roasted walnuts, pecans, sunflower seeds, or any crunchy topping of your choice.
1 teaspoon vanilla extract
1/4 cup brown sugar
1 cup ricotta or marscapone cheese
Instructions
For the Cranberries
Wash cranberries and de-stem if necessary.
In a small saucepan, heat 1 cup granulated sugar and 1 cup water. Do this slowly, on low heat. Do not boil. Stir continually until sugar melts completely.
Once sugar is dissolved, add cranberries to simple syrup and stir so that all are covered. Pour into a bowl and cover with plastic wrap. Refrigerate overnight.
Drain cranberries in a colander. Add cranberries to a large bowl. Add remaining cup of granulated sugar to the bowl and toss repeatedly until all cranberries are covered with sugar. Line a baking sheet with parchment paper. Pour cranberries out onto the paper and allow to dry for one hour.
For the Gingerbread Pizza Dough
In the bowl of a stand mixer or a large bowl, combine molasses, warm water, and yeast. Stir with a dough hook or wooden spoon, allowing to combine well. Let sit while you prepare the dry ingredients.
In a second large bowl, combine white whole wheat flour, all purpose flour, kosher salt and spices. Use a whisk to evenly combine the ingredients and aerate the flour. No need to sift.
Add the flour to the wet ingredients and stir with the stand mixer's dough hook or with a large wooden spoon. Continue doing so until a cohesive dough forms.
Add the canola oil to the dough and continue stirring until it is completely incorporated. The dough will be sticky.
Spray a large metal bowl with cooking spray. Place the dough in the bowl and cover. Allow to rise for about half an hour, until it has doubled in size.
When the dough has risen, preheat the oven to 425°F with the pizza stone in the oven.
Sprinkle a clean work surface with all purpose flour. Roll out the dough to a rough rectangle the size of your baking stone. Lift carefully, shaking off any excess flour as you go. Carefully place on the hot pizza stone.
For Topping the Pizza
In a small bowl, stir together ricotta, brown sugar and vanilla extract until completely mixed together.
Spread the cheese mixture over the pizza dough, leaving about 1" crust all around the edges.
Sprinkle walnuts evenly over the cheese.
Bake for 8 minutes. Remove from the oven at 8 minutes.
Spoon cranberries evenly over the cheese and walnuts. Return to the oven for 3 minutes.
Serve immediately.
Notes
The simple syrup is made using low heat, and the cranberries are added towards the end of baking because otherwise they will burst from the heat of cooking. I specifically wanted the sparkling sugared cranberries to feature on the pizza. If you aren't as concerned about aesthetics, you can add them when you put the pizza in the oven the first time.