This post originally appeared on July 28th, 2009. It continues to be the most popular way that people find Bluebonnets & Brownies, and it's still one of my favorite ways to bring "home" to our dinner table.
About a week ago, I hosted 4 bloggers in my home for the weekend of Big Summer Potluck. I served this for dinner on Thursday night with barbecued chicken and Borracho Beans.
It was a feast! With barbecue season nearly at a close, I wanted to make sure you have time to put this on your Labor Day party menu. You'll be asked for the recipe for weeks to come.
And because this side dish comes together in the slow cooker without much effort, it's the perfect side dish for the grill. No oven, no mess, and it can be served right in the slow cooker on the table. Enjoy!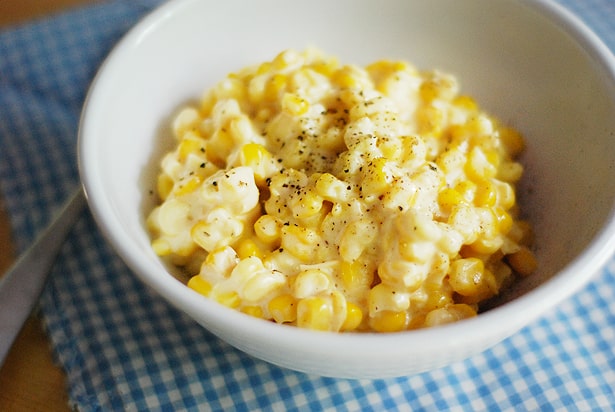 If you've been through San Antonio, Austin, Schertz, or Leon Springs in the last 10 years or so, you might have heard about the "worst barbecue in Texas",
Rudy's Bar-B-Q
.
First, let me go on record that I don't know anyone from Rudy's, and this isn't an endorsement they've asked for. This is simply my favorite barbecue eatin' place back home.
Their smoked turkey is to die for, but I always have the most ridiculous time choosing between the turkey and the brisket. Who doesn't love a good Texas brisket?
Sorry, my mouth just watered a little, and it's 8 o'clock in the morning.
But the one thing at Rudy's that is never to be missed is their creamed corn. The beans are good, the peach cobbler divine (and all served in pint or quart servings), but the creamed corn.. well, I could eat it for breakfast, and I could eat an entire quart on my own.
I'm not ashamed to admit it.
For years, my family has been trying to deconstruct what it consists of, because it's certainly not like any creamed corn you've ever had before. And it's nothing like that horrible sludge you get in the canned vegetable aisle.
It's full of sweet corn kernals that pop in your mouth with a fresh picked taste, and the sauce.. no, gravy.. melts in your mouth and makes you think of Thanksgiving and Easter and long afternoons spent cooking with your grandma.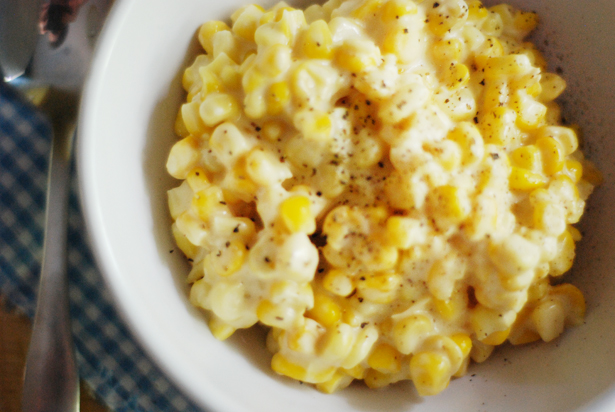 I haven't been home, or to Rudy's, in a while. So the other week, when a friend tweeted about trying Rudy's on her roadtrip, I realized I had to try to find a recipe and add it to our barbecue menu for the weekend.
We were having about 30 people over, and I just knew it would be a big hit. I made what I thought would be enough for 50 people. Yeah… there was none left by the end of the party. I really wanted leftovers for a change, too.
The interweb is great for things like this. I managed to find a "light" version on RecipeZaar, and then just fattened that bad boy up (I wanted to be as authentic as possible for my first attempt).
I don't know what more I can say about this. It's an inspired side dish, and it's good alongside barbecue or a roast dinner (as the English like to say). I nearly cried when I tasted it straight out of the crock-pot.
A little bit of Rudy's, right there in my kitchen. You've really got to try it to believe me.
If you're feeling especially inspired, you could get fresh ears of corn from the farmer's market, and strip them of the kernals, instead of using frozen corn.
Rudy's Creamed Corn
Rudy's Creamed Corn is a classic Texas barbecue side. This homemade version will make you famous with your family and friends, I promise!
Total Time
4 hours
5 minutes
Ingredients
Yield: 12-15 servings
4 pounds frozen sweet corn
2 8 oz blocks cream cheese, diced into 1 inch squares
1/2 cup salted butter (1 stick)
3/4 cup heavy whipping cream
4 tablespoons of granulated sugar
1 teaspoon black pepper
1/2 teaspoon salt
1/3 cup Parmesan cheese (optional)
Instructions
Place frozen corn, cream cheese, salted butter, heavy whipping cream, granulated sugar, black pepper, salt, and Parmesan cheese into a slow cooker.
Simmer on low or medium for at least 4 hours. Stir once or twice during cooking to make sure the gravy comes together.
Notes
Do not over-salt. There is plenty of salt in the butter and cream cheese. Over-salting will ruin this dish.
If you want a lighter version of this, please follow the recipe on RecipeZaar that this recipe is adapted from.
Recommended Products