Photo courtesy of Cheese.. Please!
Last year, our good friend John mentioned to me that he'd noticed a "cheese and British stuff" shop would be opening in his town of Cranford, not far from where we live. John was our contractor, and while he worked on our kitchen, he and I would talk all day long about food, cooking, and having fun parties with friends and both those good things. He was – and is- pretty thrilled about Cheese.. Please!

Maria Tisdall is a classically trained chef and mother to four. During her years as a cook in a convent, she fell in love with cheese. Eventually, she went back to school to become a cheesemonger, and the dream to create Cheese… Please! was born.

When I was approached by BlogFrog about Intuit's Love a Local Business campaign, I knew I had to write about Maria and her family, and her shop. I've been meaning to write a blog post about them for ages now. The very first day they opened, James and I ventured over to downtown Cranford (which is charming) and into Maria's shop, ready to stock up on our favorite British treats as well as good cheese.
What met us was a virtual buffet of all of James's favorite British goodies. Maria seriously rivals some of the bigger names in New York City for style and selection when it comes to British and Irish imports. James nearly cried when he realized he could now get his rashers (that's bacon to us American folk) by driving to the shop like a normal person, rather than having to order them online and pray we wouldn't have a heat wave.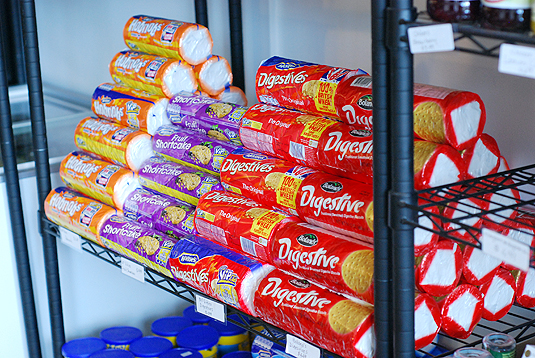 British Digestives are like a heavier graham cracker. Our favorites are dipped in milk chocolate, and taste incredible when dipped in a hot cup of tea with milk.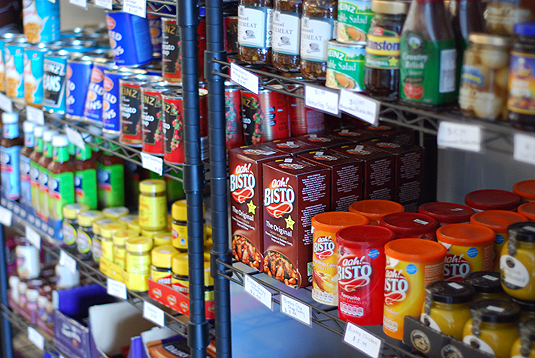 Plus, we can now get all James's favorite pantry staples too. Bisto is instant gravy – but it's incredibly delicious. Nothing like what we have here in the States.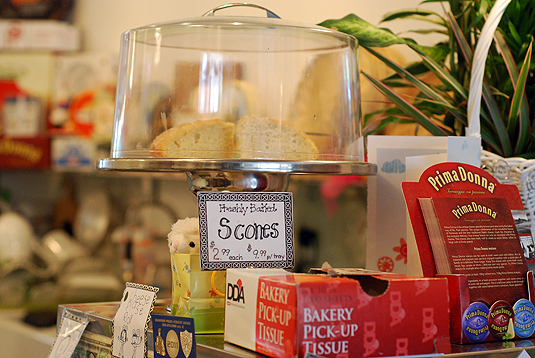 Freshly made scones are available daily to go with a perfectly brewed pot of tea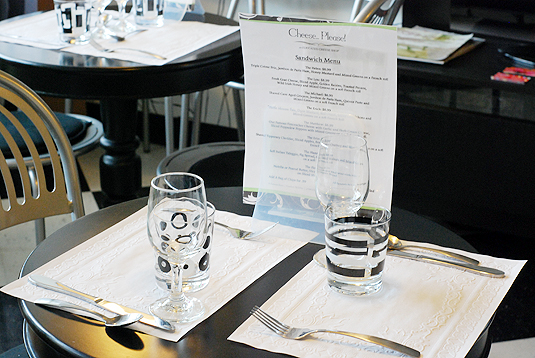 Tea and scones which can be enjoyed at these charming tables with the sunlight streaming in.
Maria has had a plan from the start. She started with her truest love and passion – cheese – and hoped that the customers would recognize it and come back often. In the last year, they have. So much so that Maria's been able to implement phases two and three of her dream, first adding a myriad of sandwiches to a daily lunch board, and just this week by adding organic, fully cultured frozen yogurt treats to beat the summer heat.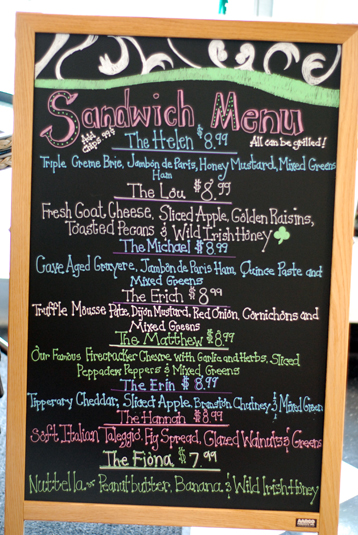 I'm partial to the Michael – Gruyere, Ham, and Quince on the same sandwich?! Come on!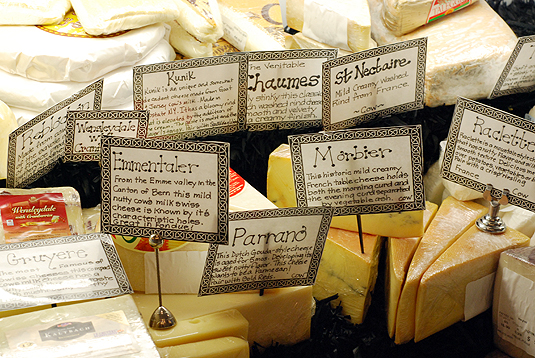 Just looking at this yummy goodness makes me hungry.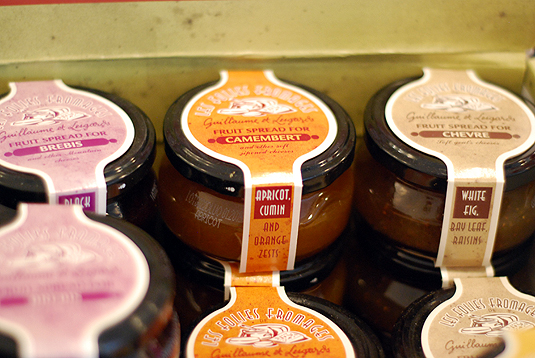 We were given a jar of the Apricot Cumin spread at the grand opening. It has become a full on addiction since then. I put it on everything, but especially a slice of baguette with sharp cheddar and butter.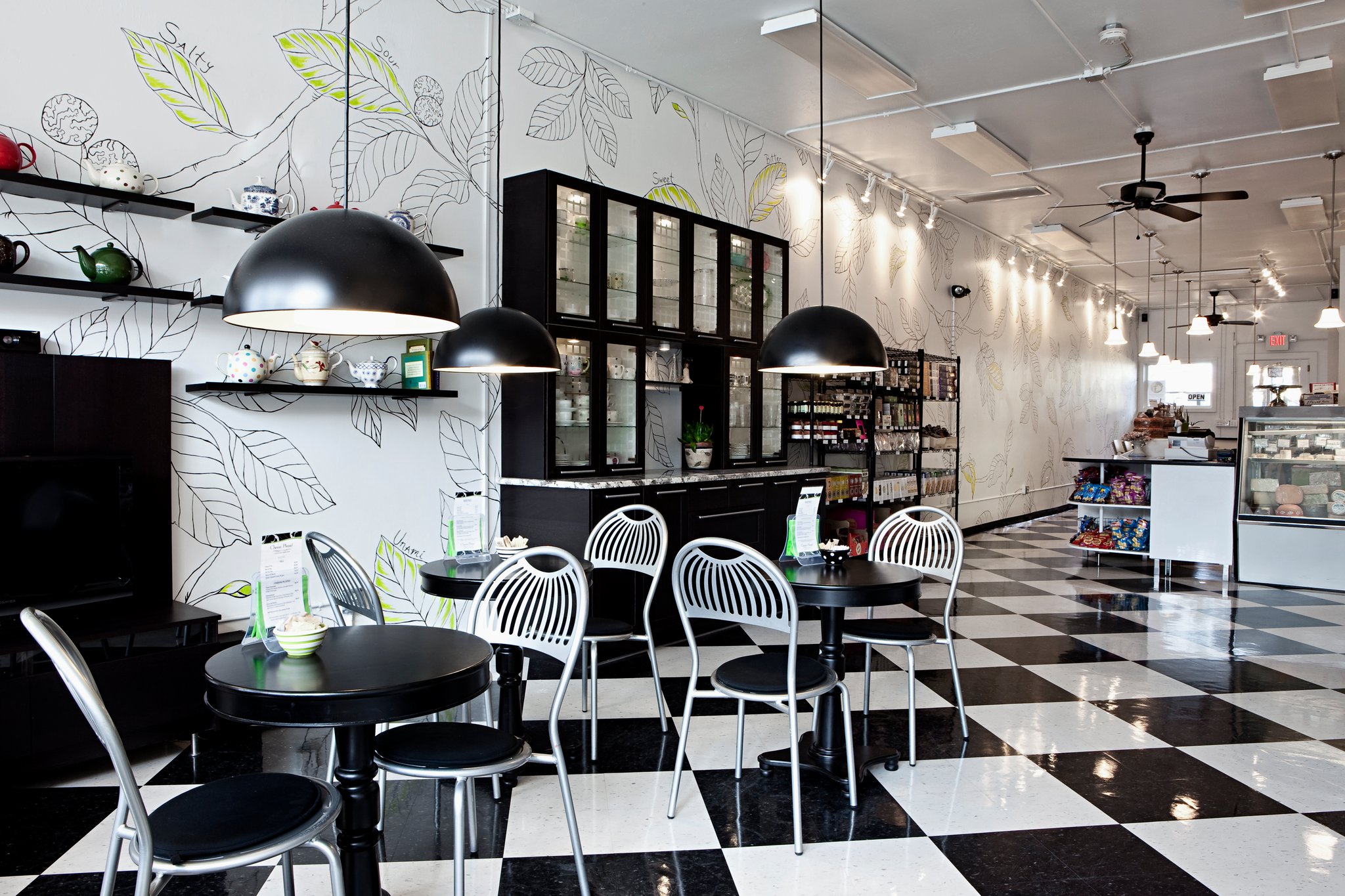 Who wouldn't find this space charming and inviting? Photo courtesy of Cheese.. Please!
I've nominated Cheese… Please! for the Intuit Love a Local Business campaign. Vote for Cheese… Please!
I love how Cheese… Please! is building an online community of fans and customers that is helping move feet into their brick and mortar location. I've nominated them for the Intuit Love A Local Business campaign because their family owned business is the epitome of the American Dream.
You can vote for Cheese… Please! or nominate your own favorite small online business by visiting Intuit's Love a Local Business page.
Have fun being the voice of online entrepreneurs!
Bonus: Why not go and nominate yourself for Intuit's Love A Local Business competition, and then encourage your readers to vote for you? Intuit is helping small businesses achieve their dreams by awarding $25,000 each month to a local business! Note – votes are like raffle tickets – the more votes a business has the more chances they have to win.
It's been very exciting starting my own business and also watching Maria and her family build theirs, so I'm curious to know: What dream business would you love to start? By replying you will be entered to win an iPad 2!
This is a sponsored conversation written by me on behalf of Intuit's Love A Local Business competition. The opinions and text are all mine. Contest runs July 6 to August 9, 2011. A random winner will be announced by August 11, 2011. Official Contest Rules
.[wpurp-searchable-recipe]Intuit Love a Local Business: Cheese… Please! – – – [/wpurp-searchable-recipe]